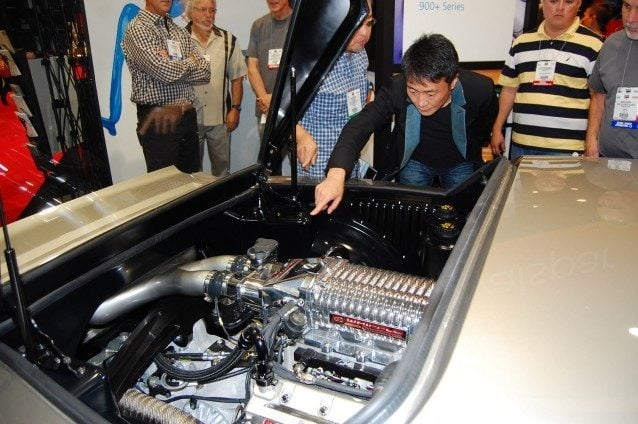 Kazunori Yamauchi toured the show floor at SEMA in Las Vegas today, visiting all of the individual category winners in this year's Gran Turismo Awards. They are:
Best European Import: 2013 Volkswagen Turbo Beetle (VWVortex.com 2013 Super Beetle Project)
Best Truck or SUV: Antron Brown's Family Dragster Toyota Sequoia
Best Hot Rod: Eckerts Ford Mach Forty
Best Domestic Automobile:2014 Ford Mustang GT RTR Spec 3
Best Asian Import: 2013 Scion FR-S Evasive Motorsports
One of these cars will be chosen for inclusion in a future Gran Turismo title. The "best in show" winner will be announced tonight at the RAIN Nightclub at the Palms Resort & Casino in Las Vegas, where Snoop Dogg/Lion will also be performing.
I will be representing GTPlanet at the awards and will update this post to confirm the winner as soon as it is announced at the event. Good luck to all of the finalists!
Update: …and the winner is, Eckert's Ford Mach Forty! Stay tuned for more info on the car in a full wrap up on the event soon.
See more articles on Gran Turismo Awards, Gran Turismo Awards 2012, Kazunori Yamauchi, Polyphony Digital, and SEMA.