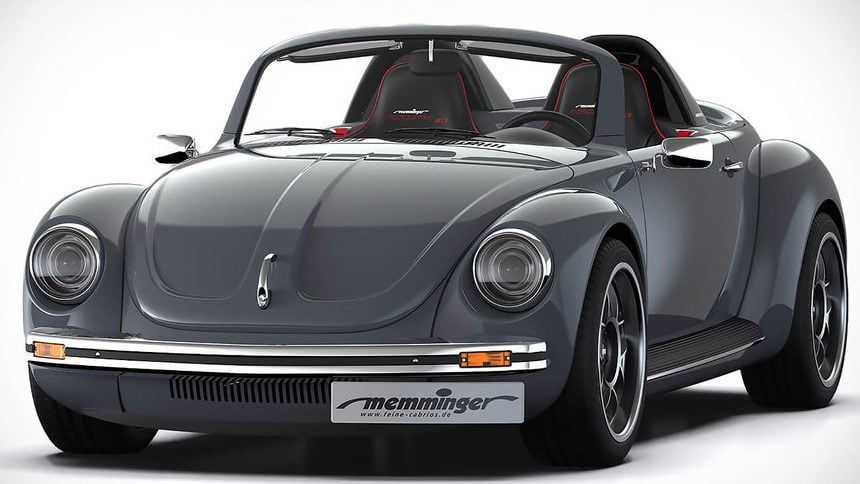 The Volkswagen Beetle is one of the most iconic cars of all time. With over 21 million produced during a 65-year lifespan, it seems virtually everyone knows the shape. However, that shape is far from sleek. German tuner Memminger found a way to change that though with its newest Roadster 2.7.
The first thing you notice about the Roadster 2.7 is that it only merely resembles a Beetle. There's a good reason for that too. Virtually none of the car uses VW body parts. Instead, it opts for a completely custom route.
The chassis is unique to the Roadster as well. It replaces the stamped steel with a fully welded tubular chassis. As an added benefit, this means the Roadster uses MacPherson front struts with rear trailing arms.
To accommodate a wider track and bulging fenders, the wheels and tires also grow in size. The Roadster rides on 18-inch custom wheels with 225 tires up front and 255 in the rear. It's a far cry better than the 165 size tires the original car came with.
Perhaps the biggest change to the car is its engine. No longer is it a 1.6-liter flat-four with just 60hp. Instead, the car gets a 2.7-liter flat-four from Memminger. According to its website, the engine is based on the one used in the VW Type 4 with extensive modifications. This is good for 210hp and 182lbft of torque.
To help with the balance of the car, the engine also moves from its traditional rear mounted configuration to a mid-mounted one.
Venture inside the Roadster and it's fairly sparse. There are bits of the tubular frame exposed, giving it a racecar-like feel. Also, the seats are made of a vintage looking plaid that fits the car like a glove. We just hope they're waterproof since the car comes without a roof.
All the details and engineering behind the car might remind you of another tuning company, Singer. Based in California, Singer builds vintage Porsche 911s taking styling cues from across the history of the model. Pretty much all of them are brilliant too — especially its newest 500 hp model.
As of right now, Memminger is unsure if it will do a production run of the Roadster 2.7. However, if it does, it'll only be a handful and they'll all come with a whopping price tag.
More Posts On...