It's one of those questions that car enthusiasts will argue over until they're blue in the face. What is the greatest movie car ever?
Hyundai UK thought it would try to get a definitive answer, and commissioned OnePoll to try and find out. This handily coincides with Hyundai becoming the latest brand to take a starring role in the Marvel Cinematic Universe.
Ant-Man and the Wasp — already available in the USA but delayed until August 3 in Europe due to the FIFA World Cup — features the new Veloster center stage, with a garish and variable size model. Kona and Santa Fe SUVs also appear in more incidental roles.
With 2,000 adults in the UK surveyed, the results probably aren't too much of a surprise. British cars occupy the top three slots, with British films in first and second as well.
Leading the way is James Bond's Aston Martin DB5. Since its debut in Goldfinger in 1964, it's appeared in seven Bond films including the most recent, SPECTRE — having survived obliteration by helicopter gunship in Skyfall. Or at least rebuilt by Q Branch. You can simulate this yourself, with the recent launch of a 1,290-piece LEGO model of the car.
In second place is an eponymous car. Chitty Chitty Bang Bang, named for the noises it makes when it starts up, is based on a novel written by James Bond's creator, Ian Fleming. With Dick van Dyke taking the lead in the film, Chitty floats and flies its way through a host of musical numbers.
Rounding out the podium is still fiction's coolest time machine. The 1981 DeLorean DMC-12 might have been American at heart, but DeLorean's factory was in Northern Ireland, part of the British Isles. In the original plot, the car was a fridge cast back in time by a nuclear test in Nevada — something partially (and unwisely) recycled for an Indiana Jones film.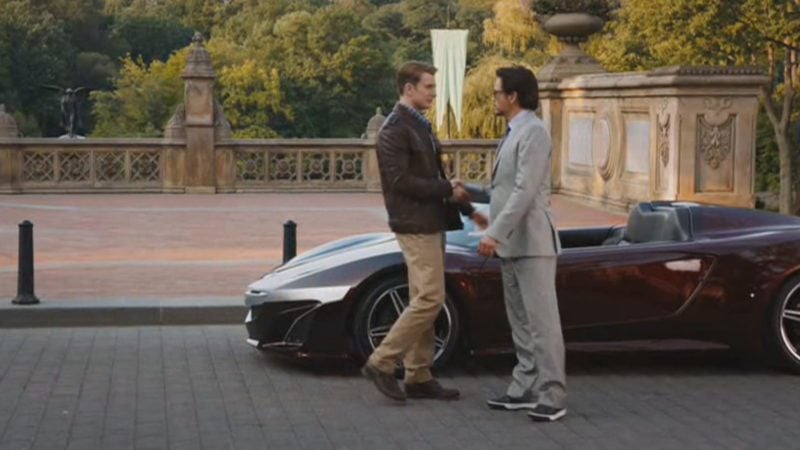 Although no Hyundais made the list, several MCU cars made an appearance. These include Tony Stark's R8 and Acura NSX concept, Hank Pym's Spitfire and Lola, Phil Coulson's Corvette.
DC Universe also got a look-in. Three versions of Batman's Batmobile appear, with the Tumbler in fifth, Michael Keaton's jet-engined car in tenth and the Lincoln Futura from the TV series in 11th. There's no room for Ben Affleck's Vision GT car though.
There's surprisingly few of Bond's other cars on the list, with only Roger Moore's submarine Lotus Esprit taking sixth. Jason Bourne's (well, Marie's) Mini is in 30th, along with the Minis from The Italian Job in eighth. Both hero cars from the first Fast and Furious film make the cut, along with Ford Mustangs from John Wick, Gone in 60 Seconds and Bullitt.
The full top 40 list is as follows, and no doubt will cause some… passionate discussion.
1. Aston Martin DB5 (James Bond series)
2. Chitty Chitty Bang Bang
3. DeLorean DMC-12 (Back to the Future Trilogy)
4. Volkswagen Type 1 Beetle (Herbie series)
5. The Tumbler (The Dark Knight Trilogy)
6. Lotus Esprit S1 (James Bond: The Spy Who Loved Me)
7. Ford De Luxe "Greased Lightning" (Grease)
8. Austin Mini Cooper S (The Italian Job)
9. Ford Mustang GT Fastback (Bullitt)
10. Lincoln Futura "Batmobile" (Batman: The Movie)
11. Batmobile (Batman, Batman Returns)
12. Dodge Monaco "Bluesmobile" (The Blues Brothers)
13. Cadillac Miller-Meteor "ECTO-1" (Ghostbusters)
14. Chevrolet Camaro 1977/2009 "Bumblebee" (Transformers)
15. Ford Thunderbird (Thelma & Louise)
16. Audi R8 (Iron Man)
17. Ferrari 250 GT California Spyder SWB (Ferris Bueller's Day Off)
18. Pontiac Trans Am (Smokey and the Bandit)
19. "6000 SUX" (Robocop)
20. Plymouth Fury (Christine)
21. Dodge Charger (The Fast and The Furious)
22. Ford Mustang Mach I (John Wick)
23. Toyota Supra MkIV (The Fast and The Furious)
24. Ford Mustang Mach I "Eleanor" (Gone in 60 Seconds)
25. Acura NSX Roadster concept (Avengers Assemble)
26. Chevrolet Corvette "Lola" (Avengers Assemble)
27. Checker Taxicab (Taxi Driver)
28. Alfa Romeo 1600 Spider Duetto (The Graduate)
29. Ford Econoline "Shaggin' Wagon" (Dumb and Dumber)
30. Mini Mayfair MkV (The Bourne Identity)
31. Dodge Challenger R/T (Vanishing Point)
32. Chevrolet Chevelle (Drive)
33. Cadillac Coupe deVille "The Gigahorse" (Mad Max: Fury Road)
34. Chevrolet C-2500 Silverado Fleetside "Pussy Wagon" (Kill Bill Vol. 1)
35. Studebaker Commander (The Muppet Movie)
36. Ford Falcon XB GT Coupe "Pursuit Special" (Mad Max)
37. Ford Gran Torino (The Big Lebowski)
38. Dodge Challenger R/T (Death Proof)
39. AMC Pacer "Mirth Mobile" (Wayne's World)
40. Triumph Spitfire (Ant-Man)
See more articles on James Bond.