Spring is making its presence felt this week in Forza Horizon 4. We're coming to the end of Series 17 with the latest helping of new and returning content.
The final Playlist update for this series brings more prizes for 50% and 80% completion. A feisty Renault Clio also enters the running this week.
Let's see what Spring has to offer.
Clio's Spring Dance
The main car from the Playlist completion prizes this week is the Ford Mustang RTR #88 Formula Drift racer.
This aggressive pony car has been specially built to go everywhere sideways. With a 1,000hp Roush V8 under the hood, this Mustang will destroy its rear tires whenever you ask it.
Seasonal championship prizes this week are populated by the Eagle Speedster and Mini JCW Buggy.
The big debut is the Renault Sport Clio 197. Often considered one of the most exciting hot hatches, this Clio demonstrates Renault at its best. At its heart is a naturally aspirated 2.0-liter engine making a healthy 197hp. You'll need to really rev it out in order to get the best out of this Clio.
It's up for grabs in this week's Trial event, "Hatch Me If You Can".
If you're after avatar cosmetics, there's a Chicken Suit to be won.
There's also a new Showcase Remix event available. "Contest of Giants" will see players racing across the Scottish Highlands in a Chevrolet Colorado pick-up. Your opponent? A giant hovercraft, obviously.
The rest of this weeks events are listed below.
A Buggy's Life
Series: Cross Country Series
Cars: Offroad Buggies
Restrictions: B Class, 700 PI
Prizes: 15,000 CR, 25,000 CR, Mini JCW Buggy
Street Scene 2K20
Series: Street Scene
Cars: Retro Muscle
Restrictions: C Class, 600 PI
Prizes: 15,000 CR, 25,000 CR, 1993 Ford Mustang
Spring Into Action
Series: Dirt Racing Series
Cars: Modern Sports Cars
Restrictions: A Class, 800 PI
Prizes: 15,000 CR, 25,000 CR, Eagle Speedster
The Trial: Hatch Me If You Can (Co-Op Championship)
Series: Street Scene
Cars: Hot Hatch
Restrictions: B Class, 700 PI
Prizes: Renault Clio 197
Spring Games – Series 17
Series: Playground Games
Cars: Modern Rally
Restrictions: B Class, 700 PI
Prizes: Frog Wellies
Hythe House Speed Trap
Season Objective: 195 mph
Hilltop Vista Danger Sign
Season Objective: 620.1 ft
The Bridge House Speed Zone
Season Objective: 110 mph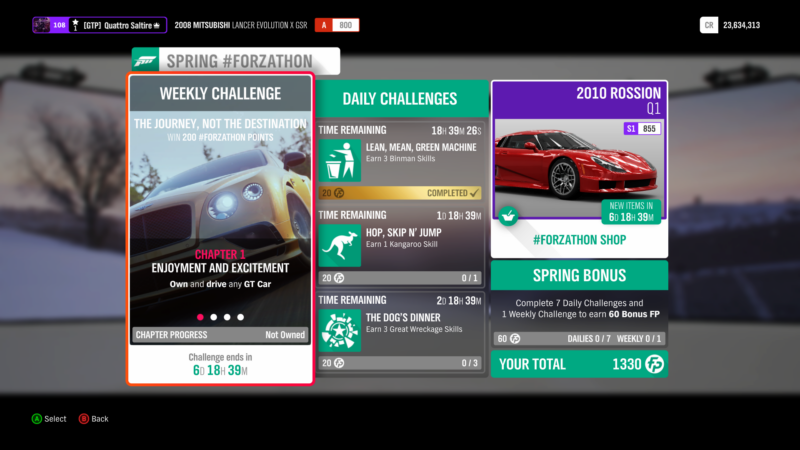 Forzathon Events
This week, Forzathon looks at the sophisticated cruise missiles that are GT cars. Own and drive any one of these weapons to get things rolling.
Next, prove the performance credentials of your chosen GT car by winning 2 Street Scene events. After that, pull off some big skill combos in style for the next objective. You'll need a total of 1 million Skill Score to progress.
To finish this week off, take your GT cruiser on a grand tour. With a distance of just 15 miles, the last objective should fly past.
Forzathon Shop
Normal service resumes in the Forzathon Shop this week. Leading the charge is the 2010 Rossion Q1.
This sports car is based on Britain's own Noble M12 and comes with surprising performance. The Q1's 3.0 liter twin turbocharged V6 puts out 450hp, along with a weight of almost 2,700lb.
You'll need to fork out a fairly high price for the Q1, as it'll set you back 650 Forzathon Points. If you missed out on getting it during Series 15, now is the chance to get one.
Joining it is the more humble Volkswagen Karmann Ghia. Although the Ghia is based on a Beetle, it sports a much more stylish body. Don't go looking for ultimate performance in the Ghia; the 1.5-liter flat-four produces just 53hp. It might weigh just over 1,800lb but the Ghia won't be carving through corners with laser precision.
The Ghia is slightly cheaper at just 600 FP. If you missed out during Series 12, you'll be wanting to add this car to your collection.
Novelty items this week are the Confused emote and the Police Siren horn.
More Posts On...