Ditch the winter coats and scarfs because a new season has sprung in Forza Horizon 4. The second seasonal change of the new year brings with it the calming breezes of spring.
As always, a new season means news prizes to be had and new races to take part in. Let's get right down to it, starting with this week's Car Pass offerings.
Car Pass Gives Way to German Pickup and Classic MG
Two brand-new toys arrive in the form of the 1938 MG TA Midget and 1966 Volkswagen Double Cab Pick-up. With things heating up across the Horizon festival, both will fit right in.
Wider and longer than its predecessor, the MG TA is nothing but an exhibition in class. With a 1.3-liter inline-four, the Midget made do with a paltry 50hp. 0-60mph took 23.1 seconds and it'd eventually go on to a top speed of 80mph. Not the fastest in its stock form, but you'll look good wherever you go.
Next up is the VW Pickup, an interesting addition to the game without question. The Double Cab is every bit the same car as the Samba, without the added windows or inner real estate. With a flatbed in the back, this VW will draw attention.
Neither of this week's cars stand out as particularly fast. Instead, both are a reminder of simpler times when it was only man and machine. Though a modern touch here and there wouldn't hurt — as we're sure folks will realize with a trip to the tuning garage.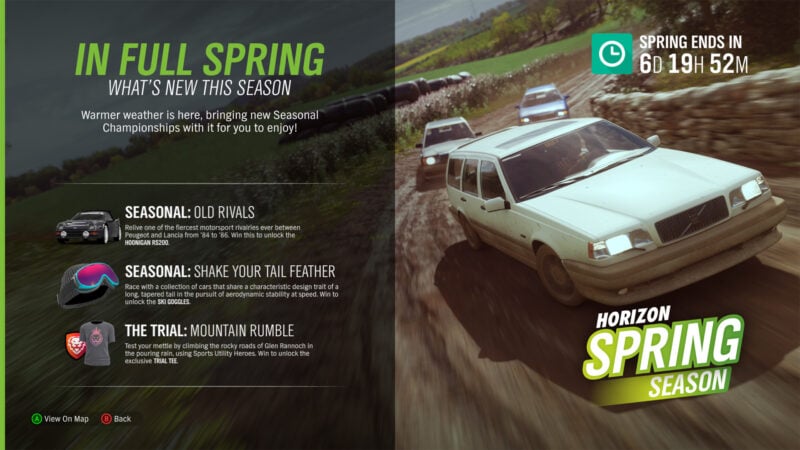 New Events
Alongside this week's new cars are a handful of new race events take part in. As with any seasonal change, there are new prizes to chase after. The Hoonigan RS200 is one such prize, and is a reward from a championship race, no teammates required. Rejoice!
This week's challenges are as follows:
Shake Your Tail Feather
Series: Road Racing Series
Cars: Select Retro/Classic/Rare Sports Cars
Restrictions: 100-900 PI
Prizes: 15,000 CR, Wheelspin, Ski Hat
Retro Saloon Tour
Series: Road Racing Series
Cars: Retro Saloons
Restrictions: 100-700 PI
Prizes: 15,000 CR, Wheelspin, Super Wheelspin
Old Rivals
Series: Dirt Racing Series
Cars: Lancia Delta S4, Peugeot 205 T16
Restrictions: 100-900 PI
Prizes: 15,000 CR, Wheelspin, Hoonigan RS200
The Trial: Mountain Rumble (Co-Op Championship)
Series: Cross Country Series
Cars: Sports Utility Heroes
Restrictions: 100-800 PI
Prizes: Trial Tee
Crescent Speed Zone Challenge
Season Objective: 120 MPH
Mudkickers' Showjump Danger Zone Challenge
Seasonal Objective: 820 ft
Forzathon Events
This week turns the spotlight toward the insane Volvo 850 R. As ever, the first step is simple: own and drive the '97 850 R.
From there, things take an appropriate turn as you'll need four road circuit event wins under your belt. Next on the list is taking the Volvo for a comfortable drive all the while amassing 12 miles on the odometer. With 240hp powering the front wheels — in a sport wagon, no less — here's your chance to let loose.
Finally, you'll need five Ultimate Drift or E-Drift Skills. Again, 240 horses in a sport wagon. We needn't say anything more than this: put the pedal down and don't lift.
Forzathon Shop
This week's Forzathon Shop lineup brings a Chevrolet and a Lamborghini. Featured for the week is the Lamborghini Urus Concept, a nice complement to the fully-fledged production model that made its FH4 debut last year. It's a steal at 175 FP points, though it's worth cautioning the concept SUV is also a wheelspin prize.
The Forza Edition car takes the form of the Chevrolet Nova Super Sport 396. With a Speed Skills perk to boot, it's a perfect marriage. Going fast in a muscle car is easy, but getting a bonus for doing so is the cherry on top. It can be yours for 300 FP points, which is right up there with most of the recent offerings.
If neither car tickles your fancy or you own both already, we'd suggest spending the points on a wheelspin. Or several.
Rounding out this week is the Unicorn Bomber Jacket and Best Mates emote for 75 and 100 FP, respectively.
Barn Find
No new rumors this week, but the Spring barn find is up for grabs again. We'll leave you to find it for yourself, but you'll slay the competition once it's in-hand.
More Posts On...