A great white blanket has enveloped the UK this week, meaning winter has arrived in Forza Horizon 4. The traditional seasonal switcheroo brings both new and returning content.
A new update for the Festival Playlist is available, with prizes for 50% and 80% completion. Mostly returning content features this week, with a notable series debut.
We've got more detail on this week's events below.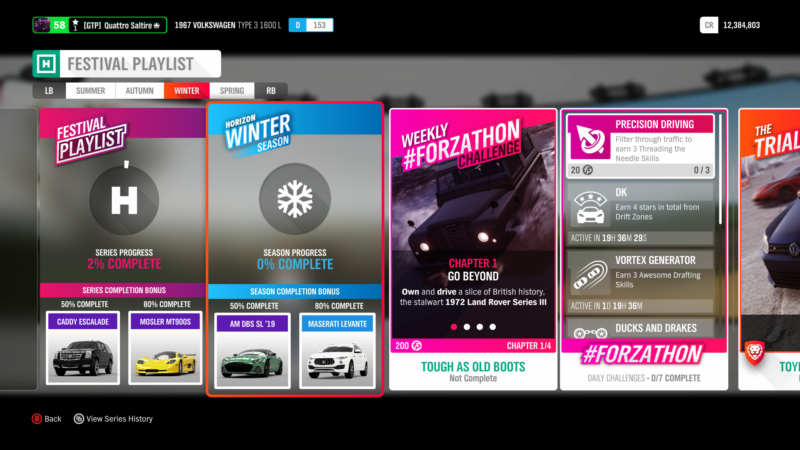 A Very British Super GT
Amongst a plethora of returning content this week, one car noticeably stands out. That car is the 2019 Aston Martin DBS Superleggera.
The replacement for the Vanquish marks the crown jewel in Aston's grand touring range. The DBS Superleggera's name also harks back to the Italian coachbuilder of Touring Superleggera. The DBS sits as the most powerful Aston GT car ever made.
The 5.2-liter twin turbocharged V12 produces a mighty 715 horsepower, which might prove treacherous on the winter roads.
Sitting alongside the Aston is the Maserati Levante. This SUV is Maserati's first attempt at a luxury performance off-roader. Its 424 horsepower should prove more than plenty for blasting through the winter landscape.
A pair of Porsches populate the Seasonal championship prizes this week, with the 914/6 and 918 Spyder taking center stage.
The Mini JCW Buggy makes a return as well. This Dakar monster will conquer just about any terrain thrown at it. The JCW Buggy can be winning the "Reaching Your Peaks" championship.
The Winter Showcase Remix gives players another chance to step into the boots of Halo's Master Chief this week, with the return of "Assault on the Control Room".
The rest of this week's prizes are listed below.
Reaching Your Peaks
Series: Cross Country Series
Cars: Offroad Buggies
Restrictions: B Class, 700 PI
Prizes: 15,000 CR, 25,000 CR, Mini JCW Buggy
Street Scene Stamina
Series: Street Scene
Cars: Super Hot Hatch
Restrictions: A Class, 800 PI
Prizes: 15,000 CR, 25,000 CR, Porsche 918
Racing Through The Years – 70s
Series: Cross Country Series
Cars: 1970s Collection
Restrictions: B Class, 700 PI
Prizes: 15,000 CR, 25,000 CR, Porsche 914/6
The Trial: Toying With You (Co-Op Championship)
Series: Road Racing Series
Cars: Track Toys
Restrictions: S1 Class, 900 PI
Prizes: VW Golf R
Winter Games – Series 12
Series: Playground Games
Cars: Extreme Offroad
Restrictions: A Class, 800 PI
Prizes: Shark Wellies
Deep Vale Speed Trap
Season Objective: 161 mph
Reservoir Ridge Danger Sign
Season Objective: 656.2 ft
Forest Green Speed Zone
Season Objective: 130 mph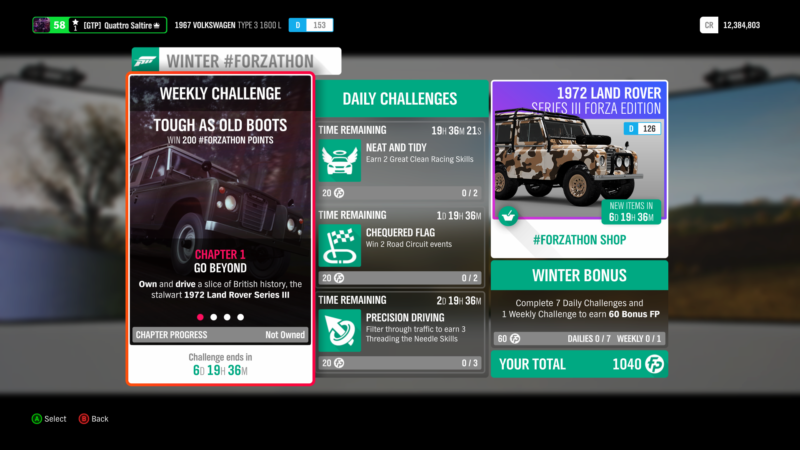 Forzathon Events
With a Great British Winter on hand, Forzathon turns its spotlight to a Great British off-road icon, the Land Rover Series III. First objective is an easy one: own and drive this legendary off-roader.
Next, take your Land Rover off the beaten track and earn 20 Wreckage Skills. For the third objective, you'll need to win a Cross Country Series event. The race in question is Whitewater Falls Cross Country.
Finally, all you need to do to complete this week's challenges is to drive your Land Rover a distance of 15 miles.
Forzathon Shop
The shop lineup consists of classics this week. The Land Rover Series III Forza Edition leads the charge. This tuned version of the Series III comes with off-road upgrades and a Destruction Skills boost.
At 650 Forzathon Points, this may not be eligible for this week's Forzathon, but could still make a good addition to your car collection.
Joining it is the AMC Rebel. This muscle car returns after being a seasonal prize back in June. This classic will prove a worthy choice for those looking for a muscle car that's different from the established crowd. At 625 FP, if you missed winning one before, now is your chance to grab one.
This week's clothing items include the RTR "Born to Fun" Grey T-Shirt and the Artist's Hoodie.
Feature image courtesy of ClydeYellow
More Posts On...