Grab your coats and scarves, winter has come to pass in Forza Horizon 4. While there's plenty of slipping and sliding to go around, there's no shortage of fun to be had. With it, as always, comes a bevy of new challenges and rewards players can earn while letting loose across Britain.
More Returning Vehicles Await
The Car Pass may have officially concluded, but there's still plenty of cars to go around. Two returning cars are up for grabs this week, and for those looking to add them to their growing collection, you'll want to stay tuned. Though, as you can tell from the image above, one of them happens to be a beefy SUV.
Without any further ado, let's get down to what this week has to offer.
New Events
Two new cars are up for grabs this week. While it may not returning metal from the 360-era, it helps round out the eclectic car roster all the same.
First up, the Pontiac Firebird Trans Am SD-455. A staple of the series since Forza Motorpsort 3, this muscle car comes equipped with a 7.2-liter V8 sending 372 horsepower to the rear wheels. While the SD-455 previously featured as a Wheelspin reward, this is the first (and so far only) guaranteed way to score the classic muscle car.
The next car on the list, the Cadillac Escalade ESV, makes its FH4 debut. Like the Pontiac, the Caddy isn't exactly a new face and has featured in every Horizon game since the original. Still, it's never a bad thing to have a hulking 6.2-liter V8-powered, 404 horsepower SUV lying around.
The lowdown on this week's challenges are as follows:
Deadliest Hatch
Series: Road Racing Series
Cars: Super Hot Hatch
Restrictions: 100-800 PI
Prizes: 15,000 CR, Wheelspin, Super Wheelspin
Grit and Determination
Series: Street Scene
Cars: Sports Utility Heroes
Restrictions: 100-900 PI
Prizes: 15,000 CR, Wheelspin, Cadillac Escalade
Still on the Run
Series: Road Racing Series
Cars: Any
Restrictions: None
Prizes: 15,000 CR, Wheelspin, Super Wheelspin
Winter Community Championship II
Series: Dirt Racing Series
Cars: Offroad Buggies
Restrictions: 100-800 PI
Prizes: 15,000 CR, Wheelspin, Super Wheelspin
The Trial: Break The Ice (Co-Op Championship)
Series: Cross Country Series
Cars: Classic Muscle
Restrictions: 100-700 PI
Prizes: 1973 Pontiac T/A
Switchbacks Drift Zone Challenge
Season Objective: 70,000 Points
Reservoir Ridge Danger Sign
Season Objective: 705.4 ft
Forzathon Events
This week's challenges are far from over. As expected, new Forzathon events are available and focus on Chevrolet's classic pony car, the Camaro.
The first part of the challenge is a simple one: own and drive the 1969 Camaro Super Sport. Next up, you'll need to rack up 20 Great Speed Skills whilst behind the wheel — an easy feat in a muscle car, no doubt.
Following that, secure three victories in Drag Strip events which shouldn't be very difficult in the slightest. After all, muscle cars are renowned for their straight line speeds. Finally, there's amassing five Pass Skills while racing. It doesn't get much simpler than that, does it?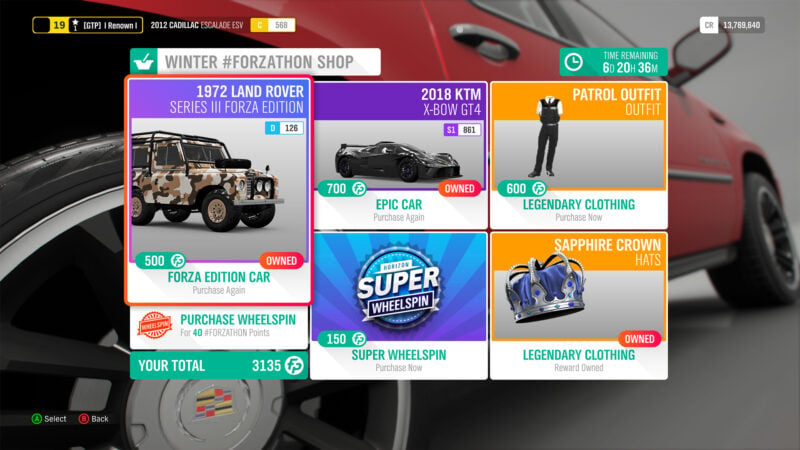 Forzathon Shop
The Forzathon Shop continues to err on the pricier side this week, much more than last week's offerings. The returning car is the KTM X-Bow GT4 for a whopping 700 Forzathon Points. If you were lucky enough to have picked this up before the price hike, look to spend your points elsewhere. Otherwise, dig in for the long haul as the X-Bow is a Shop exclusive.
This week's Forza Edition car is another familiar face, the Land Rover Series III. While a bit cheaper at 500 FP, it will still leave a sizable dent in your wallet. With its boost focusing on Destruction Skills, it's perfect for mowing down fences and anything else in its path.
Those looking for a bit of novelty have a Patrol Outfit and Sapphire Crown to choose from.
More Posts On...