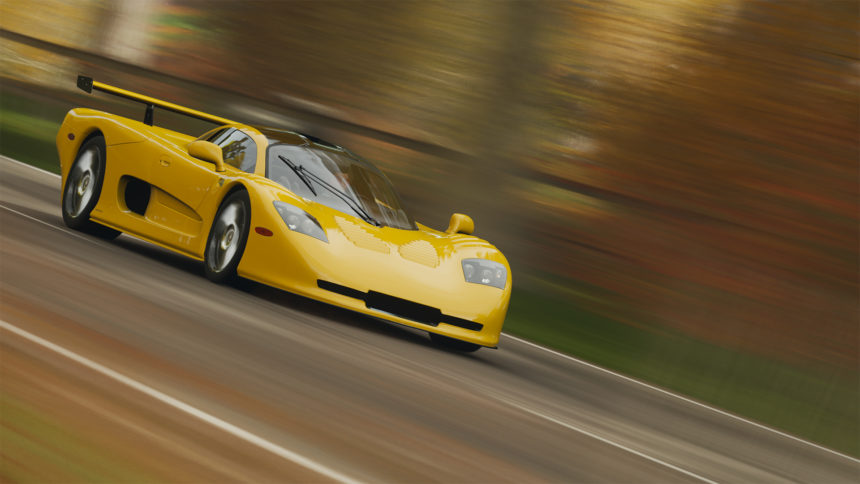 It's that time of the week once again. A new season sweeps into Forza Horizon 4, with new races and prizes to be had.
With the leaves falling again, now is the perfect time for some scenic driving and slinging mud. As ever, the seasonal change isn't merely a palette change as there's a wealth of new content worth taking part in.
This week is all about Road Racing and Cross Country, so things should get a little wild. We expect players to take part in one event more than any other, but more on that later. You'll find everything on offer this week down below.
Car Pass Introduces Two Sporty Convertibles
What's a week of new events without new toys to play with? Luckily the Car Pass brings two new cars to the playground. While the summer haze lingers no more, two new convertibles await: the 2019 Morgan Aero GT and 1970 Triumph TR6.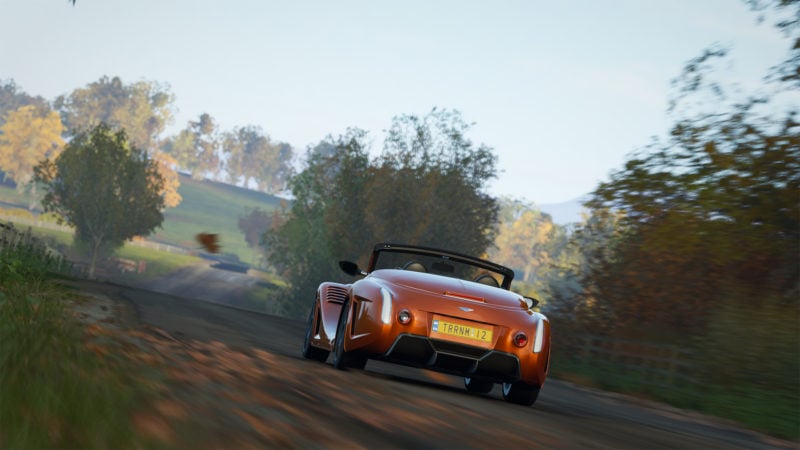 This is it — the swansong for the Aero 8. Morgan describes the GT as a "gloves off" model developed using the lessons learned from its GT3 program. Powered by the familiar 4.8-liter V8, the Aero GT makes do with 367hp.
The sprint to 60mph takes a modest 4.5 seconds, and will go on to a blustery top speed of 170mph. Only eight models will ever see the light of day in the real world. Luckily, there's no such problem in FH4.
Next up is the classic Triumph TR6. The sporty convertible will feel right at home in the UK. Power comes from a 2.5-liter straight-6 engine sending 150hp to the rear wheels. The TR6 PI is able to get to 60mph in 8.2 seconds and can eventually reach its top speed of 120mph.
It may not have the raw potential of the Morgan, but the TR6 isn't meant for speed or sheer horsepower figures. This is a convertible meant to be driven with style, so turn on Timeless Radio and let the wind run through your hair.
New Events
Festival-goers have plenty to keep them occupied this season. Autumn brings with it new events and prizes to chase. One event in particular will be the standout this week. Why? The reward is the returning Mosler MT900S from the Xbox 360 era.
Without further ado, this week challenges are as follows:
Rotor Club
Series: Road Racing Series
Cars: Mazda RX-7, Mazda RX-8
Restrictions: 100-800 PI
Prizes: 15,000 CR, Reindeer Nose, Reindeer Antlers
Bring Me A Dream
Series: Cross Country Series
Cars: Holden Sandman HQ Panel Van
Restrictions: 100-700 PI
Prizes: 15,000 CR, Elf Hat, Elf Outfit
Z vs. Z
Series: Road Racing Series
Cars: BMW Z4 M Coupe, Nissan 370Z
Restrictions: A 800
Prizes: 15,000 CR, Wheelspin, "Happy Holidays" Quickchat Message
The Trial: Blistering Speed (Co-Op Championship)
Series: Road Racing Series
Cars: Hypercars
Restrictions: 100-998 PI
Prizes: Mosler MT900S
Queen's Drive Speed Zone Challenge
Season Objective: 130 MPH
Railyard Danger Zone Challenge
Seasonal Objective: 820 ft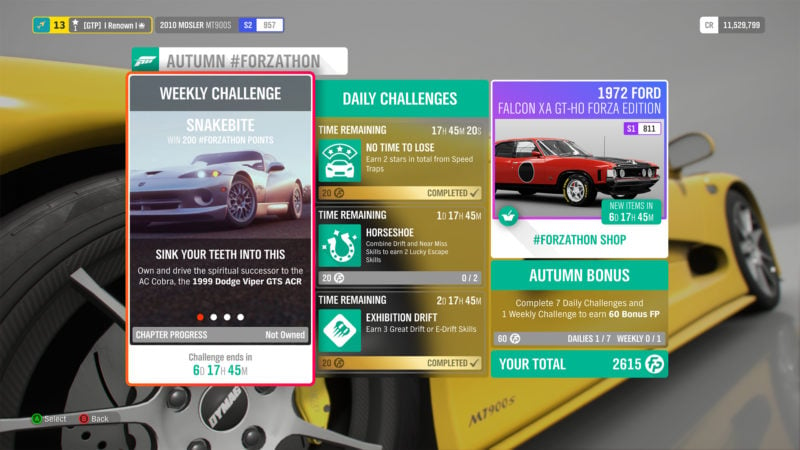 Forzathon Events
This week's Forzathon events are all about the one and only Dodge Viper. The first step is as simple as ever, all players have to do is own and drive the '99 GTS ACR.
Next you'll want to go fast behind the wheel of the V10-powered sports car. We aren't joking, the next step is amassing 10 Ultimate Speed Skills. Go fast and go hard, there's no other way. The third step will see players driving the ACR to victory across four Road Circuit events.
Finally, there's earning 9 stars in total from Drift Zones. If this sounds like yet another cakewalk, that's because it is. With an 8.0-liter V10 sending 450hp to the rear wheels, you won't have any issue getting the rear end to break loose.
Forzathon Shop
The lineup for this week's Forzathon shop is a bit on the disappointing side. Featured this week is the wild and grippy McLaren Senna. Make no mistake, at 275 FP it's a bargain over the Auto Show price of 1M credits.
We can't shake the feeling that the points are better spent elsewhere or saved for next week's lineup. If you're sitting on a surplus, consider spending them on regular or super wheelspins.
This week's Forza Edition car is where things take a bit of a turn. Up for grabs is the Ford Falcon XA GT-HO with a Speed Skills boost. All you have to do is drive fast and rake in the rewards, though the price is a bit steep at 350 FP.
Finally, there's the Reindeer Jumper sweater and Sleepy emote for 100 FP each.
Barn Find
If you were expecting a new barn find rumor — think again. Instead, there's yet another chance to score the Autumn seasonal rumor. We won't spoil the surprise, but let's just say it's suitably British with a bit of Italian gusto.
More Posts On...