After sneaking out at the hands of influencers and content creators last week, Thrustmaster has now officially taken the wraps off its new T248 wheel.
As expected, the T248 is an upgraded replacement for the older TMX and T150 wheels, although for now it's only being referenced as a PlayStation-compatible product. Given Thrustmaster's road map posted earlier in the month, we'd expect a similar Xbox product in due course.
Like the previous wheel, the T248 is equipped with a force feedback system which blends the reliable gear-drive system of lower-end products with the granularity of the belt drive found across the Thrustmaster range. This newly rebranded "Hybrid Drive" system promises "70% more power" than the T150, although it's not clear if that refers to the force feedback strength or not.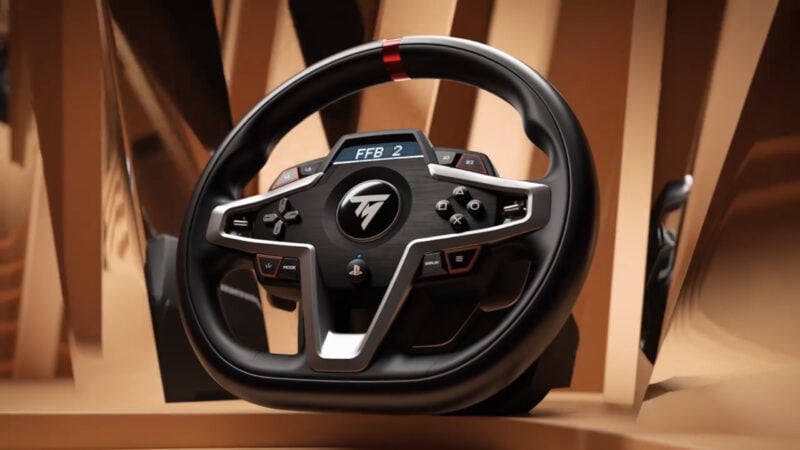 However the wheel does offer an adjustable force feedback system, with three different presets that players can adjust while driving. Thrustmaster names these settings "linear", "enhanced", and "boosted", with different FFB curves for each — linear, for example, results in a 1:1 wheel response from the game's output.
One feature you won't easily miss is the display screen above the wheel center. This "Race Dashboard Display" is a simple five-digit screen, but — depending on game support — it can display over 20 different pieces of information.
That includes the FFB preset and wheel rotation angle setting, but also in-game data like speed, rpm, lap time, lap count, or even vehicle settings like gear ratios. There's also 25 action buttons in total, including the two magnetic paddle shifters.
Included with the wheel is the new T3PM pedal set. This is effectively a blend of the T3PA and T-LCM pedals, featuring magnetic, Hall effect sensors instead of potentiometers to measure pedal travel. Thrustmaster also states that the pedals offer four different spring configurations for the brake pedal, to suit different types of mountings.
At the moment, the T248 wheel bundle is the only way to get the T3PM pedals, though we're expecting them to become available as standalone items in due course.
The T248 bundle for PlayStation 4/5 and PC is priced at $399.99/£299.99/€349.99 — an increase compared to the T150/TMX but in line with Thrustmaster's recently announced price increases. It's available to preorder now in the EMEA and North America regions, with market availability expected on October 21, while the rest of the world will have to wait until later in the year.
See more articles on Thrustmaster.