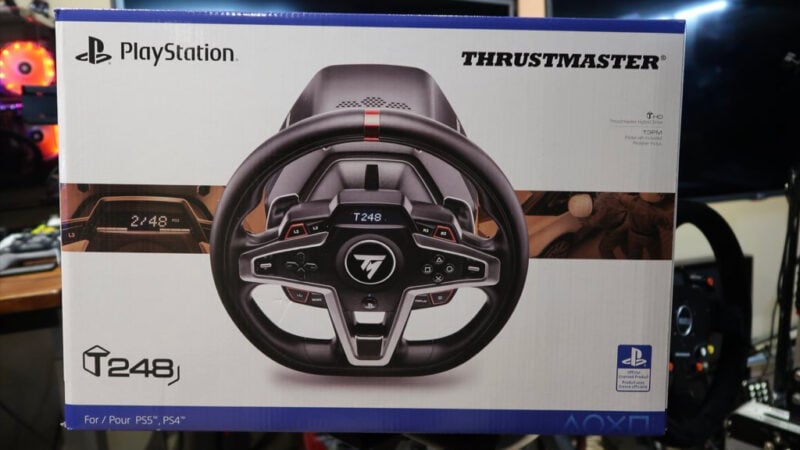 Earlier this week, gaming peripheral manufacturer Thrustmaster announced it would have no fewer than three new pieces of racing game equipment to reveal across 2021 — but we've already got a look at one, or perhaps two, through an unexpectedly early leak ahead of the official reveal.
Several influencers have posted images on social media sites of the box for the new wheel bundle, which goes by the name of T248. The bundle includes the wheel and base itself, but also a new set of pedals called T3PM. That would account for two of the three items on Thrustmaster's list: a new racing pedals set, and a new hybrid drive wheel, for console and PC.
The item shown in the images specifically states it is compatible with PlayStation4, PlayStation 5, and PC, which strongly suggests the T248 will be available later in two different forms — one for PlayStation, one for Xbox — rather than a totally cross-compatible single unit.
Without a direct hands-on with the wheel, we can't state anything with particular certainty, but given the name, technology, and overall finish of the T248 it looks like it's set to be a rival for Logitech's G923 — sitting underneath the T300.
Thrustmaster describes the wheel as a "hybrid drive" (with the tech labelled as T-HD on the box). That looks to be a rebranding or development of the combination belt/gear system used in the older T150/TMX wheel, which again places it below the belt-driven T300 in the market.
Naturally the wheel has all the PlayStation buttons you'd expect, with the L2, R2, Create, and Options buttons set into red surrounds. That mirrors the red centering stripe at the top of the wheel. There's also two selectors on each side which look like monostable position switches that would control things like GT Sport's multifunction display.
Of particular note is a new digital display unit at the top of the wheel hub. It's not clear how versatile it is at the moment, but it appears to be basic a five-character display. That means it could at least display settings info (such as TCS 0) or current gear.
Arguably the pedals are as interesting as the wheel itself. The T3PM name suggests a development of the T3PA, and given Thrustmaster's use of the "M" in the T-LCM pedal set previously, likely to use Hall effect magnetic sensors in place of potentiometers.
As Thrustmaster hasn't yet announced the T248 officially, we don't know when it'll become available or what the pricing is. However if it's already in the hands of sim racing influencers, it's likely an official reveal will be coming soon.
Images via SLAPtrain on Twitter, and K3BAB on YouTube.
See more articles on Thrustmaster.