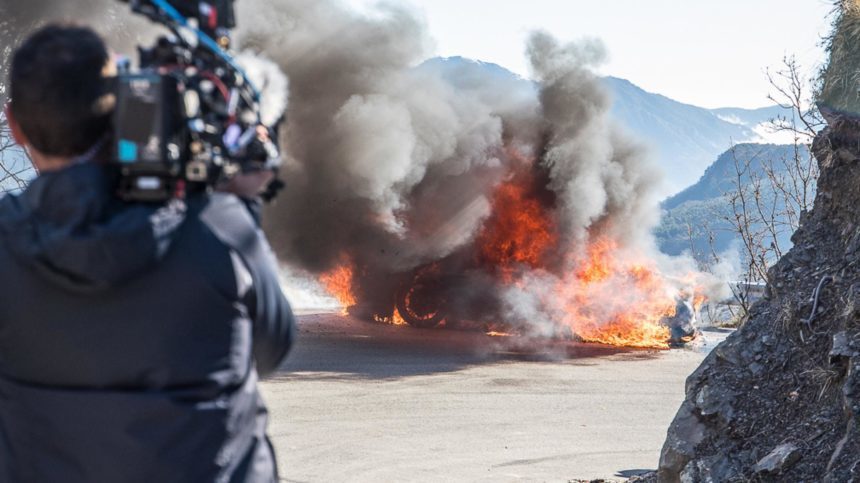 The Alpine A110 might be the hottest thing in sports cars at the moment. It's safe to say that the hosts of Top Gear weren't expecting it to be so hot it was actually on fire.
Presenters Chris Harris and Eddie Jordan were filming the car for the show's new series last week. The sequence involved the duo driving a stage of Monte Carlo Rally.
According to Top Gear magazine, the filming took place over a closed section of the SS17 stage. The Alpine, a pre-production model, was one of five vehicles involved, along with four rally cars.
A keen-eyed member of the filming crew spotted flames coming from the bottom of the A110. Harris, driving, and Jordan pulled over to get out. According to Harris, he realized there was serious trouble "when I opened the door and the flames went up my arm".
Both presenters were able to exit the car safely, but sadly the incident proved catastrophic for the car itself. The flames quickly consumed the 248hp A110, leaving nothing but a charred mess.
Alpine is investigating the cause of the fire. It has suspended driving activities with the pre-production test fleet in the meantime.
While thankfully rare, it's not the first fire to affect motoring television shows. Last year, The Grand Tour's Richard Hammond had a narrow escape from a burning Rimac Concept_One — although in fairness, he had just crashed the car down a Swiss mountainside. Fifth Gear host Jason Plato only just made it out of a Caparo T1 in 2007, suffering burns during his incident.
Top Gear is due to return to screens in the Spring.
Images: Top Gear/BBC Worldwide.
More Posts On...