Precious few people have even got the chance to drive the new Toyota Supra road car yet, but already there's three race car versions. Next week at the 2019 Geneva International Motor Show, Toyota will add a fourth: the GR Supra GT4 Concept.
Just like the road car, Toyota Gazoo Racing is behind the GT4 Concept. It's not a ready-made racer, but represents a potential Supra that could compete in production car-based GT categories.
With that remit in mind, very little has changed from the road car. The GT4's dimensions are very similar to the GR Supra, with the race car sitting around two inches lower and three inches longer. This is down to the diffuser and wing, both of which use an unusual hemp composite to reduce the car's carbon footprint.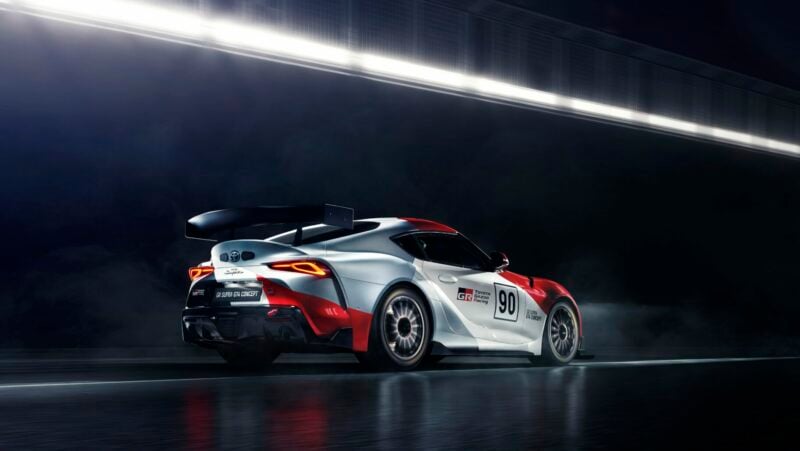 Most of the GR Supra's mechanical parts make it over to the GT4 almost untouched too. Aside from a change to competition-grade components, the GT4's MacPherson strut/multilink rear suspension is the same as the road car. New five-stud, 18-inch racing wheels from OZ cover the racing spec Brembo brakes.
The engine is carried over into the racer too. That means the same three-liter, straight-six, turbocharged petrol engine. Gazoo Racing fits a motorsport ECU and custom wiring loom, but it's a little coy on the exact power output. The standard car's 335hp isn't far off the GT4 ballpark as things stand anyway, so it's unlikely to be too dramatic a change.
Like the road car, the GT4 Concept also uses an automatic transmission. It's unclear whether this is the eight-speed from the road car or a different unit. Whichever it is, the GT4 pushes the power out through motorsport-grade drive shafts and limited slip differential.
Of course the interior is pure race car. Gazoo Racing has stripped out the cabin, replacing the standard seats with a single OMP racing seat. There's a high-strength roll cage and an FIA-standard fire extinguisher — along with the motorsport fuel tank and fast-refuel system.
The GT4 joins last year's GR Supra Racing Concept and the more recent Super GT car to cover the GT categories. There's also a NASCAR Xfinity Series Supra, although this owes far less to its road car siblings.
If there's sufficient interest over the course of the Geneva Motor Show, Toyota Gazoo Racing will push the GT4 Supra's development further. This may mean a competition debut in 2020.
See more articles on Geneva Motor Show 2019 and Toyota Supra.