It's been a long time since E3 2016. That was when we first heard of the Xbox One X, though it went by the name "Project Scorpio" then. On stage, Microsoft's Phil Spencer promised Scorpio would be the most powerful console we had ever seen.
Earlier this year, we got the official stats, and Spencer wasn't lying. By now we're all familiar with the headline figures: native 4K, HDR, 60fps, 12GB of RAM, Dolby Atmos. We also found out the system would support 4K streaming out of the box, making it easier for content creators. Best of all — for racing game fans, anyway — was that a whole bunch of titles would get X-specific patches to take full advantage of the new uber-Xbox.
With six days left until the global launch, GTPlanet's got its hands on a One X package. Let's take a look at what's inside.
A big thanks to Xbox Canada for including me in the pre-launch One X program. Special shout out to Robert for making it all happen!
The Unboxing
Up here in Canada, the review units come in your usual brown cardboard box. Opening that up, the first thing I found was the Planet Earth II Blu-Ray set. The benefits of this are two-fold. First, it'll undoubtedly be a visual powerhouse (and highlights the X's physical UHD Blu-Ray drive). Any excuse to re-watch that lizard scene is good in my books. But — almost more important — it instantly had my better half interested. Well played, Microsoft.
Next up is a glossy booklet about the One X. It's an unexpected hybrid; part coffee-table piece, part instruction manual. Flipping through the pages, there's a lot of familiar ground, but it got very helpful when the subject of transferring my existing files came up.
I'm lucky enough to not have any bandwidth caps with my ISP, but the thought of re-downloading all of my games sounded daunting. Thankfully, Microsoft recommends an external hard drive to transfer game files. You can also backup your system preferences, so the new X will start up exactly as your existing One does once you're logged in.
I had a 500GB external lying around, so it happily accepted all of my original One's data. It was only about half-way through the procedure that I realized it was actually my PS4's original hard drive, before that was swapped out for a 2GB. I'm glad the original's still proving useful!
Lastly (and not shown in the images up top) is a black folder. This is unique to the review unit, and opening it up explains why: there's a veritable pile of redeemable codes, for services as well as games. The 20 games — yes, 20 — range from first party Halo fare to third-party titles like FIFA 18, Assassin's Creed Origins, and Star Wars Battlefront II.
Naturally, with this being GTPlanet and all, Forza Motorsport 7 is the big draw here. We've already reviewed the game, so expect comparisons between the vanilla One and the new X. That being said, taking off my sim racing hat (helmet?), a whole bunch of the included titles pique my interest.
The Console
With the rest of the box's contents out of the way, it was time for the main event. The model Microsoft sent me is the "base" One X. It feels a little silly calling it that, but the distinction is due to the limited edition Project Scorpio version. That sold out fast — so if you're heading to the shops next week looking for the X, this one right here is what you'll find.
Cracking open the main display box, I'm first hit by a sleeve with another pair of XBL Gold and Xbox Game Pass vouchers. Microsoft has long included Gold trials with its systems, so it's nice to see it also adding Game Pass.
With that out of the way, I finally see the console. It's wrapped, and taking it out proves the X is a weighty item. It's a surprise, not least because it has such a modest footprint. The heft does give the X a sense of quality though, in the same comforting way a Mercedes' door closes compared to a Mitsubishi's.
Before I unwrap it, I pull out the other small box, which houses the power and HDMI cables, and the controller. The power cable is a welcome sight: my 2015-spec One has the external power brick, so the X offers a much tidier setup.
The controller is largely the same as the previous non-Elite pad. That's no bad thing, as it's a great all-rounder, and those rumbly FFB triggers are a huge boon for racing games. The finish on the triggers and shoulder buttons is slightly more reflective than my original pad, while the central Xbox button has more of a satin finish.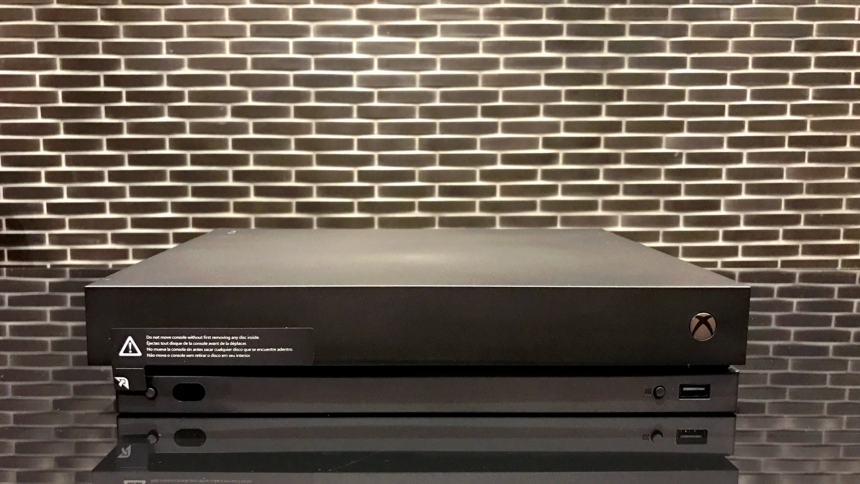 Onto the main attraction, then. It's worth mentioning again that I'm shocked at how small the One X is: it's a strange reversal of what I've come to expect after the PS4 Pro's add-another-layer design approach. The X is very utilitarian in its matte black design, but doesn't look or feel cheap. In other words, it should look right at home in any modern entertainment console.
The usual array of ports line the back, while the USB slot is mercifully up front. It's up there on the S too, but the original One has it on the left-hand side. Meanwhile on the right-hand side, Microsoft's included a fun little "Hello from Seattle" easter egg. Cheeky.
And yes, I'll be removing that warning sticker as soon as the system's set up.
One thing I did notice about the One X while taking pictures for this article is that it's a bit of a dust/fingerprint sponge. The latter shouldn't be an issue unless you're regularly moving your console around, but the former is harder to avoid.
That's about all I can cover on the Xbox One X at the moment. With Halloween in the rearview, it'll be set up and run through a battery of tests over the next few days. Stay tuned to GTPlanet for regular updates!
More Posts On...