Round 2 of the 2022 Gran Turismo World Series Manufacturers Cup will be broadcast today, September 25, starting at 1300 UTC.
It's the second of three online-only events in this season's championship, but the third of five events in total, and represents the half way point in both cases. With only the online Round 3 to go before November's World Final, it's the penultimate chance for the brand-affiliated drivers to score championship points.
Each of the five events awards World Series points, with up to three in each of the online rounds and up to six in last month's World Series Showdown. The points carry over into the World Final, where far more points are on offer, and the brand with the most points at the end of the season will be the winner.
Subaru currently leads the championship, with a clever tactical win from double world-champion Takuma Miyazono at Watkins Glen backed up with a demolition job by Daniel Solis and Kylian Drumont in the Showdown securing maximum points.
Its nearest rival, Mercedes, sits on five points courtesy of second in the Showdown, with Toyota third on four points on the same basis. That means that, with three points available here, Subaru will lead into Round 3 no matter what happens.
Subaru – 9 points
Mercedes-AMG – 5 points
Toyota – 4 points
Mazda – 3 points
Nissan – 3 points
Genesis – 2 points
Volkswagen – 1 point
It'd be easy to pick Subaru, again represented by Drumont, for a win here, but the BRZ is not the fastest car over one lap of the Circuit de Spa-Francorchamps that hosts the race. Tire wear will be a major factor, with a 6x tire wear rate — so one lap produces six laps' worth of wear — but it may not offset the pace deficit.
Toyota, with double world champion Igor Fraga driving, has great single lap pace but fell away in both previous events — dropping out of the points at Watkins Glen after qualifying on pole — due to fuel conservation. A 4x fuel use multiplier might also hamper the team at Spa.
Olympic bronze medalist Baptiste Beauvois is again representing Mercedes-AMG, and would be one to watch, as is Genesis with Nico Romero scoring two points in the first online event at Watkins Glen. Nissan has also been on form recently, being the only brand along with Genesis and Subaru to score in both previous events.
The race will broadcast at 1300 UTC on Sunday September 25, with the corresponding Nations Cup show coming two weeks later on Sunday October 9.
Up until the broadcast starts, you can enter your guess for who will take victory on a special in-game portal called "Bonus Campaign". Pick the winner and you'll earn 500,000cr for your GT7 bank balance.
Alternative Language Streams
Competitors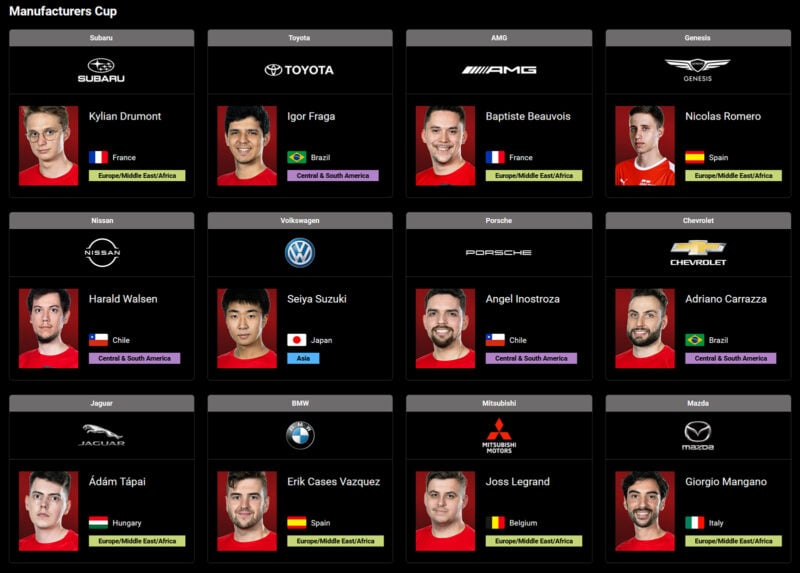 See more articles on Gran Turismo World Series.