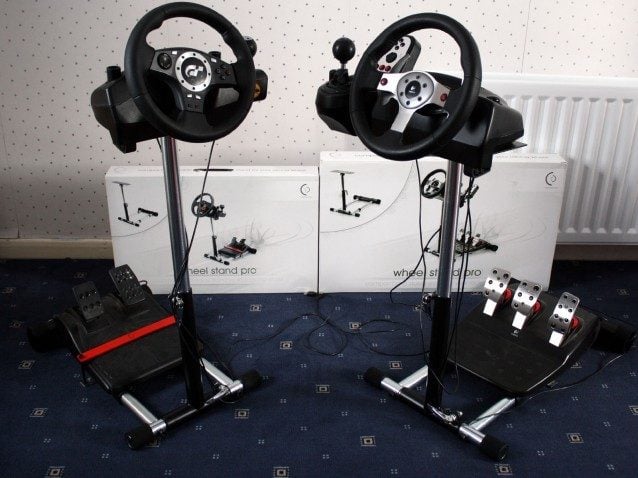 Following on from Jordan's review 3 years ago, Wheel Stand Pro have kindly sent over a complementary pair of their upgraded v2 stands for GTPlanet to put through their paces. On review this time are their Logitech Driving Force stand (compatible with Driving Force GT, EX, FX and Pro wheels) and the Logitech G series stand (compatible with G25 and G27 wheels).
Wheel Stand Pro's products aim to provide a professional, commercial solution to the age-old problem faced by racing gamers – where on Earth in your house can you put a £150 steering wheel to get the most out of such a purchase? The Wheel Stand Pro v2 is a compact answer. By stopping short of the outright stability offered by full cockpits, they can provide less expensive (£69 and £79 for the models on review), less bulky but no less well engineered, portable stands. Gamers can put them up in their lounge in a trice and pack away to satisfy any other household members who don't share their hobby, but still get a full gaming experience.
Unboxing
The stands arrived in glossy presentation boxes from the manufacturer in Poland, just 2 days after dispatch – tracking numbers are provided by the distributor to add to the sense of anticipation! The slightly larger G25 stand box took a little cosmetic damage on one corner, just as a reminder it had been through a British courier service, but all the contents were safe and sound.
Both boxes contained the stand itself, a laminated instruction sheet and a set of tools comprising a 5mm allen key, a 6mm allen key and a 13mm spanner (wrench) with open and ring ends. Each box contains subtlely different secondary components – the Driving Force stand including two pedal mounting plates, two M6x80 allen bolts and two M6x16 allen bolts while the G25/7  stand includes the shifter mounting plate, one pedal mounting plate, one M6x50 allen bolt, four M6x16 allen bolts, two countersunk M6x12 crosshead screws, two washers, two 10mm hex nuts and a pair of zip ties for the mess of cables that inevitably follows a G25/7 around.
With the whole unit made of varying types of steel, finished in chrome, black and matt black (admittedly the bright red DFP pedal mounting bar seems a bit incongruous), the overall impression is of a well-made, well-engineered professional product. Weighing in at 13lb (5.8kg) and 15.6lb (7.1kg) respectively, they have the heft of significant piece of kit too.
Assembly
There really is very little to assemble with the Wheel Stand Pro v2 – I was able to set up both the stands in less than ten minutes without assistance. The base remains flat, just requiring the player to attach the pedals – a little trickier on the G25/7 wheel, due to a single bolt attaching into the base of the pedal box, requiring the rather heavy pedals and v2 unit to be at least tipped over while the bolt hole is found. The stand's wheel platform can be adjusted for both angle and height through two quick release catches, while the platform itself is adjusted for angle by means of the 6mm allen key and 13mm spanner on the mount. This, incidentally, would require the user to keep these tools in a safe and nearby place if, for instance, changing the wheel's position for a new gamer.
The gearstick mount for the G25/7 stand needs to be attached with the provided pair of cross-head bolts, washers and 10mm nuts, though these tools are not provided in the box. It can, however, be mounted to either raise the gearstick unit above wheel or below it and either on the correct side or the wrong side, as suits.
The wheel simply needs to be attached with its existing clamps – some wheels also have additional holes for securing them by means of the M6x16 allen bolts provided and the wheel platform has holes for this purpose – and you're ready to go. Your pedals and wheels need never be removed again – the whole stand collapses down with everything on it, into a single portable unit.
Game Play
I tried the v2 units with a variety of seats and surfaces and found them to be suitable for just about any application. Both units could extend sufficiently that even sitting upright on a dining room chair there was enough reach – the G25/7 stand has a slightly lower maximum safe height of 27″/69cm (to the DF stand's 28″/71.5cm) but the larger wheel diameter made them effectively equal. The rubber feet prevented the stand from moving away under provocation from the pedals on the polished parquet floor and were no more moveable on carpet.
http://www.youtube.com/watch?v=19VhFeVj6OQ
My own driving style is not particularly energetic, but even so it took some pretty serious, exaggerated effort to unsettle the unit. It was possible, just, to lift the opposite-front foot of the v2 off the ground with a series of sharp, oscillating countersteer movements and on the wooden floor you could make the base move slightly in the process, but I would say it's far from a significant concern.
Just about the only gripe I'd have with the Wheel Stand Pro v2 is the quick release clip for the height adjustment. No matter what height I played at, it was at the right level to come into contact with my calf and, given that I usually play wearing shorts, this would be met with either a sudden cold sensation or a graze – neither of which is conducive to a good laptime! If the clip were located behind the column – or if I were slightly better attired – this would be less of a problem.
Storage and Transport
With the wheel and pedals detached, the v2 folds away into its original box in a matter of seconds, but you can fold the unit down to a surprisingly compact assembly even with the wheels still attached. They can be quickly moved out of the way and stored – flat, upright or on their side – anywhere that there's two feet of room. As a keen LAN driver I'm particularly pleased with the portability of the v2 – it can be collapsed, put into the back of just about any car and taken to wherever the next LAN meet happens to be. Even if you own a Mazda MX-5!
Summary
I've never really been much of a fan of portable stands like this, to the point of never really trying one – I've always preferred the permanence of a full cockpit. Having got to grips with the Wheel Stand Pro v2 and seen the versatility they offer, I've had to change my mind. While a solitary gamer might prefer a cockpit that they can set up just right for their preferences, the v2 is a strong contender for the social gamer's choice. It can be set up anywhere there's a screen, a console and somewhere to sit in a matter of seconds and removed just as quickly – and best of all require very little effort to get it there in the first place! I had my doubts too about the stability but even at levels of wheel-sawing beyond normal use it was difficult to unsettle. At less than half the price of the wheel that was mounted to it, it's something of a bargain for the extra functionality you get from your wheel!
Buying
The v2 is now on sale at Wheelstandpro.com for a variety of wheels, including Thrustmaster. Shipping is available worldwide at varying rates (up to $26 for US/Canada customers) and a 7 day return for a full refund (less return shipping costs) is offered alongside a 2 year warranty. For further information and queries please contact Wheel Stand Pro customer services.
See more articles on Logitech Driving Force Pro and Logitech G25.