If you're a PC player and you use Steam, you'll be able to play a short demo of WRC 10 for free over the next week, starting later today.
Thanks to Nacon and KT Racing, we've already had a hands-on with the same demo, along with a virtual press conference on what players can expect from the finished product when it launches in September.
The demo itself is a mere taster for the game, with only a single mode available. It offers up a test drive of a single stage — forward or reverse — from each of three rallies, in one of three WRC machines across four teams. That's certainly enough to get a handle on how the physics model has changed from WRC 9.
While a development of the WRC 9 engine — which was itself a development from WRC 8 — there is a raft of updates which change how the game drives significantly. KT Racing points to changes in the suspension and aero models, as well as a new way to replicate chassis flex. There's also updates to how the differentials function and even the electronic engine management.
That does all generate a slightly nicer drive. WRC 9 was tricky to handle all round, while WRC 10 seems to bring it back under control. Going fast still takes a huge amount of concentration and skill — as with the real thing — but clipping along at 80% is less frantic than before; we didn't even crash during a steady first drive at Croatia's Grdanjci stage, though we were almost 90s behind the best time…
It's an important change which could help WRC 10 break the niche title shackles of the WRC series. A title that's easy to drive but hard to master won't discourage novices so readily. That said, there's still a lot of room for improvement that would help to keep newcomers; the demo again has no course map, just a progress bar, and the co-driver barks pace notes at you without any hints at all what they mean — though perhaps that is covered in a training mode. We'll help: the single-digit number is pretty much the gear you should be in.
Along with updates to the sound and some of the environment, it's a good preview of how the game will drive, but there's a lot more coming beside.
Private Team
Of course you'll once again be able to head through a career mode, but you won't have to do it in place of one of the existing teams. Instead you can create your own outfit and take on the world's best as a private entry.
This also means that, for the first time, you'll be able to create your own liveries on the modern WRC cars, and WRC 10 includes an extensive livery editor. We haven't seen it in action yet, but KT Racing says you can not only place shapes, stickers, and brands on vehicles, but create your own stickers by grouping other shapes in a sticker editor. At present you won't be able to upload images for use as decals, though it is something KT Racing has looked into.
Car List
As usual, you can expect comprehensive representation from the 2021 season. That covers 52 teams from WRC, WRC2, WRC3 and the Junior WRC class, with the demo including the three WRC chassis of the Ford Fiesta, Hyundai i20, and Toyota Yaris.
However, the celebration of the WRC's 50th season in 2022 also brings along 22 classics from across the history of the championship, covering five eras from 1973 to the present. The full list is as follows:
Alpine A110
Audi Quattro A1 1981
Audi Quattro A2 1984
Citroen DS3 WRC 2011
Citroen Xsara WRC 2005
FIAT Abarth 131 1980
Ford Escort Mk2 1973
Ford Fiesta WRC 2017
Lancia 037
Lancia Delta HF 4WD 1987
Lancia Delta HF Integrale Evo 1992
Lancia Fulvia
Lancia Stratos
Mitsubishi Lancer Evo V
Peugeot 205 T16 Evo 1
Peugeot 205 T16 Evo 2
Porsche 911 GT3 RGT
Proton Iriz R5
Subaru Impreza WRC 1997
Toyota Celica Turbo GT4
Toyota Corolla 1999
Toyota Yaris WRC 2017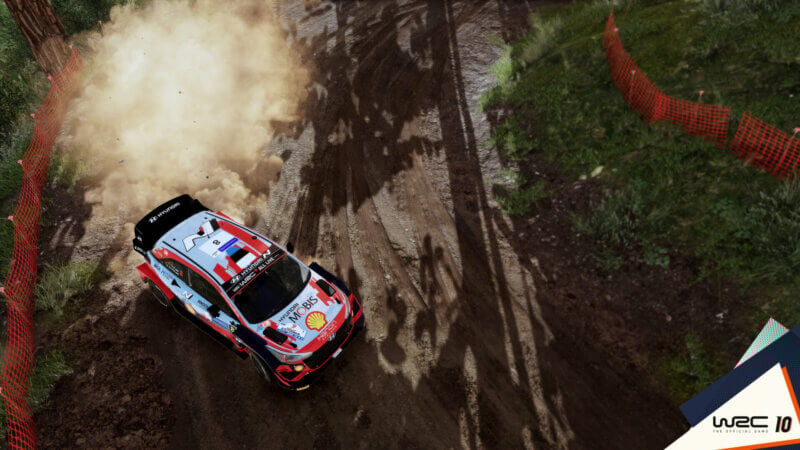 Course List
The demo contains a stage each from Croatia, Estonia, and Spain, all of which are new. Thanks to some real-world disruption, WRC 10 actually contains more races and locations than the real calendar.
Along with the three locations from the demo, there's also modern rally events from Monte Carlo, Sweden, Portugal, Italy (Sardinia), Kenya, Finland, Belgium, Chile, Japan, Wales, and Greece. All but Belgium and Greece are available at launch, with these two coming later in free updates. There's also historic rally events from Monte Carlo, Sweden, Kenya, Greece, Italy (San Remo), and Spain, with Portugal, Finland, Argentina, Germany, and Mexico all coming post-launch.
In total there's 19 different locations and over 120 stages.
History Mode
Combining the legendary cars and the historic rally circuits, History Mode will see players take on over 20 challenges, separated into five categories from First Years through to Modern WRC — taking in both Group A and Group B.
At present it's not totally clear what the challenges are, but KT Racing says they will "relive the most legendary moments of the WRC".
WRC 10 will launch on September 2 across PlayStation 4/5, Xbox One/Series, and PC through Epic and Steam. A Nintendo Switch version will follow at a later date.
See more articles on WRC 10.