The official FIA-Certified Gran Turismo Online Championships World Final is nearly upon us. There's only one item of business to get out of the way first: the Toyota GR Supra GT Cup.
Now in its second season, the Supra Cup launched as the only global, online, single-make championship in the world. As the name suggests, it puts players into the new Toyota GR Supra — with the 2020 model making its debut this season — to race against rivals around the globe.
Last year, the event partnered with the World Tour Tokyo event, but with no live events possible this year it acts as the curtain-raiser for the World Final. There's going to be a new champion too, as 2019 winner Mikail Hizal hasn't entered this year. That could lead to a pretty tight battle at the front.
Among this year's favorites will be Takuma Miyazono. The Japanese driver has been in command through 2020, winning his regional final in Nations Cup and the only World Tour that took place — in Sydney back in February. He's also the highest-placed driver from 2019 to return, as countryman Kanata Kawakami who placed second is also absent. Just behind, in 4th, was Daniel Solis, who also returns.
However there's star names up and down the grid. Cody Latkovski is a permanent presence near the front of the grid, and the podium, in GT Sport events and will be out to claim his first winner's trophy in a finals event. The fast European trio from the Williams Esports team — Coque Lopez, Valerio Gallo, and Giorgio Mangano — will also be in the hunt.
There'll be three races in total. Two semi-finals, both at Fuji Speedway, will whittle the 24-car field down to 12 for the final. That's a 15-lap race with full tire strategy required, at Spa-Francorchamps. Drivers will score points in both their races, with six points for the win in the semi-final and the usual 12 points in the final, with the highest aggregate score deciding the winner.
The action all gets underway at 1300 UTC on Friday December 18, and you can watch it in full below:
You can also watch the stream in Japanese if you wish.
Competitor Guide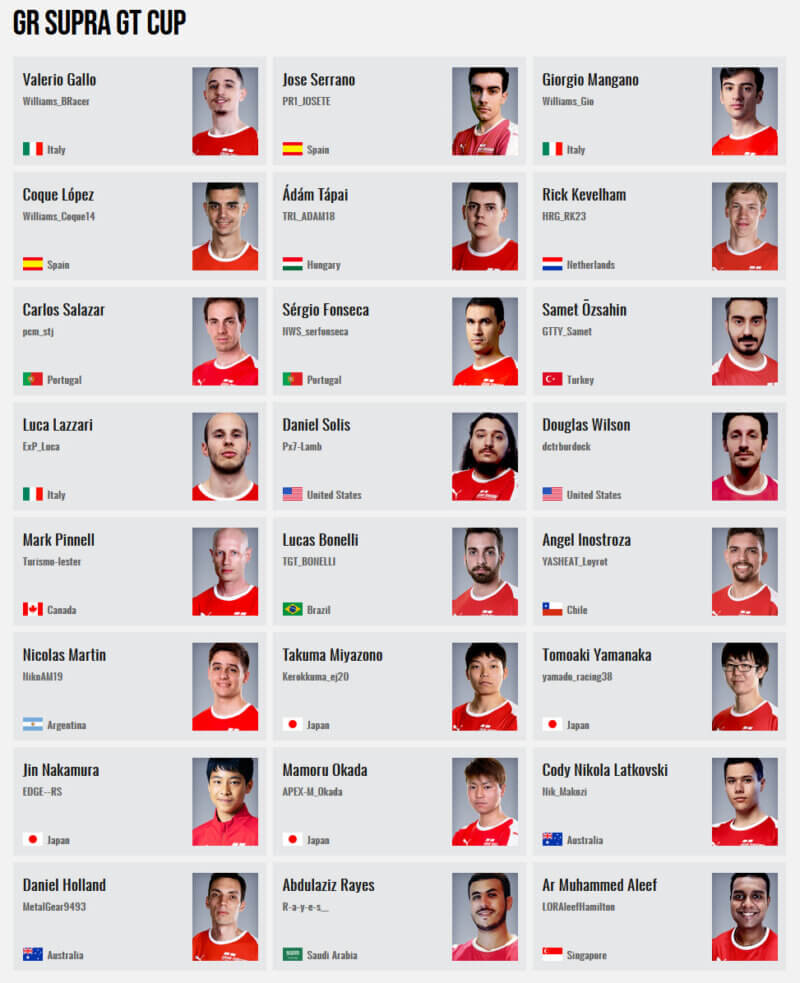 See more articles on GR Supra GT Cup, Live Stream, and Toyota.