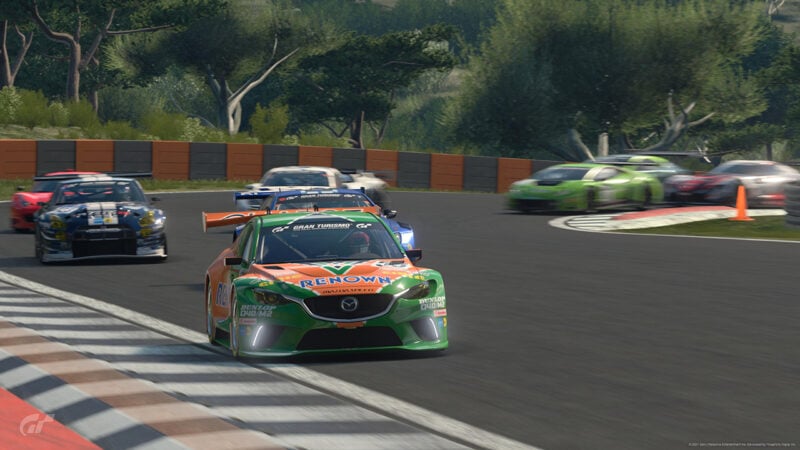 Following on four weeks from the last set, a new set of Daily Races is now available in Gran Turismo Sport as players get used to the new scheduling for the 2017 title.
The apparent, and unannounced, adjustment to a four-weekly rotation for Sport's Daily Races does at least temporarily assuage fan fears that Sport might have been killed off following Gran Turismo 7's launch in March. For now it seems the races will continue.
This week's three events all take place on tracks known for their rather mountainous locations, from the volcanic Mount Fuji to the Dinarides range above the fictional Dragon Trail location.
Race A brings you a choice of Porsche 911s, with the 993-generation RS ClubSport going up against the 997 GT3. Both cars are provided for the race, with specific vehicle settings applied to better equalize them within the N400 BOP.
It's a simply four-lap race of Fuji International Speedway, with Sports Soft tires providing plenty of grip. Pick your Porsche and go racing.
For Race B this week you'll be in the Gr.3 cars, heading to the Dragon Trail location set near the town of Baska Voda in Croatia.
You can choose any car from the class for this five-lap sprint race. There's no tire or fuel concerns here, so it's a case of going all-out for the short event.
Race C has an odd twist this week. It's a Gr.4 event at Red Bull Ring, running for 12 laps through the Styrian hills. Although tire wear is in play, at just 3x — so each lap generates three laps of wear — it won't be a factor on the Racing Hard tires required.
However you will still need to make one pit stop during the race. You won't need to take on fuel or tires, just head into the pits and head back out again. Failing to do so will garnish your race time with an additional minute, by way of a penalty.
As yet we still don't know if this new four-week rotation is going to be how GT Sport continues to operate. If, as seems likely, it does, the current set will remain in place for four weeks — until Monday June 6.
Race A
Track: Fuji International Speedway – 4 laps
Car: Porsche 911 993 Carrera RS CS '95, Porsche 911 997 GT3 '09 – Provided Car
Tires: Sports Soft
Start Type: Grid Start
Fuel use: Off
Tire use: Off
Race B
Track: Dragon Trail – Gardens, 5 laps
Car: Gr.3 – Garage Car
Tires: Racing Medium
Start Type: Rolling Start
Fuel use: Off
Tire use: Off
Race C
Track: Red Bull Ring, 12 laps
Car: Gr.4 – Garage Car
Tires: Racing Hard
Start Type: Rolling Start
Fuel use: 2x
Tire use: 3x
See more articles on Daily Races.