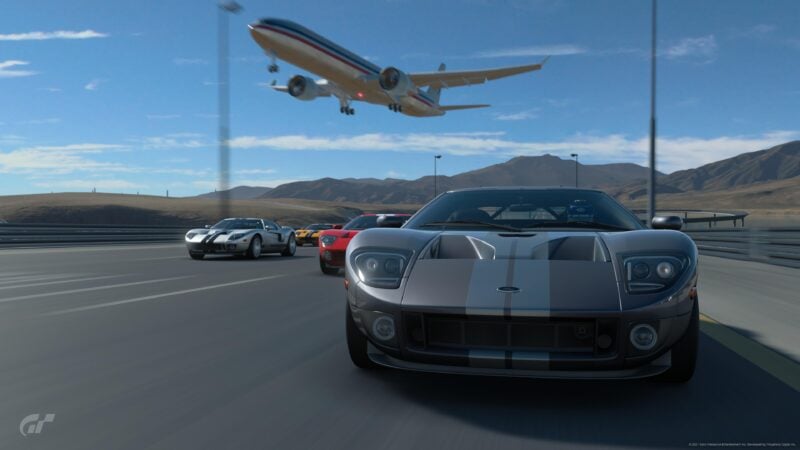 For the first time in nearly a month, there's a new set of Daily Races in Gran Turismo Sport for players to enjoy for the foreseeable future.
After Gran Turismo 7's launch in March, fans' concerns that GT Sport would be rapidly forgotten about seemed to be unfounded as the Daily Races continued on schedule. However that soon ended, with the last new set coming on March 14 — leading to speculation that Sport might have been killed off.
The arrival of a new trio of races today puts a pause on the obituary, although without any announcement either way into the game's future we don't know when or if any further new Daily Races will come.
This week's three include a pair of fairly routine GT Sport events and something from the weirdest recesses of the game's options.
Race A is the oddity. You'll be driving the 2006 Ford GT, a car which GT series creator Kazunori Yamauchi owns in the real world. So far, so normal.
However the venue is the 18.8-mile oval Special Stage Route X. You'll be racing a single lap in a standard version of the Ford, on Racing Hard tires, and you may as well rest your braking foot or finger as it's full throttle from lights to flag.
It'll be a slipstream battle at 200mph+, and the only question is when you'll choose to make a break for the lead: too early around the final corner and you'll be beaten to the line; too late and you won't be able to drag yourself past. And there's always the danger of a high-speed collision with the pit-lane entry…
Races B and C are far more normal fare. Race B will put you into your choice of Gr.4 car for a four-lap race around Sardegna Road Track A, with Race C featuring Gr.3 cars in a ten-lap race of the Nurburgring GP circuit.
You'll need to work out a pit strategy for Race C, as both Racing Medium and Racing Soft tires are required. That means you'll need to drive at least one lap on each set in any order — pitting before the start, or on the very last lap, won't count — or you'll face a one-minute penalty added to your time after the race.
With a tire wear multiplier of x7 — so each lap generates seven laps' worth of wear — it's going to be a tricky balance as the Soft option will degrade very quickly.
For now we don't know when or if these three races will be replaced, but it seems likely that the current set will remain in place for four weeks — until Monday May 9.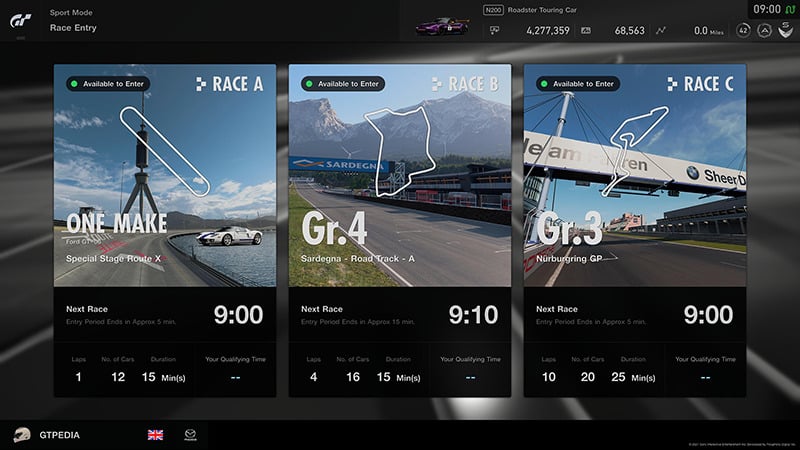 Race A
Track: Special Stage Route X, 1 lap
Car: Ford GT '06 – Provided Car
Tires: Racing Hard
Start Type: Grid Start
Fuel use: Off
Tire use: Off
Race B
Track: Sardegna – Road Track A, 4 laps
Car: Gr.4 – Garage Car
Tires: Racing Medium
Start Type: Rolling Start
Fuel use: Off
Tire use: Off
Race C
Track: Nurburgring – GP, 10 laps
Car: Gr.3 – Garage Car
Tires: Racing Medium*, Racing Soft*
Start Type: Rolling Start
Fuel use: 1x
Tire use: 7x
*denotes mandatory tire
See more articles on Daily Races.