The new season of the British GT Esports Championship will get underway this month, but there's something of a change to procedings. For the first time, the series is now entirely under the SRO Motorsports Group's purview, and shifts platforms onto Assetto Corsa Competizione.
ACC's recent British GT DLC pack enables the move, and also gives the championship access to the full calendar and almost all of the grid. The move also comes with a new format, that will see real-world drivers and teams go up against qualifying sim racers in a multi-class event.
Boasting a 40-car grid, the British GT Esports Championship will consist of five, hour-long races at the five circuits which make up the real-world calendar: Brands Hatch, Donington Park, Oulton Park, Silverstone, and Snetterton. The GT3 class will be the exclusive preserve of the professionals, with 20 drivers and teams that have experience in the real championship. It's the GT4 class that will see sim racers compete for the overall prize, with points for the top ten finishers, and each round features open qualification.
There's a four-day qualifying window ahead of each race in the championship which will see gamers — who'll need access to the PC version of the game as well as both the British GT and GT4 Pack DLC — run hot laps of the relevant circuits to qualify. For the first round at Oulton Park all 20 spots are available, but thereafter only 10 places are up for grabs, as the top ten racers in each round qualify automatically for the next.
Each race is a one-hour long event, and will require a pit stop but no driver change. The races will run across Sunday evenings from March 21 to April 25 (with no race on April 18), and SRO and British GT media channels will live stream them all.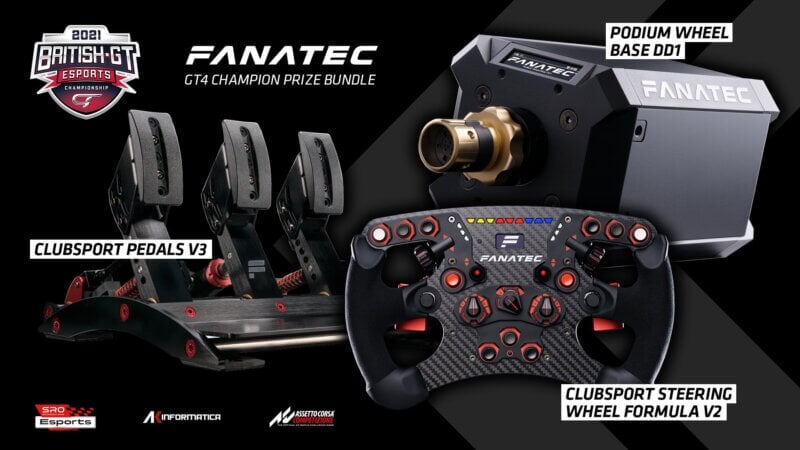 At the end of the five-race season, the championship will crown a GT4 title winner, who'll automatically qualify for the GT World Challenge Europe Esports event, and net a VIP British GT experience at a round of their choice. There's also a €2,000 sim-racing prize bundle from series partner Fanatec, consisting of Clubsport Steering Wheel Formula V2, Clubsport Pedals V3 and Podium Wheel Base DD1.
Players can register for the series on the official British GT Esports website, and the full championship schedule is as follows:
Round 1 Qualifying – March 15-18 – Oulton Park
Round 1 – March 21 – Oulton Park
Round 2 Qualifying – March 22-25 – Snetterton
Round 2 – March 28 – Snetterton
Round 3 Qualifying – March 29-April 1 – Brands Hatch
Round 3 – April 4 – Brands Hatch
Round 4 Qualifying – April 5-8 – Silverstone
Round 4 – April 11 – Silverstone
Round 5 Qualifying – April 19-22 – Donington Park
Round 5 – April 25 – Donington Park
More Posts On...
The original comments for this post are no longer available.