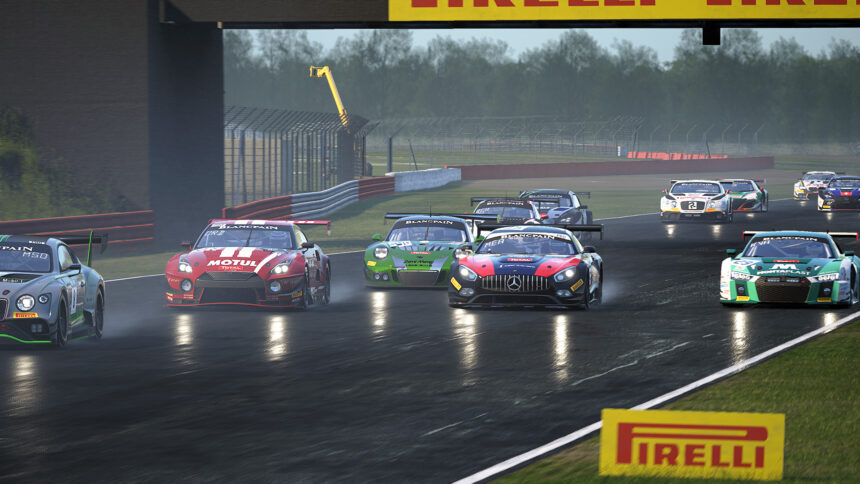 There's only a week now until the console version of Assetto Corsa Competizione is with us, and at long last we've got to see the game in action.
For those unfamiliar with it, ACC is a sort-of laser focused version of serious sim Assetto Corsa. Running an evolution of that game's physics within the Unreal Engine 4 graphics engine, Competizione simulates the GT World Challenge — formerly known as the Blancpain GT Series. That means there's a relatively compact vehicle and track selection, encompassing the locations and GT3 cars which ran in that series for the 2018 and 2019 seasons.
Like AC before it, ACC landed on PCs first, where it gained a reputation for the high quality of its vehicle simulations. The first game made the jump to consoles 20 months after its first launch, and so Competizione also makes the transition a mere year after its debut.
While it was always on the cards, naturally there's been a level of compromise in order to get the sim to work on the seven-year old PS4 and XB1 hardware. Keen drivers will be very glad to learn that this hasn't come in the physics department.
Speaking during a live presentation earlier today Davide Brivio, producer and game design director at Kunos Simulazioni, explained that the concessions were all in the graphics. Neither the physics nor audio change from PC versions of the game.
The console versions will all run at 30fps regardless of model. PS4 and PS4 Pro will be able to run at 1080p resolution, with some improvements in draw distances, anti-aliasing and particle effect on the Pro model, or 1800p upscaled to 4K on Pro. Base Xbox One makes do with 900p, but the Xbox One X is capable of a native 4K. At present there's no information on what PS5 and Xbox Series X models will support.
One further console limitation is on the total car count. While the PC versions can handle up to 50 cars, Kunos will limit the consoles to just 20. You can see the results of this below, in the first console gameplay videos of Assetto Corsa Competizione as supplied to us by KS's PR agency.
If you like what you see and hear, you can pre-order ACC now ahead of the launch on June 23. PS4 digital buyers will need to wait until June 23 to order.