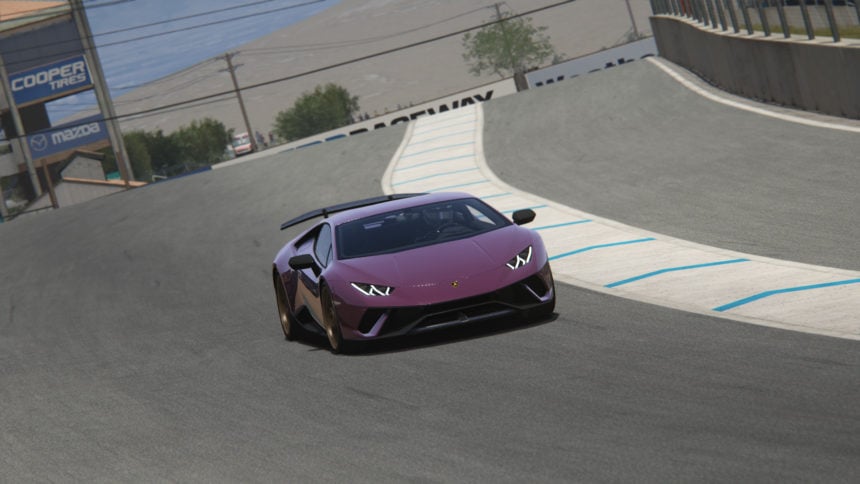 This week we began celebrating the contents of Assetto Corsa's Bonus Pack 3. We kicked things off with three of the seven new rides touring Laguna Seca. As a last hoorah for the game in 2017, we couldn't be more impressed.
We're picking up right where we left off with two new vehicles, ranging from unimpressive to outright terrifying.
Maserati Quattroporte GTS
Starting things off is the Maserati Quattroporte GTS. With a twin-turbocharged V8 packing 530hp, you'd expect a fair share of excitement. Unfortunately, such an assumption would be wrong.
In the presence of the Alfieri and Giulia Quadrifoglio, the GTS feels too sterile. Let's discuss a few facts: the GTS tackles 60 in under five seconds, and charges onward to a top speed of 194 mph. That all sounds exciting, but it fails to come across while driving. It lacks attitude, sass, and never dares to push back; there's no nuance to its character.
Disabling the driver aids doesn't assist in breaking through its shell either. In fact, with everything disabled we picked up on more understeer than we're willing to tolerate. Make no mistake, the rear end steps out on occasion but it's nothing to get excited over. That's the crux of the matter: lack of excitement.
By itself, the Quattroporte GTS is a fine addition to the game. It has the looks and it even has the grunt to back its good looks. When compared to everything else featured in the pack its weaknesses are all too obvious.
Lamborghini Huracán Performante
Rounding out the lineup is the Lamborghini Huracán Performante. Right away, this thing means business and then some. Launching the car from a standstill position is mind-bending. It all happens rather immediately, and before you know it you're at the end of the straight, fast approaching the first corner.
Funny enough, it's easy to be taken aback by its performance, but the Huracán's rather composed. There's never a moment where you feel out of control, or on the brink of losing it. With 630hp going to all four wheels, it knows exactly what it wants to do and nothing will stand in its way — not even you.
At no point during the drive did the Performante feel out of place around Laguna Seca. In fact, there were several points where the car felt too fast, as shown by the off through Turn 6. The surprising thing is with everything the Performante has going for it, it isn't the craziest Lamborghini featured in the pack. That distinct honor goes to another, but more on that later.
For a car so crazed on high performance, it outperforms even itself. We dare not call it friendly, and to be honest you shouldn't either. So long as you don't ask it to do something outside of its range, it will never put a wheel wrong. The moment you ask it to be something it isn't, it will kill you.
Don't say we didn't warn you.
More Posts On...