A UK-based mobile gaming channel, PocketGamer, has revealed a first look at the upcoming portable version of Assetto Corsa, Assetto Corsa Mobile, and it's just over two weeks away from launch.
Developed by Italian mobile specialist studio Digital Tales, ACM looks set to be the sim-oriented entry in the mobile race pantheon. According to the PocketGamer presenters, the title isn't quite as in-depth a simulation as Assetto Corsa — which comes as no surprise — but is a pretty solid approximation of it, intended as an entry level introduction to the ethos of the series.
As we saw during the stream, ACM has a number of different control methods. The one primarily used in this first preview was referred to as a "drag" setting, wherein the player controls the steering with their left thumb and the brakes with their right, while the game automatically accelerates. A further option involves tilting the screen for steering, and we'd expect individual throttle and brake controls on the screen.
Some cars, tracks, and even sounds will carry across from the regular Assetto Corsa titles, though the physics seems a little more user-friendly and the AI in the featured races didn't seem entirely convincing. The tracks we did see included Barcelona, Brands Hatch, Laguna Seca, Mugello, Red Bull Ring, Silverstone, Vallelunga, and Zandvoort.
While the racing centered on low-power hatchbacks like the Alfa Romeo MiTo and Abarth 500, some other vehicles in the menu screens included the Audi Quattro SWB, Ford GT, Lamborghini Aventador, and Maserati Levante.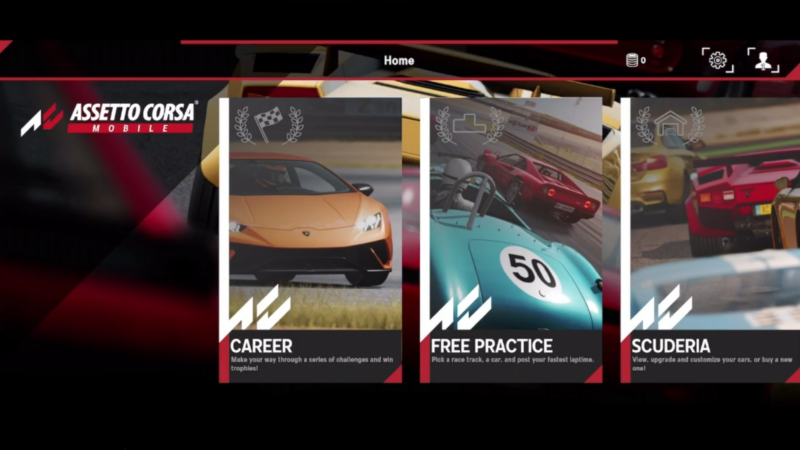 We did see a little from the game's various modes. The Career mode appears to take the form of a relatively straightforward ladder, with players required to gain a minimum number of ranking positions — podium spots in the case of the lower order events — to progress to the next championship.
One event from the Career, the Welcome Cup, appeared on the stream, showing a ten-car race at Vallelunga. It's not clear yet whether that's as many cars as ACM can display, or just the field at these low level events.
Free Practice is, as it suggests, a mode for getting out and driving any car you have at any track you can use. Scuderia mode allows you to buy, upgrade, and customize your vehicles.
While this was just a short first look at the game, 505 Games is planning a longer event as part of a "showcase" on August 27 at 1200UTC. Assetto Corsa Mobile itself will launch just four days later, on August 31.
See more articles on Mobile Gaming.