What automotive games are people playing on Steam? This is the question we asked ourselves and thankfully, Steam Charts could solve it. The answers, however, are a little surprising.
To figure out what games sim racers and auto enthusiasts were playing, we started with the top-selling list on Steam. From there, we then went through and weeded out games that aren't exactly about driving or racing. These included titles like Grand Theft Auto V and ARMA 3.
As we moved down the list, we started to find fewer and fewer games that fit the mold. Due to this we then switched over to games we've covered in the past along with games GTPlanet members discuss in the forums.
What we were left with was a total of 30 various driving games spanning from 2007 all the way to the present day.
After getting the list of game, we then over to Steam Chart to see the average monthly player count. Then we took a look at the peak numbers as well.
Leading the field by a country mile was Euro Truck Simulator 2. It's really no surprise either since it continues to be one of the most played games on Steam. It also continues with a steady stream of DLC to keep it fresh and interesting.
Farming Simulator 19 took second place with just a little over half the players of ETS2. This leaves little wonder why an esports series is such a big deal for the game and sure to be a hit. Even if the German Olympic Sports Confederation denies its existence.
In third place, SCS Software's other title, American Truck Simulator took home the bronze. Like its European cousin, it too benefits from a bevy of solid DLC to keep the player base coming back. The road ahead for the game even signals bigger and better things to come for the title as well.
It took until the fourth spot before we found the first sim racer, Assetto Corsa, which enjoys an average player base of 1,996. It even peaked in January with a respectable 4,034 simultaneous players.
In fifth, we find a rather surprising title that's not really talked about, BeamNG.drive. If you haven't heard of it, it's a sort of sandbox physics simulator. It contains various fictional cars and maps as well. There's technically a story buried in there, but the real joy comes with properly big crashes.
The coolest thing about BeamNG.drive though is how it interfaces with Automation, a game that came 17th on the list. With that game, you design your own cars and engine and the only limit is your imagination.
Prior to a recent update, you could only watch a simulator in Automation that involved a dot driving around a track. However, now you can actually import your vehicles into BeamNG.drive and drive them around. It's a tad on the clunky side but still cool nevertheless.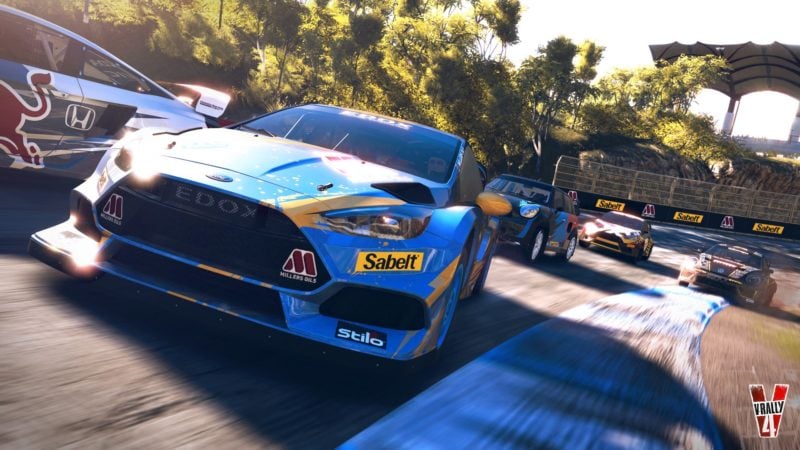 Other surprises came at the end of the list with both Gravel and V-Rally 4 unable to crack double digits with their average player count. It's a bit disappointing to see these games fall off so quickly. However, as we said in our review of Gravel it's hard to justify the $49.99 price.
One of the biggest surprises was with older games. RACE 07 released October 1, 2007, but still attracts a decent player base 12 years later. In January alone it saw an average player count of 20 with a peak of 60 players.
There are other older games too like Grid 2 and rFactor 2 that cracked the list as well.
So what can we learn from this? Well, for one, gamers really like simulators that put them behind the wheel of unusual vehicles. Also, titles that continue with strong developer support tend to do better as well.
In addition, games that offer players something unusual do well on the PC. That's why we see titles like Car Mechanic Simulator 2018, Spintires: Mudrunner, and Automation making the list.
Finally, sim racing games that tend to lean to the realistic side of the spectrum win out over lighter fare.
If you want to see how your favorite game did, you can check out Steam Charts for yourself. Also, if you want to see the data for racing/driving games yourself, you can check it out below.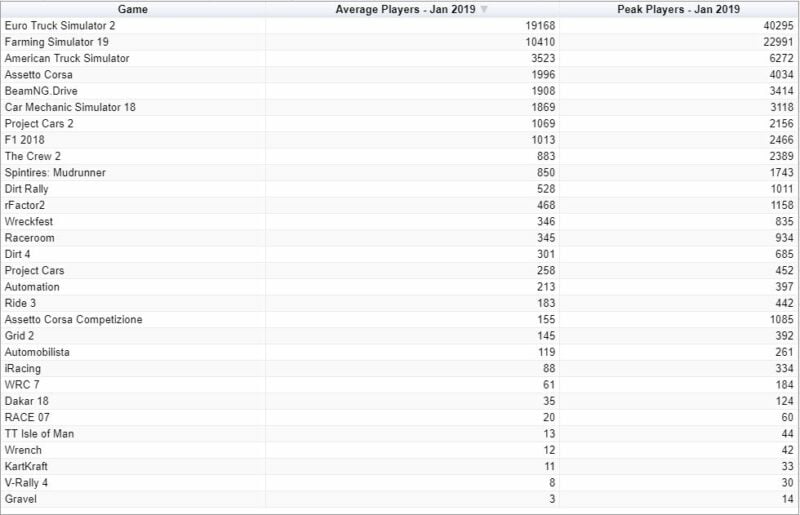 See more articles on American Truck Simulator, Assetto Corsa, Euro Truck Simulator 2, and steam.