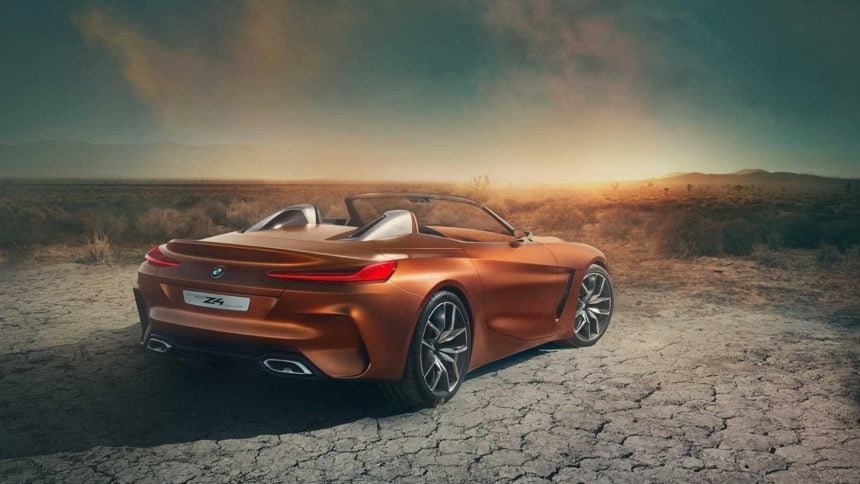 BMW is set to unveil the latest version of its Z series of two-seat roadsters later today at the opening of the Pebble Beach show. The internet seems to have stolen the Bavarian brand's thunder however. Again.
A batch of images, discovered by BMW news specialist Bimmerfile, appears to reveal the Z4 show car in full.
The image set, complete with arty shots of the male model, seems to be the genuine article. It shows both static and dynamic shots of the car in full, and with some focus on finer details.
Of those details, the first thing that jumps out at us – and it's hard to miss – is the ever-growing BMW kidney grille. This appears to take up almost two-thirds of the car's front end now. As a result, the headlights are now above the center line of the front, rather than alongside the grille.
We can also see that the car is clearly branded as a Z4. Expectations were for BMW to badge this all-new model as a Z5, replacing the Z4. However the front lip, navigation screen and roll hoops all bear Z4 markings.
The BMW design team has made those roll hoops asymmetrical, doubling up as buttresses. It's a nice flourish, but we expect that the roof will cover them when it's up. That roof should be a soft convertible top, marking a return to the soft top for the first time since 2009.
BMW enthusiasts will note the lack of a Zicker line, as with the 8 Series Concept. This side styling line, which ran the length of the car parallel to the lower window line, has been a feature of BMWs for decades. The characteristic hockey stick rear light clusters remain, however.
The brand is due to unveil the Z4 later today at the Pebble Beach Concours d'Elegance. It's rumored to be the basis of a Toyota Supra replacement too, although neither Toyota nor BMW has confirmed this yet.
More Posts On...