2019 is the 110th anniversary of the Bugatti brand. It's celebrating with not only a limited edition model of the Chiron and the most expensive new car ever made in "La Voiture Noire", but another and surprisingly cheaper vehicle too.
Its origins date back to 1926, and the fourth birthday of Ettore Bugatti's youngest son at the time. When you're a successful racing driver and own an eponymous car company, the gifts you give to your children can be rather lavish. So it proved when Bugatti, and his eldest son Jean, chose to build Roland a Bugatti for his fourth birthday.
It wasn't just any Bugatti either, but a Type 35. This racing car would become the most successful Bugatti racer and arguably the most successful race car ever. Bugatti won the Targa Florio for five years running with a Type 35.
If you think that might be a bit too much car for a four-year old, Bugatti was well ahead of you. Roland's Type 35 wasn't the real deal, rather a 50% scale replica. It was electric too, with a rear axle motor and on-board battery pack.
Surprisingly, customers loved the "Baby" Type 35, and Bugatti put it into a 500-car limited production run as an official Bugatti vehicle. The last one rolled out of Molsheim in 1936 — but now it's back.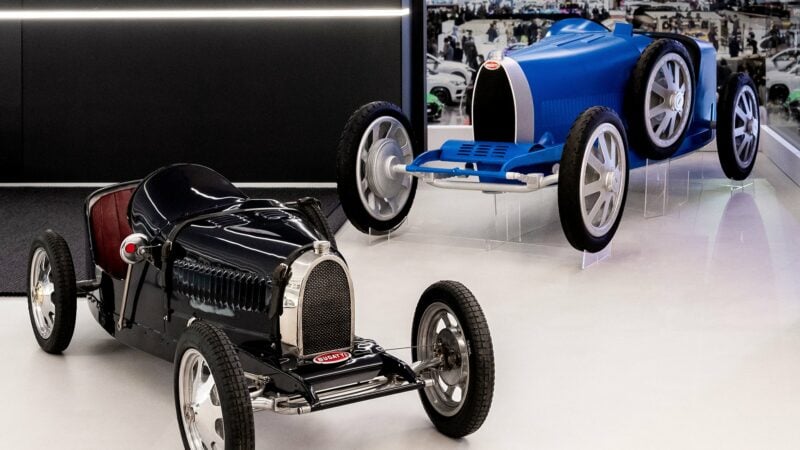 Some 90 years after the original Bugatti Baby, the brand brought a new version to the Geneva Motor Show this year. Just like the original, there's just 500 units planned and, as of this morning, you can reserve your own build slot.
There's a few differences between the Baby II and the first car. It's slightly scaled up for a start, to 75% of the original. This allows adults — or at least those that can squeeze in — to drive it in addition to the children for whom they're pretending to buy it.
Baby II also takes advantage of some modern technology. The junior car features removable lithium ion battery packs, regenerative braking and a limited slip differential. It's a bit more potent too, with a 1kW (1.3hp) "child mode" allowing a 12mph top speed, and the 4kW (5.4hp) "adult mode" giving a 28mph top speed.
Like bigger Bugattis, the Baby also comes with a "Speed Key". This unleashes the full 10kW (13.4hp) fury of the car's motors, and also removes the speed limiter.
Bugatti has based Baby II on a digital scan of an original 1924 Type 35. The car it displayed at Palexpo used 3D-printing, but Bugatti will hand build the full production model. That includes a leather seat, bespoke instruments, a scale version of the original Type 35's steering wheel and a turned aluminum dashboard. All include the classic Bugatti badge, made from two ounces of solid silver and — for cars made in 2019 — a "110ans" crest.
Production starts in fall 2019, and if you want one of the 500 cars, it'll set you back €30,000 ($34,000) plus delivery and taxes. Given that the originals now change hands for upwards of $100,000, that seems like quite a steal.
See more articles on Bugatti.