The tricksy folks at Codemasters are teasing what may be the next step in the long-running DiRT franchise. And it's all centered around delicious pizza.
Rally fans picked up the appearance of Gossip Pizza last week. No need to click on it, unfortunately: within days, the site disappeared. There is the Google cached version, if you don't mind the lack of images.
The mock Italian eatery focuses on kebab pizza, which is a long-running joke in the Codemasters community. It's the content of the page that really piques our interests though.
The clever nods and winks to both rallying and franchise history are many. Get a load of the bio on head chef Colin Solberg for starters:
"Head Chef Colin Solberg has held a Michelin star since 2003, when he first dazzled the world with his daring dishes and fearless taste combinations.

"He scored his second star in 2014 upon takin on a more versatile approach to his food preparation and approach, and is currently training up his son to take over the family business once he retires."
The name is an easy enough one: it's a combo of Colin McRae (the original star of the franchise before the DiRT name grew out of it) and Petter Solberg. Solberg won his first WRC championship in 2003. He eventually moved over to rallycross, where he picked up a title in — you guessed it — 2014. It even references his young son Oliver, who has indeed followed dear old dad into the fast-paced world of Rallycross.
Could Solberg(s) be involved in the development? Solberg Jr. was down at Codemasters HQ recently:
Really awesome to visit @Codemasters this week – I've always been such a big fan of their games! 🙌🏼🎮
Now off to Riga for #LatviaRX! pic.twitter.com/ZCIQgtXxmz

— Oliver Solberg (@OliverSolberg01) September 14, 2018
The brief bit on Gossip Pizza about "the ability to handle upto 2.0 customers at a time" could mean multiple things. There's the chance of split-screen racing (a rarity in the genre these days), or it could simply be another cheeky nod to a past title (in this case, Colin McRae Rally 2.0).
We'd rather take the 2.0 as a hint at a sequel to DiRT Rally. We loved the title back in our 2016 review, and while DiRT 4 was fun enough, it lacked the combination of content and challenge that made Rally such a draw.
Adding fuel to the sequel fire — and Petter Solberg's involvement — is a now-deleted social media post from Phil Mills. Mills was Solberg's co-driver in his WRC days, and rally-loving sleuths were able to match the setting to a similar shot of Paul Coleman recording Rally's pace notes in the same spot.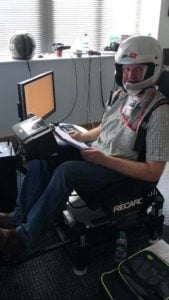 "Back in the co driver seat again today.. in a studio though!! A full day of recording getting a new rally game ready for launch early next year… good fun and the closest to the real thing I have ever experienced! Full details in about 6 weeks."
That post was from early August. We're now in the middle of September, and a response email from the Gossip Pizza website suggested the team was "on vacation until the 13th". That may not be related, however: a new DiRT game would be the 13th in the franchise, after all.
Nonetheless, we're very curious to see what Codemasters has up its sleeves. On the basis of its last game — the great F1 2018 — we're looking forward to seeing what the team has cooked up next.
Big thanks to Pfei for bringing this to our attention!
See more articles on Codemasters.