GT Sport World Tour regular Cody Latkovski has won the first ever Digital Cup at the FIA Motorsport games. Latkovski, representing Team Australia, took the win after a hard-fought race at Circuit de Barcelona-Catalunya in which the lead seemed to change on almost a corner-by-corner basis.
The racing action started with three semi-finals, each using the Fittipaldi EF7 at Brazil's Interlagos circuit. Each went pretty much as expected, with the seasoned Gran Turismo regulars taking the victory in all three cases.
Mikail Hizal, representing Germany, all but cruised to victory in race one, leading Team Hungary's Benjamin Bader home. Latkovski repeated the act in the second semi-final, winning from Tommy Østgaard — more familiar as a Porsche esports Supercup driver in iRacing. The third semi also went the way of a GT Sport World Tour driver, Bernal Valverde from Costa Rica. Valverde won the Manufacturer Series in New York, as a Mercedes-Benz teammate of Latkovski. Recently crowned World's Fastest Gamer James Baldwin placed third for the UK to also qualify for the final.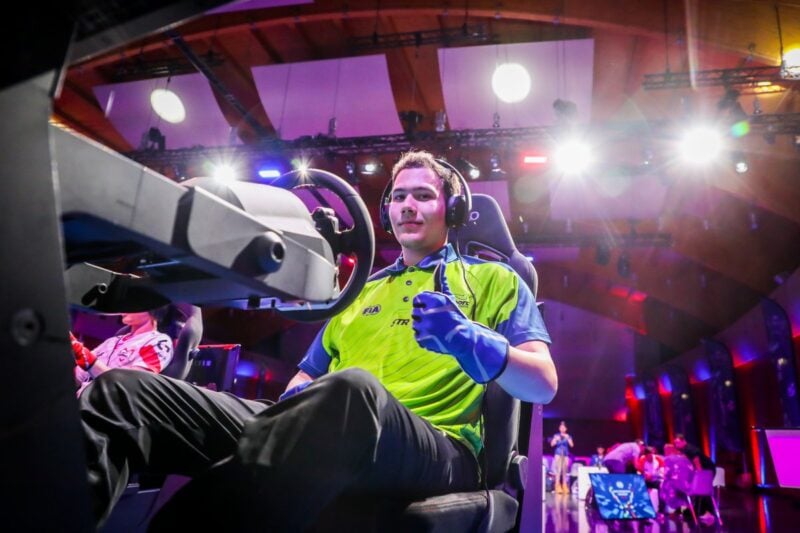 A repechage race gave three more drivers another chance to reach the final, using the Pagani Zonda R at the wet version of Red Bull Ring. That saw Leon Ackerman (Netherlands), Robin Noborg (Sweden), and Mior Hafiz (Malaysia) qualify, joining the other semi-final qualifiers Marcin Swiderek (Poland), Yi-Teng Chou (Chinese Taipei), and Stefano Conte (Italy) in the race at Barcelona.
An error-strewn race saw Hizal, Latkovski, and Valverde trading places at the sharp end. The final chicane proved to be the undoing of many drivers, with the X2019 Competition snapping round the sausage curbs, particularly on worn tires. Despite having a commanding lead for much of the early part of the race, Team Germany eventually made one mistake too many and slipped back to sixth.
Moving into the final pit stops, one lap from home, it seemed that Valverde was going to take the win. However the Costa Rica driver span at the chicane, allowing Latkovski to skim past into the lead in pit entry. He then guided the Team Australia car home to a narrow win over his Mercedes-Benz teammate, with home favorite Conte rounding out the podium.
That gave Australia its first gold medal of the games, moving it to joint first in the medal table with Drifting Cup winners Ukraine.
You can watch the entire race below:
See more articles on FIA Motorsport Games.