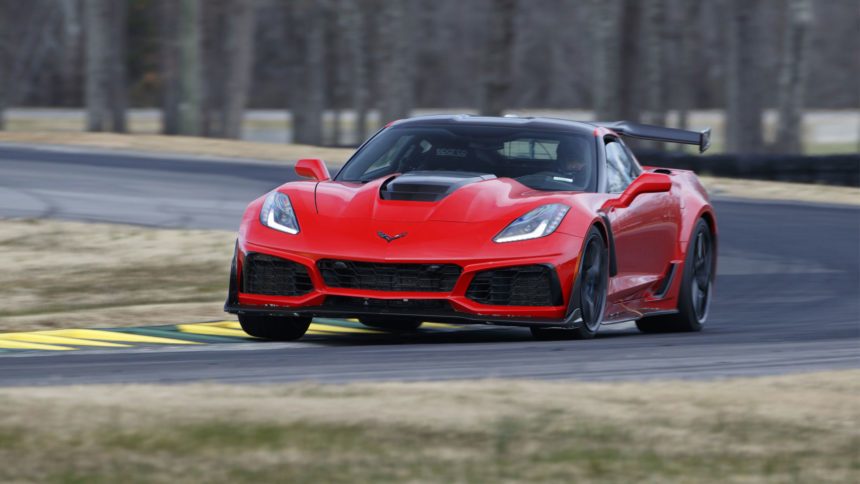 When the Corvette ZR1 dropped in Dubai last November, we knew it'd be fast. However, we just didn't know how much. Now with its first record in books we get to see what it's really made of.
Thankfully, GM engineers skipped the 'Ring this time around and instead went for a track a bit closer to home. Using the Virginia International Raceway Grand West Course, the super Vette lapped the track in 2:37.25, setting a new production car record.
That's right, no need to get endlessly specific like Jaguar or Subaru on this one.
The record the ZR1 beat out was only a few days old too. On January 22, Ford took to VIR with the GT setting a blistering time of 2:38.62. This too came only days after Car and Driver set its own magazine's record of 2:43 during its Lightning Lap test with the Ford.
The best part of the GM record attempt is that it wasn't a record attempt at all. The time came during a validation session for the ZR1. During the 24-hour session, engineers had drivers run the ZR1 ragged to make sure it would withstand the punishment of track duty.
It just so happened that during this session, they snatched the crown away from Ford. At least, that's the official story. Deep down, we know there's a group of engineers smiling in Warren, Michigan after their creation beat the Ford halo car.
To achieve the record, the ZR1 was almost entirely stock. The only additions to the car were a five-point safety harness attached to a harness bar. Everything else came directly from the factory, including the OEM tires.
The ZR1 did include the optional ZTK pack though, which adds an extensive aero package. With a high mounted spoiler and aggressive front splitter, the ZR1 produces 950lb of downforce.
Couple the aero improvements with the 755hp 6.2-liter V8 running a massive supercharger and you get a monster of a Vette.
In fact, this is the first Corvette capable of eclipsing the 200 mph barrier. It also clocks in as the second most powerful American car on the market today. The only car that beats it? The 840hp Dodge Demon.
Unfortunately, the record won't prod Ford into a track battle. According to an interview with The Drive, the chief engineer of Ford Performance, Jamal Hameedi, won't be seeking out records with the GT.
That's the public statement anyways.
Given the rivalry between Ford and GM for almost any market segments, our surprise level will be zero if the GT happens to set another record somewhere.
A shootout between the two halo supercars of America's premier manufacturers is something we can get behind. That is as long as they don't start gunning for ridiculous Nurburgring times.
More Posts On...