Formula 1 may still be on pause before the 2020 season officially begins, but that hasn't stopped Codemasters from ramping up preparations for launching F1 2020. The first in-game trailer has also dropped, showing us what players can expect on track.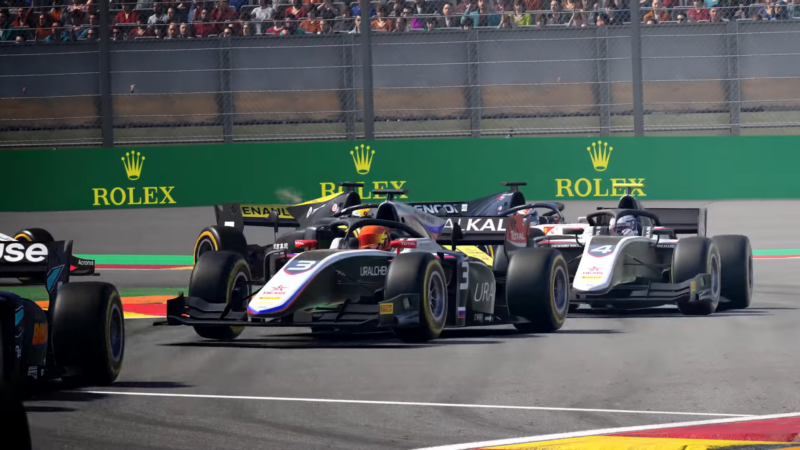 Formula 2 & Classic Cars Return
Amongst the F1 action, the latest trailer confirms the return of Formula 2 machinery. Codemasters has also announced that F2 has now been integrated fully into the single-player Career mode.
Players will now have the chance to compete in a full or partial F2 season before moving up to F1. The three-race F2 experience remains if you're keen to move on to the F1 season quickly.
Currently, Codemasters has confirmed the 2019 F2 season will be playable from launch, with the 2020 season coming in a later update. Also confirmed is the return of the popular classic cars from previous games. Players will have the opportunity to race 16 iconic machines, from the 1988 Mclaren MP4/4 right up to the 2010 Red Bull RB6.
"MyTeam" Detailed
The biggest feature coming to F1 2020 is the ability to create and manage your own team. In an interview with FullThrottle Media, game director Lee Mather gave out some details on how MyTeam will work.
During the season, you'll be able to chose your sponsors and allocate your investment in your team facilities. You'll be able to hire and train a second driver and work on your teams marketing to attract better sponsors.
However, you'll need to spend your money wisely and ensure your team morale stays high. Your team performance throughout each race weekend will dictate how much R&D points you can earn.
Under the MyTeam system, players will use the F1-spec regulation car that debuted in F1 2019. You'll be able to customize the car with a range of liveries and give their team a unique identity. There will also be the ability to customize team branding and create your own team badge.
According to Mather, MyTeam will interact with other game elements. How you spend your R&D points will also affect what drivers you'll be able to hire. In addition, if you were to hire Lando Norris to your team for example, a driver from F2 may be brought in to fill his vacant McLaren seat.
Your off-track interviews will also affect your team's morale and performance, which means you'll need to choose your responses carefully.
New Accessible Handling
Fans who may be new to F1 games but are worried about the physics will welcome the new more casual handling model. Mather stated the new handling model will be heavy handed and come with a range of driving assists to help newcomers.
Hardcore fans will also be catered to in F1 2020. The traditional physics model has been further refined and now includes more realistic tire pressure simulation. Mather stated that these new additions are more important than ever to ensure optimal running.
Mather also confirmed changes to how the Energy Recovery System is used in-game. There's a new "Overtake" mode and you'll be able to control when and where you can deploy it. You'll need to carefully manage where you can use the Overtake mode most effectively, otherwise you'll be falling down the pack.
New & Refined Circuits
The standard lineup of F1 circuits remains, with the notable additions of Circuit Zandvoort and the new Hanoi street circuit. We've already seen gameplay of Zandvoort in all its banked glory, but Mather made a rather interesting comment which could affect how Codemasters models tracks in the future.
Mather explained that Zandvoort was built with new data-capture technology. All of the aspects of creating the circuit have been derived from new lidar data.
The new track modelling process could help to create even more accurate circuits in future games, with F1 2020 being the start.
Other elements have also been worked on according to community feedback. A Safety Car bug in career mode has been fixed, with the activation criteria undergoing changes. Now the Safety Car will be triggered if there is a complete multi-car incident.
With the latest info blowout, F1 2020 looks set to be another evolutionary step forward in the franchise. The exciting new management options could allow for F1 2020 to be the best game yet.
We can expect further news over the coming weeks, so stay tuned. Meanwhile, you can head over to GTPlanet's dedicated F1 2020 forum for further community discussion. F1 2020 is set to launch July 10 for Xbox One, Playstation 4, PC and Google Stadia.