While there's been an annual release of an official F1 game every year since 1996, F1 2020 is the 13th such game since Codemasters picked up the official licence.
Recreating the 2020 Formula One World Championship, F1 2020 is available in regular, Michael Schumacher Deluxe, and Seventy Edition forms, and is available on PlayStation 4, Xbox One, PC, and — for the first time — Google Stadia platforms.
Table of Contents
Introduction
Codemasters first revealed F1 2020 in April 2020. This was a few weeks into what would have been the 70th season of the Formula One World Championship, but the real world had other ideas.
Like the games that came before it, F1 2020 is an official recreation of the season — at least as planned — of the sport that's in the name. This means updated cars and tracks appropriate to the 2020 season, including the F2 feeder series.
Despite race after race falling by the wayside, the developer pushed on undeterred, planning, like its predecessor, to get the game on shelves around the middle of the season. In the end, F1 2020 almost beat the real F1 cars to the punch, with racing resuming just a week before the game released.
This means that, ultimately, F1 2020 recreates the official calendar as it would have been rather than as it turned out to be. While real-world viewers won't get to see circuits like Zandvoort and Hanoi, the game's players can race on both.
Release Date
F1 2020 officially launched for PlayStation 4, Xbox One, PC, and Google Stadia on July 10, 2020. Players who bought the special Michael Schumacher Deluxe Edition had three days' early access included, starting July 7, 2020.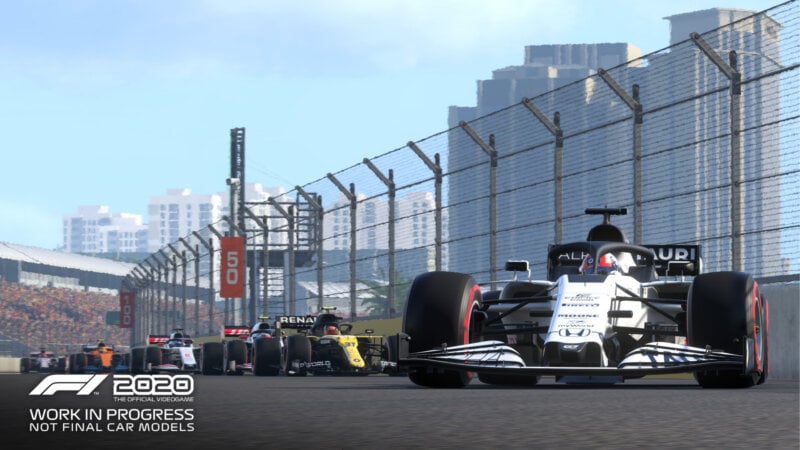 Features
Career Mode
The heart of the F1 game experience is the single-player career mode, and F1 2020 is no exception. You'll have a ten-year career to get through, with choices of season length from full to ten races, and you can start off in F2 if you wish – again with a choice of season length.
My Team
A new addition for F1 2020 is My Team. This is a management mode which allows players to combine driving with being a team boss. You'll have to sign drivers, develop your car, and keep sponsors happy, all in addition to driving. This is also a ten-year career.
Multiplayer
There's several multiplayer options, including a local splitscreen mode and a LAN mode. Online multiplayer includes a wide variety of race types, with a player's Super Licence keeping track of their ability and racecraft.
Naturally the official F1 Esports championship will shift from the F1 2019 platform to the F1 2020, and there is a dedicated section within multiplayer for this.
Livery Editor
F1 2020 includes a basic but versatile livery editor, which is particularly useful in My Team mode. There's several preset patterns and a color wheel, plus sponsor logos, to create individual designs. You'll be able to extend this to your driver avatar's race suit and helmet too.
Car List
The title of F1 2020 pretty much takes the guesswork out of what cars are going to be in the game. It's a game that centers on the 2020 season of Formula One, so you're going to get the 2020 season F1 cars.
However in addition to those ten vehicles, you'll find a few other things to play with should you fancy a break from these high performance hybrids. The game also ships with the entire 2019 F2 grid — essentially a single chassis/engine combination, but for all ten teams — and a number of classic F1 cars from 1988-2010.
For the My Team game mode and online, players will use a generic, 2019-season "multiplayer" car. This doesn't belong to any one specific team and, at least in My Team, has no set engine supplier either. After launch, Codemasters will also bring a free update with the 2020 Formula 2 grid, to make for 51 cars in total.
2020 Formula One (10)
The core of the game is the official 2020 Formula One grid, and the game contains all ten of the teams' cars. The original livery for Williams is available in the base version of the game, but this is patched to the version that raced in a day one update. Game update 1.06 released on June 28, 2020 changed the Mercedes livery to reflect the team's new black color scheme.
Alfa Romeo Racing Orlen C39
Aston Martin Red Bull Racing RB16
BWT Racing Point F1 Team RP20
Haas F1 Team VF-20
McLaren F1 Team MCL35
Mercedes-AMG Petronas W11
Renault DP World F1 Team R.S.20
Scuderia AlphaTauri Honda AT01
Scuderia Ferrari SF1000
Williams Racing FW43
2019 Formula One (1)
This car is a generic model not associated with any one manufacturer, team, or engine supplier. It functions as a level playing field for online multiplayer — hence its name — but it's also the "hero" of the My Team mode. The 2019 car is the basis of your fledgling driver-owner team, which you'll develop as your career unfolds.
2019 Formula 2 (10)
Players can start their F1 career off in the F2 feeder series, and at launch the game includes the full 2019 F2 grid. As F2 is a spec series, this is technically just one car – a Dallara F2 2018 with the Mecachrome V634 Turbo 3.4-litre engine – but all ten teams and 20 main drivers are represented in F1 2020.
ART Grand Prix – Nikita Mazepin #3/Nyck de Vries #4
BWT Arden – Tatiana Calderon #18/Anthoine Hubert #19
Campos Racing – Dorian Boccolacci #14/Jack Aitken #15
Carlin – Louis Deletraz #1/Nobuharu Matsushita #2
DAMS – Sergio Sette Camara #5/Nicholas Latifi #6
MP Motorsport – Jordan King #16/Mahaveer Raghunathan #17
Prema Racing – Mick Schumacher #9/Sean Gelael #10
Sauber Junior Team by Charouz – Callum Ilott #11/Juan Manuel Correa #12
Trident – Giuliano Alesi #20/Ralph Boschung #21
UNI-Virtuosi Racing – Guanyu Zhou #7/Luca Ghiotto #8
Classic Formula One (20)
F1 2020 also brings classic F1 cars back into the mix. A number of these are part of the Michael Schumacher Deluxe Edition, but there's a wide selection of successful, famous, and distinctive cars from across over 30 years of Formula One history.
Benetton B194 1994*
Benetton B195 1995*
Brawn GP BGP-001 2009
Ferrari F1-90 1990
Ferrari F1-2000 2000*
Ferrari F2004 2004*
Ferrari F2007 2007
Ferrari F10 2010
Jordan 191 1991*
McLaren MP4/4 1988
McLaren MP4/5B 1990
McLaren MP4/6 1991
McLaren MP4-13 1998
McLaren MP4-23 2008
McLaren MP4-25 2010
Red Bull Racing RB6 2010
Renault R26 2006
Williams FW14B 1992
Williams FW18 1996
Williams FW25 2003
Track List
In addition to simulating the full 2020 F1 entry list, F1 2020 has a place for all 22 of the scheduled circuits. The key word there is "scheduled"; while there were plans for 22 races in the original calendar this year, global issues forced a major rethink.
That means that F1 2020 will represent the track list that should have been, not what there will be. While the real calendar has cancelled a number of grands prix, including new events at Zandvoort in the Netherlands and Hanoi in Vietnam, they're still present in F1 2020 in their original positions.
The flip side of that is that tracks drafted in to replace cancelled events won't make it into the game. It takes months to create a circuit for a racing game, and there's simply not enough time for Codemasters to get any of these alternate circuits into the title.
Along with the 22 circuits there's four additional short layouts, which we've labelled with an asterisk below.
Autodromo Hermanos Rodriguez
Autodromo Jose Carlos Pace
Autodromo Nazionale di Monza
Bahrain International Circuit*
Baku City Circuit
Circuit de Barcelona-Catalunya
Circuit de Monaco
Circuit de Spa-Francorchamps
Circuit Gilles-Villeneuve
Circuit of The Americas*
Circuit Paul Ricard
Circuit Zandvoort
Hanoi Circuit
Hungaroring
Marina Bay Street Circuit
Melbourne Grand Prix Circuit
Red Bull Ring
Shanghai International Circuit
Silverstone Circuit*
Sochi Autodrom
Suzuka International Racing Course*
Yas Marina Circuit
Trophies/Achievements
There's 50 Achievements for Xbox players and 51 Trophies for PlayStation gamers available in F1 2020, with that extra one of course being the standard "Platinum" for winning all of the other 50.
These cover the whole range of game modes available, with some for milestones in Career and My Team modes — and you will need to head into online to grab them all. The full list is as follows.
Gold
Legend Status Achieved (50GS) – Win the F1 Drivers Championship
Remember the Name (50GS) – Reach a Team Acclaim level of 20 in My Team mode
Silver
Maxing Out (20GS) – Apply all vehicle upgrades from one R&D department
Hats Off (25GS) – Get on the F1 podium for the first time
Half Centurion (25GS) – Complete 50 Online Races
Phoenix from the Ashes (30GS) – Win a race after starting in last position on the grid
Big Name Signing (30GS) – Successfully hire an acclaim level 15 or higher Driver in My Team mode
The Perfect Weekend (30GS) – Set the fastest time in all 3 Practice sessions, take Pole Position and win the Grand Prix
Started from the Bottom (30GS) – Win the Constructors Championship with your team in My Team mode
Its Time for the Perk-olator (30GS) – Purchase all available Perks in Driver Career or My Team
Well on Your Way (30GS) – Complete 25 Online Races
Who You Gonna Call!? (40GS) – Beat a Personal Best Ghost and Rival Ghost in Time Trial
Bronze
You Didn't See Anything (10GS) – Activate a Flashback
Look at you go! (10GS) – Play a captured highlight
Sign on the Dotted Line (10GS) – Successfully complete a Driver/Team Negotiation during a season in Driver Career or My Team
Make it Yours (10GS) -Edit a Driver, Car and Badge in Customization
Represent (10GS) – Fill every sponsor slot with sponsors on a Car livery
One for the 'gram (10GS) – Make an adjustment within photo mode
Bragging Rights (10GS) – Win any online race
Ohh Friends (10GS) – Join a League
What do you want, a medal? (10GS) – Get a League Medal
New Kids on the Block (15GS) – Set up your own F1 team and show your car to the world at the pre-season car reveal
Data Gatherer (15GS) – Complete 10 Practice Programmes in F1 during My Team or Driver Career
Get Shifty (15GS) – Win a race whilst using manual transmission
Enthusiast (15GS) – Read information on any car in the showroom
Who are you!? (15GS) – Change your driver head part way through a My Team or Driver Career playthrough.
Making Paper (15GS) – Reach $100,000,000 lifetime earnings in My Team mode
We Are the Champions (15GS) – Gain 9 positions during a wet race at Brazil in the Brawn BGP 001
So it Begins (15GS) – Complete Ranked Placement races and achieve a Rank.
The Orange Army (15GS) – Win a race at Zandvoort as Max Verstappen
Red River Racer (15GS) – Complete a 25% or above race at Hanoi
The Camera Loves You (15GS) – Answer 100 press interview questions in My Team or Driver Career
Glove at First Sight (15GS) – Equip a new pair of gloves from the Podium Pass or Item Shop
Chicken Dinner (15GS) – Win any Championship Event
Dat Reaction Speed (DRS) (15GS) – Activate DRS perfectly on all zones of any track
First Outing (20GS) – Drive your team's car out on track for the first time in My Team mode
Promising Start (20GS) – Complete your first race weekend in My Team mode
Become One with the Car (20GS) – Complete a race using Elite Driver Proficiency (Standard Race Style)
Front of the Grid (20GS) – Achieve pole position
Finding your Feet (20GS) – Complete 10 Online Races
Full Potential (20GS) – Fully upgrade any facility area in My Team
Squeaky Clean (20GS) – Complete 10 Clean Online races
Mad Tash for the Finish Line (20GS) – Win a race in the 1992 Williams FW14B at Silverstone
Team Building (20GS) – Purchase any upgrade for a Facility in My Team
Here Comes the Money (20GS) – Complete 2 or more Secondary Sponsor Goals in one race weekend
Grab the Popcorn (20GS) – Spectate an online race
Busy Body Successfully (20GS) – completed 50 activities in My Team mode
Show Off! (20GS) – Completed 5 Invitational events during My Team or Driver Career
My Precious (20GS) – Set a favourite trophy
Ditch the Downforce (30GS) – Complete a clean Time Trial lap using the 'Maximum Top Speed' car set up preset
Official Videos
Official Screenshots
Update Log