The next title in the long-running, annual, official Formula One game series, F1 22, will be hitting consoles and PC this July. As the sport headed to a new venue this weekend, Codemasters has sent us a preview build of the game to get an early look at what we can expect this summer.
You'll have already seen a glimpse of this before the weekend, as we got to try out the new Miami International Circuit in the build. When we put virtual wheel to digital track in the game, it hadn't yet been used in the real world — although you'll have seen it hosting the first ever Miami Grand Prix since then.
The preview is a relatively slim experience, giving us a look only at time trial and championship modes. However it does give us a chance to drive the new 2022 cars for the first time, with COTA, Imola, Red Bull Ring, and Silverstone all joining Miami on the available track roster.
Of course in the real world the 2022 cars are a radical change from those used across the last three seasons. Ongoing global events caused a development freeze which essentially saw proposed rule changes pushed back a year, and only now are the cars getting out on track.
This is the largest change of regulations since the introduction of hybrid engines and it has posed some challenges for Codemasters. While earlier cars relied on air flow over the body and myriad wing devices for downforce, the 2022 machines are "ground effect" cars. They trap and channel air below the car, so that it sucks itself to the floor.
This has resulted, in some cases, in a phenomenon known as "porpoising". In essence, the car's suction is too powerful and causes it to hit the floor and bottom out, which traps the air and pushes the car back up, making it bounce in much the same manner that a porpoise swims.
It's been an unexpected issue for some teams and, as such, it's not something that will be present in F1 22. As the game's creative director Lee Mather points out, the simulator at Mercedes didn't pick up the issue…
However, in general the cars do feel different to drive than the cars from F1 2019–F1 2021, with the shift in aero balance and the new, larger wheel rims and lower profile tires providing a different challenge. We're not able to review the physics at this time, but we can say that you will need time to adapt to the new cars.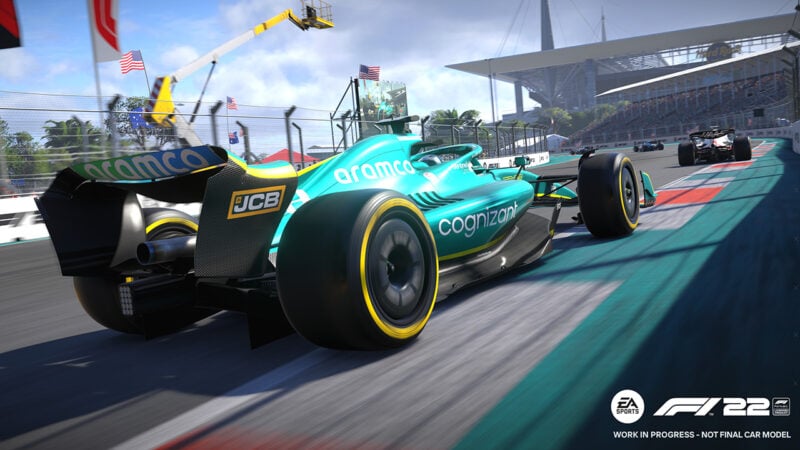 We were also on board for a presentation regarding the game, during which Codemasters discussed more details — some of which are not reflected in this preview build.
Fans will be pleased that the My Team feature will again return for F1 22, with a few tweaks to the format. The major difference is that you'll be able to enter with different budgets: as a newcomer as we've previously seen; as an established midfield team; or as a well-funded title contender.
There's more department events than before, and a new mechanism which will see unaddressed or poorly handled issues causing long-term problems.
One feature not returning from F1 2021 is Braking Point. It's fair to say that this story mode — which pitched you as a talented newcomer against a long-in-the-tooth team-mate and a borderline psychopathic rival — had a mixed reception. It took Codemasters two years to develop, so although it's not in F1 22, we might see a return in F1 23.
There is a major new feature though, in F1 Life. This is best described as a user-customizable player hub, which displays your achievements to others. It'll allow an additional level of player socialization, serving as a gathering place for multiplayer.
You'll be able to personalize your player character with non-race clothing items and decorate your space with furniture and other items. It's also where you'll show off your supercar.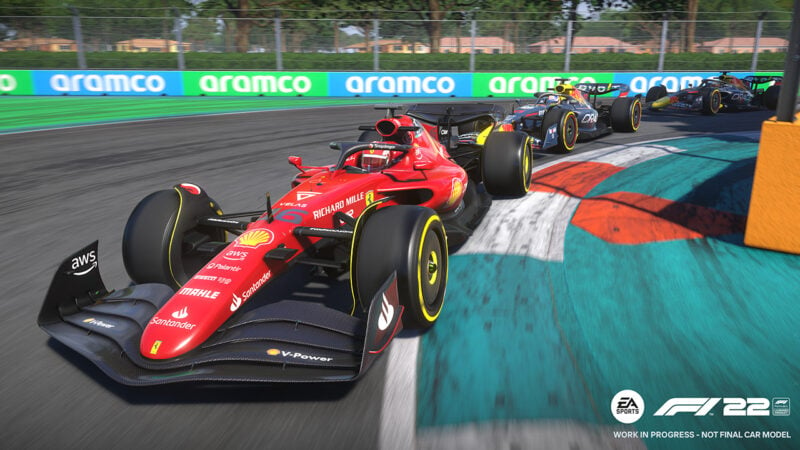 This is a further game mode inspired by the real-life Pirelli Hot Laps program. If you're not familiar with it, Pirelli Hot Laps sees F1 drivers head out onto track in roadgoing performance cars with famous passengers to basically scare them witless.
In F1 22 you'll be doing the same thing, with unlockable supercars from AMG, Aston Martin, Ferrari, and McLaren — one bonus for Champions Edition players includes the safety cars — and special events, including drift and autocross, as fun asides from the F1 action.
The new Immersive mode adds an extra dose of realism to the game too, giving players full control of the car for formation laps, safety car restarts, and even pitting. You can still allow this to happen automatically with Broadcast mode.
Another addition sees the Sprint Race format included. This new-for-2021 event didn't arrive for F1 2021, but in F1 22 you'll be able to race sprint races at the three events that stage them in real life — Imola, Austria, Brazil — in career mode, or at any track you choose in other modes.
One more feature will be coming post-launch, although Codemasters hasn't yet indicated a time-frame. While the game will ship with cross-gen play — PS4 vs. PS5, or Xbox One vs. Xbox Series — it will also gain full cross-platform play in an update.
F1 22 will launch on July 1 2022, for PlayStation 4/5, Xbox One/Series, and PC, with three days' early access for Champions Edition buyers. Players who pre-order before May 16 will also get a special Miami-themed bonus pack containing a livery and F1 Life items.