EA has today released a new F1 22 gameplay features trailer that shows off everything you can do in the title when it launches on July 1 — or June 28 with early access.
The short trailer jumps in right at the deep end with the core of the game: the 2022 Formula One World Championship. Central to this is a new vehicle handling model which accounts for both the new, lower profile tires and the increased importance of airflow under the car in generating downforce.
While that won't recreate the "porpoising" phenomenon seen in the early part of this season, the cars' handling is remarkably different from even F1 2021. The 2021 F2 cars will also be in at launch, and should be familiar from the previous game.
As well as the new handling model, F1 22 will feature the new rules of the 2022 season. That includes Sprint races, first introduced in 2021 but not part of last year's title. In championship modes, Sprint races are set at Imola, Interlagos, and Red Bull Ring, but you can also have them at any other track in other modes.
The new Immersive mode will allow players to drive their own formation laps, line up on the grid, and take pit stops and safety car laps. Pit stop errors are now also part of the fun! There's also the new circuit layouts at Australia, Abu Dhabi, and Spain, reflecting the 2022 changes.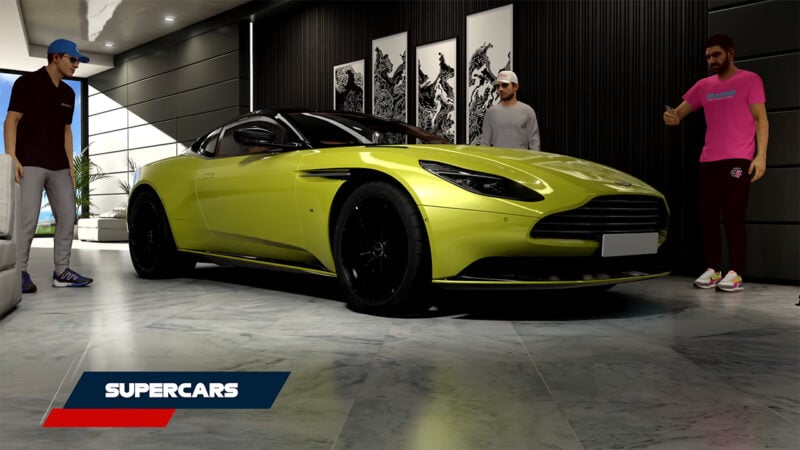 F1 Life is the major new feature for this year's title. It acts as a multiplayer hub, in which you can show off your collection of trophies — or view those of your friends — as well as other items.
This includes clothing personalization pieces which extend now into casual wear rather than just racing gear, with famous brands like Anti Social Social Club, beats, Puma, Sparco, and Stance. You can also pick up special decor items including artwork and furniture.
Perhaps the most significant aspect of F1 Life is supercars. You'll be able to drive performance cars from various brands, including Aston Martin, Ferrari, McLaren, and Mercedes in various challenges, and Champion Edition buyers will also be able to drive the Aston Martin and Mercedes official F1 Safety Cars.
Naturally the popular My Team mode also returns, with some tweaks and changes — among which is the ability to start with different budgets to create different challenges.
Multiplayer, including online multiplayer, two-player local splitscreen, and — we'd assume — official F1 Esports will also return. Full cross-platform play will be available, although it won't come at the game's launch.
Finally, although not really touched on in the trailer, VR will be available for the first time, but only on PC.
F1 22 launches on July 1 on PlayStation 4 and 5, Xbox One and Series, and PC via Origin, Epic, Steam, and the EA app. Three days' early access is available for players buying the Champions Edition.