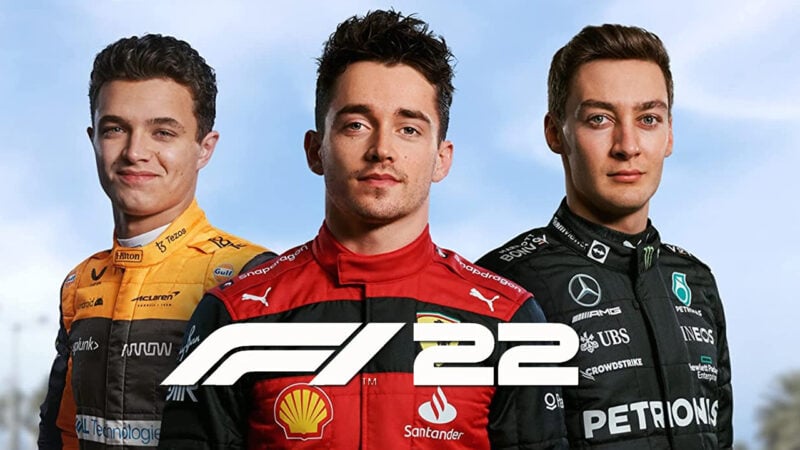 Codemasters' annual F1 game release has had a bit of a choppy spell recently. With the real world taking a bit of a beating, the team hasn't been able to properly represent a full F1 season since 2019.
That's been down to the exceptionally fluid situation regarding the calendar, with races popping on and off the schedule on an almost daily basis.
However things have stabilized recently, allowing not just Codemasters to get a full, real-world season into the latest release, but also bringing the new-era cars onto track for the first time.
After two years of "close enough" then, F1 22 is again simulating a full F1 season, with new cars, new tracks, new drivers and — for the first time — a new game mode featuring something other than formula machinery.
With early access for the title coming on June 28, ahead of the official launch on July 1, we've been putting F1 22 through its paces.
GTPlanet has been playing F1 22 on PlayStation 5 and PC, with preview codes provided by Codemasters.
Content and Value For Money
For the most part, F1 22 has the same conceptual core content as F1 2021: the current season F1 grid and last season's F2 grid, plus a generic F1 car for "My Team" — which we'll cover later.
That's not a wealth of machinery. It's either 12 or 22 cars, depending on whether you think the spec Dallara F2 2018 qualifies as different cars if it's in different liveries.
However there's a new class of vehicle in F1 22 which brings another ten cars to the game: Supercars. These are fast road cars, rather than the Australian racing series, as used by the drivers during the Pirelli Hot Laps promotional events at various grands prix to terrify celebrities and the wealthy.
The game also brings all of the 2022 circuits, including the new Miami track, along with many of the circuit changes compared to the 2021 versions of the tracks. Abu Dhabi, Australia, and Spain all reflect their new layouts, although for now Spa remains in its 2021 configuration. Sprint races are also in the title for the first time.
With all of that representing an improvement on F1 2021, you might expect a mild bump in the score here, but there are some other things to consider first.
One thing dropped from the 2021 version of the game is the Braking Point story mode. While we didn't actually like Braking Point, and found it pretty formulaic and superfluous, it is nonetheless something missing from the title (although it may return next year; the original took Codies two years to complete).
However the bigger issue for us is that what's been added in its place is both pretty superficial and… well, it's not particularly good.
The Supercars feature really consists of two things. You can drive the supercars in a number of specific challenges and time trials, and you can unlock them for display in F1 Life.
There is no possibility of actually racing them against each other in any game mode. You can't even select them for online custom lobbies — although that's a bit of a double-edged sword, because you won't really want to either. We'll cover this off later, but they are really rather disappointing to drive.
That relegates the supercars to being merely a decorative feature, and in quite literal terms. They sit in F1 Life to be shown off to other players.
F1 Life itself is a pretty nice addition, allowing you to customize a space where other players can gather — although in these pre-launch builds, those other players are mainly AI bots — to add a social angle to the game.
However it also appears to be another way to sell Pitcoins, F1's in-game currency, and VIP passes. Beyond default items and those you can win by advancing levels, you'll need Pitcoins to buy clothing items for your driver avatar — including casual-wear now — and VIP to access higher-tier rewards including decor items and livery designs.
Those of you with the Champions Edition will get 18,000 Pitcoins, and that'll allow you to buy two of each type of clothing item, from the dozens available. Still, at least this is all up front and not something kept quiet until the game launches…
To end on a positive note though, the game now recreates the F1 weekend in even more detail than before, and it still has the brilliant My Team mode included. In fact there's now more depth to the mode, and we're still amazed it's in the game rather than a separate title all of its own. Not that we want to give EA any ideas on that front.
Online Features
It's pretty tempting to just copy and paste what we wrote in the F1 2021 review here and — just so you don't need to check — that stated that you could pretty much just read the F1 2020 review. However there's one major point that needs covering in addition.
For the most part Codemasters has changed barely anything with the online offering, because there's absolutely no need to. F1 22 offers a very wide range of online activities, just as its predecessors did, and will no doubt become the platform for the official F1 Esports championships — starting with the Pro Series in autumn and then the Challenger Series in 2023.
Along with ranked play and open lobbies, there's weekly events, leagues, two-player split screen, and two-player career mode. That last item will allow you to race through the game's career with a friend — or frenemy — driving right alongside you. The game also features a LAN mode.
A ranking system, called Super Licence, keeps track of players, with performance and sportsmanship both logged alongside "attendance". That essentially rates if you take part in league races or habitually skip out.
That leaves us with the major point. Although it's not going to be in the game at launch, F1 22 will feature full cross-platform play. For now we can't really incorporate that into the review score, but it will represent a major step forward in what's already a pretty complete online offering.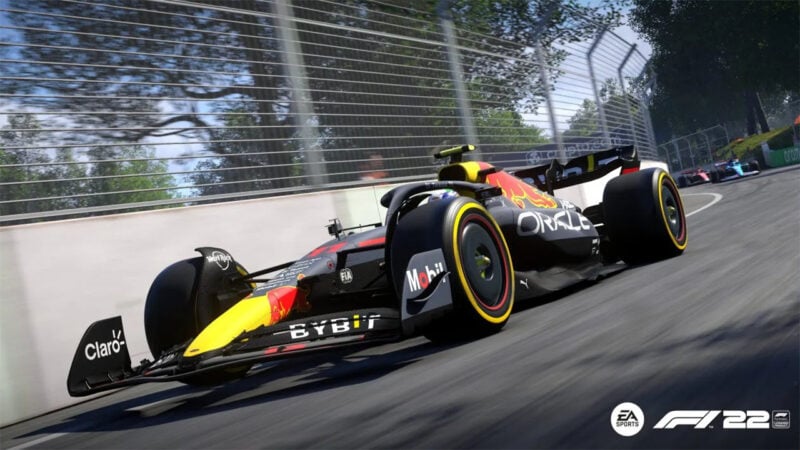 Driving Physics and Handling
The F1 titles have always delivered a pretty realistic experience, although a little short of a full simulation. Considering that only around 30 people in the world can directly compare the real thing to the game, that's not a fault we'd pick at too hard.
F1 22 continues that theme, although there is a giant "but". As you're likely aware, the 2022 cars have one of the most radical ruleset changes since the introduction of the hybrid engines, and that's had an effect on the game too.
The cars no longer rely so heavily on over-body wing devices pushing them into the floor. Instead a significant proportion of the downforce is now coming from "ground effect": airflow under the car sucking it down. They're also much heavier and ride on larger wheels with smaller sidewalls.
That all has a dramatic effect on how the cars handle, and not for the better. They are more ponderous and yet more prone to tires breaking away; we found a propensity to understeer on the in-game cars, although they're not averse to snap oversteer despite being so difficult to rotate.
The 2020/2021 cars weren't exactly lithe either, but the 2022 cars are fairly cow-like in handling by comparison, and it actually takes some of the fun out of the game. Of course that's not really a black mark for Codemasters, but the fact is that driving F1 cars is less enjoyable this time round.
However the supercars are just plain bad, and we're not sure why. Codemasters has so much experience of racing games with road cars that it's almost inexplicable that these high performance machines are so numb to drive. It's not just by comparison with the F1 cars either, as the F2s are brilliant fun as always.
Where the title really excels is accessibility. There are… so many driver assists and aids that anyone of any skill level can hop in and drive decently quick laps — no worse than Nicholas Latifi at any rate — and the AI are pretty eager to give you a solid race. They get a bit baffled on more casual settings if you aren't going flat out, but otherwise they're likely to have the measure of you, courtesy of the title's new adaptive AI.
That continues through to controllers. Driving with a controller is a perfectly good experience, just as it was in F1 2021. Naturally the PS5's DualSense is head and shoulders above other options, but even with an Xbox One controller on the PC version we had no complaints.
Our wheel experiences varied. It was hard to get too much detail out of the force feedback on a Logitech G923, and while the DD Pro was a little better it's still not a match for something like Assetto Corsa Competizione.
Graphics
First, the good parts. As always, F1 22 looks just like you've gone full Last Action Hero and stepped through the screen during a race broadcast.
Right from the moment you boot it up and get the official F1 intro video, it all looks as authentic as can be, with F1 broadcast overlays and information screens, graphics, text, and the full nine yards. If you have any familiarity at all with F1, F1 22 will feel entirely natural.
In terms of the vehicles and environments, we still have the same comments as we did for F1 2021. It's not quite up there with the best titles to look at, and the closer we get to next-gen exclusive titles — F1 22 is still an eighth/ninth-gen game — the more it's starting to lag behind.
That's particularly the case with the environments now, which don't have the detail of other games in which these circuits appear. It's now becoming much more apparent that track surface textures are getting on a bit and there's little by way of interactivity between circuit and cars.
While the F1 cars themselves look pretty smart, the supercars show the graphics engine's roughest edges. The car models look a generation old — or more — with weird reflections and jagged curves that really stand out even in F1 Life. In motion and in replays, they're about two steps behind the cars of GRID Legends.
They also show off the circuits at their poorest, thanks to the considerably lower speeds. You simply get more time to see detail that would otherwise be blurred. In fact generally the replays look like a live stream of an rFactor 2 esports event.
However, that's really the lowest ebb. It's far from being truly bad, it's just showing its age once you're outside of the core component of the game. Stick with the F1/F2 cars and your experience will be just as it was in F1 2021, including 4K60 on the dedicated version for Xbox Series and PlayStation 5 consoles.
We should also add that F1 22 will support VR for the first time, but only on PC. It's not a feature we've had a chance to experience, but with the excellent cockpit models for the cars it's bound to be a boost for those who have the equipment.
Sound Design
Again, this is something that hasn't really changed between the last couple of titles — with one notable difference — so many of the same comments we've had previously.
That means that, once again, F1 22 sounds just like the real thing, across the entire F1 experience. Naturally that includes the cars but also the various voices and official F1 music you'd hear during a race broadcast.
Official commentators include David Croft and Alex Jacques, with F1 pit lane reporter Natalie Pinkham also included. Other regions can also listen to Sascha Roos, Jean-Eric Vergne, and Jacques Villeneuve.
Long-term F1 game fans may be dismayed to learn that engineer Jeff — voice actor Adam Rhys Dee — has gone. However he's been replaced by Marc Priestly, a former McLaren mechanic.
It's once again the case that the game's audio engine doesn't have that much to do when it comes to the cars. All four power units in F1 — Ferrari, Mercedes, Red Bull, and Renault — are hybrid 1.6-liter turbos, and sound much of a muchness. It gets to stretch its legs a bit with the supercars (although five of the ten use the same AMG V8), but we're missing the auditory richness of the old F1 cars from F1 2020 and before.
There's again not much ambient sound either. Aside from squealing tires — which are pretty trucklike in the supercars — there's barely anything that suggests the cars are in the high-emotion cauldron of an F1 race. This may be a mixing issue, but even in "Cinematic" mode we can't hear anything like the sound an F1 crowd makes when there's a pass for the lead or a major incident.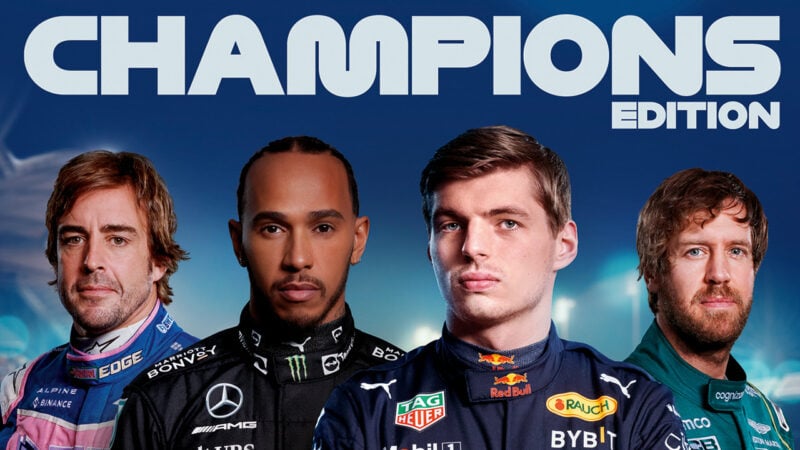 The Verdict
There's really quite a lot to unpack here. F1 22 continues to be the definitive F1 experience in video game form. If you want the full immersion of an F1 race, weekend, or even career, there's no better way to do it.
There's distinct areas where the title is starting to feel its age now, and that's not helped by the superficial Supercars feature. It's a neat idea, bringing in part of the F1 weekend never before seen in the series, but it highlights deficiencies in all areas of the game engine.
Tacked onto this is the fact that, while no fault of Codemasters, the 2022 cars are just not as much fun to drive as previous machinery. It's a less engaging experience generally than F1 2021, although we're sure it's one conveyed accurately enough.
However, F1 22 continues to offer the same excellent online options — which will only get better once cross-play comes along — and My Team too continues to be one of the great killer features. Honestly we have no idea how EA hasn't carved this off into a standalone title yet.
Ultimately, we'd still pick up F1 2020 for the fun, but if you must have the full F1 experience with authentic cars, tracks, and handling, you've probably already pre-ordered 22. You won't be disappointed, so long as you swerve the supercars.
F1 22
Retains the strong foundations, but ultimately less satisfying to drive than its predecessors - especially in the weak Supercars mode
Learn more about
how our rating system works
.