A new trailer for this summer's F1 22 launch has given us a first look at the game's Miami International Circuit, three days before the cars hit the new track in the real world.
The circuit is a temporary street circuit built around the Hard Rock Stadium in Miami Gardens, home of the Miami Dolphins football team. Much like other street circuits on the calendar, it'll be built up in the weeks leading up to the race and then dismantled afterwards.
With 2022 being the first year for the race, in a ten-year contract, nobody has yet driven a lap in anger. Indeed there hasn't even been a safety car lap of the track yet. That hasn't stopped Codemasters from recreating the course though, and it will be part of F1 22 when it launches on July 1.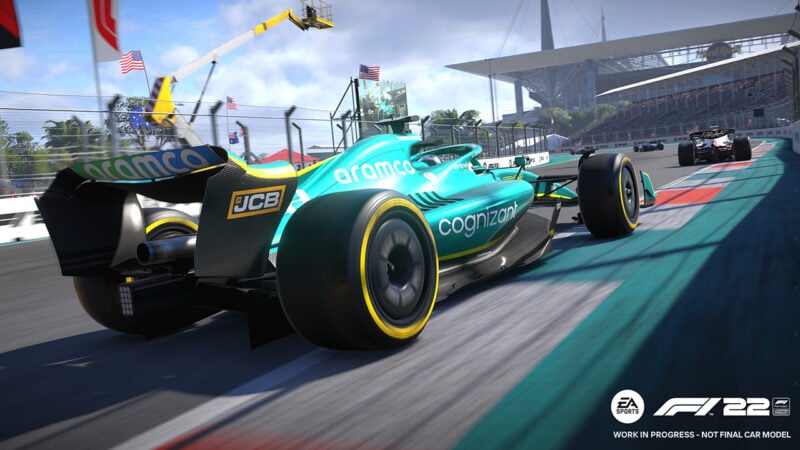 Miami International will be the only new circuit in the game, but there'll be changes to other circuits reflecting the 2022 layouts. That covers Abu Dhabi, Australia, and Spain, while Jeddah will be in the game at launch too.
We don't get to see the track as a whole in the video, but there are plenty of glimpses at the various corners. It looks like Codemasters has even exceeded the real venue in having what appears to be real water inside the marina, whereas the real-world circuit has a water effect wood surface…
There's also a very brief tease right at the very end of the video, where we see a McLaren 720S sliding past the camera. That's likely part of the "supercars" mode mentioned previously, though we're yet to discover how that will play out.
In addition, EA has revealed more about the Champions Edition of F1 22. This enhanced version of the game features the four world champions on the current F1 grid on its cover, with Fernando Alonso, Lewis Hamilton, Max Verstappen, and Sebastian Vettel holding 14 World Driver Championship titles between them.
The Champions Edition comes with additional content, including three days' early access and dual entitlement: XB1 players can upgrade to XBS, and PlayStation 4 players to PlayStation 5, at no additional cost.
There's also a special Miami-themed content pack, although this is only available to players who pre-order the Champions Edition before May 16. This consists of a special vehicle livery, along with clothing and "F1 Life" items.
You can pre-order F1 22 now, and it will launch on PlayStation 4/5, Xbox One/Series, and PC via Steam, Epic, and Origin, on July 1.