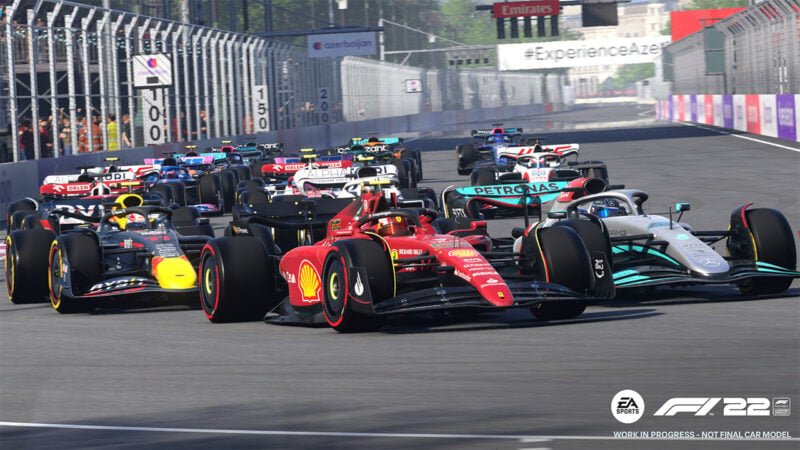 With only a couple of weeks until F1 22 launches, Codemasters has sent over another preview build of the game, allowing us to sample some of the new game modes and features available in the new title.
That starts with "F1 Life", a kind of Facebook profile (or, more accurately, a MySpace profile) but for your F1 22 life. It essentially consists of a number of customizable areas — one of which is yourself, but more on that later — which your friends can visit, and vice versa. Although in this build we had five AI guests, which was a little on the creepy side.
You can customize the furniture, floor, walls, lighting, soft furnishings, and art work within F1 Life to give it the most personal touch possible — although you will have to progress through the game to unlock many items, and some are only available if you have VIP access.
However it's still possible to build up an interesting looking pad for yourself even with some of the basic items, as you can see from our place below:
In addition to the various items available, you can also personalize your player avatar with casual clothing items. For the most part you will need to spend those valuable PitCoins to get these, although some unique items will be included in the Podium Pass too.
Despite the large range of branded gear in F1 Life, there doesn't seem to be a crossover into the other game modes. While you can race with the usual variety of fictional sponsors on your F1 car, there doesn't seem to be — at this point at least — any bleed-through of these real brands; F1 drivers don't wear Beats and Puma unless also sponsored by them…
The final part of F1 Life might be the most anticipated: Supercars. You've got six slots around your den available for parking any supercars you might have won, although with eight available you might have to choose. They are, for reference, the Aston Martin DB11, Aston Martin Vantage, Ferrari F8 Tributo, Ferrari Roma, McLaren 720S, McLaren Artura, Mercedes-AMG GT R, and Mercedes-AMG GT Black Series.
You'll earn tokens for purchasing supercars through in-game tasks — we only got as far as the third one, and that only required driving 40 miles across all game modes — and then display them in your F1 Life hub to show off.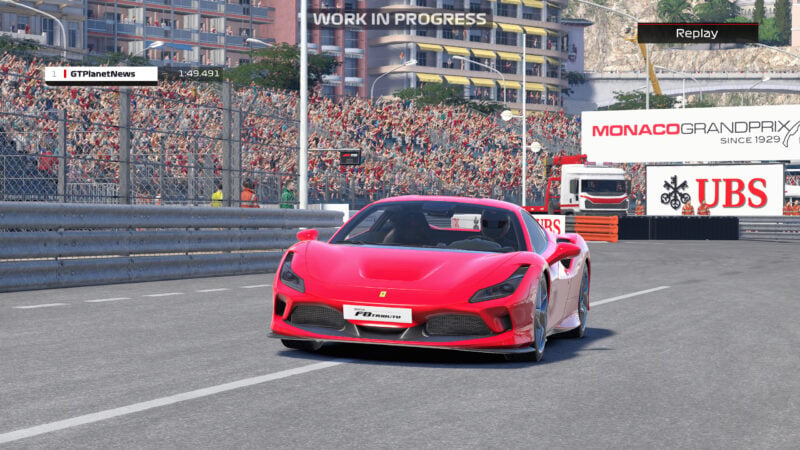 In addition to that, there's 40 special challenges for the supercars, which range from a checkpoint challenge and an average speed test, to autocross and drifting. You can head to these either by selecting the car and choosing to drive it or from the supercars menu.
There's also Pirelli Hot Laps events through the two main campaign modes, in Career and in My Team, and it doesn't appear that you're locked to only supercars from your chosen engine/team, so feel free to go off-brand. At the moment it doesn't look like you can race the supercars against one another, only drive time trials and the challenges.
Those main game modes also have subtle changes too. In My Team you can now opt to start on a variety of budgets and performance levels, from "Newcomer" to "Front-Runner". Career and My Team also bring new departmental events which affect your car's development and team morale, as well as a persistent narrative thread which sees your earlier decisions affect later questions.
F1 22 will launch on PlayStation 4 and 5, Xbox One and Series, and PC via Epic, Origin, Steam, and EA Play on July 1 2022. There's three days' early access for players buying the Champions Edition, which also includes 18,000 PitCoins, unique F1 Life items, and the Aston Martin and Mercedes-AMG Safety Cars as driveable supercars.