Pagani Zonda HP Barchetta '17
SPECIFICATIONS

OVERVIEW
• Manufacturer: Pagani
• Country: Italy
• Year: 2017
• Type: Street
• Division: N800
ENGINE
• Engine: Naturally aspirated V12 60º
• Power: 799 HP / --- rpm
• Torque: 850 Nm
• Engine location: Mid
• Displacement: 7291 cc
PERFORMANCE
• 0-100 km/h (0-62 mph) Time: Unknown
• Top Speed: Unknown
• Power-to-weight ratio: 0.64 hp/kg
DRIVETRAIN
•
Drive: Rear Wheel Drive
•
Gearbox: 6 speed manual
DIMENSIONS
• Lenght: 4440 mm
• Width: 2006 mm
• Height: 1014 mm
• Weight: 1250 kg
Although officially superseded by the Huayra in 2012, bespoke versions of the Zonda continued to be produced to custom order by Pagani for several more years. For one very special customer, Horacio Pagani himself, the Zonda HP Barchetta was created in 2017. The first of these was reserved for Pagani, while the other two were sold for a startling $15 million long before the HP Barchetta broke cover.
While it was based on the Zonda, it featured suspension and interior derived from the later Huayra. The engine was the same naturally aspirated Mercedes-AMG V12 engine of the Zonda but now tuned to produce a startling 788bhp. This made the HP Barchetta the most powerful road legal Zonda produced to date. The engine was mated to a six-speed manual gearbox.
As the name suggests, the car was a barchetta with a cut-down windscreen. Other distinct features included 'spats' on the rear wheel and an a 'snorkel' air-intake mounted between the two roll-over hoops. The first example shown in public was Horacio Pagani's own car, which boasted a distinct blue carbon-fibre body. It also featured special wheels with blue accents on one side and gold ones on the other.
The Zonda HP Barchetta debuted at the 2017 Pebble Beach Concours d'Elegance and was later also driven by Horacio Pagani at the 2018 Goodwood Festival of Speed. The car grabbed many headlines in particular due to the reported $15 million price for the two examples sold to customers.
Engine
Configuration Mercedes-Benz AMG 60º V12
Location Mid, longitudinally mounted
Construction light alloy block and head
Displacement 7,291 cc / 444.9 cu in
Bore / Stroke 91.5 mm (3.6 in) / 92.4 mm (3.6 in)
Valvetrain 4 valves / cylinder, DOHC
Fuel feed Fuel Injection
Aspiration Naturally Aspirated
Power 788 bhp / 588 kW
Torque 850 Nm / 627 ft lbs
BHP/Liter 108 bhp / liter
Drivetrain
Chassis carbon fibre monocoque
Suspension (fr/r) double wishbones, pull rod actuated coil springs, Ohlins adjustable shock absorbers, anti-roll bar
Steering rack-and-pinion, power assisted
Front Brakes ventilated carbon ceramic discs, 380mm (15 in), 6-pot caliper
Rear brakes ventilated carbon ceramic discs, 380mm (15 in), 4-pot caliper
Gearbox 6 speed Manual
Drive Rear wheel drive
Dimensions
Weight 1,250 kilo / 2,756 lbs
Performance figures
Power to weight 0.63 bhp / kg
https://www.ultimatecarpage.com/spec/7304/Pagani-Zonda-HP-Barchetta.html
More Awesome Cars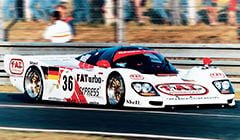 Last edited: