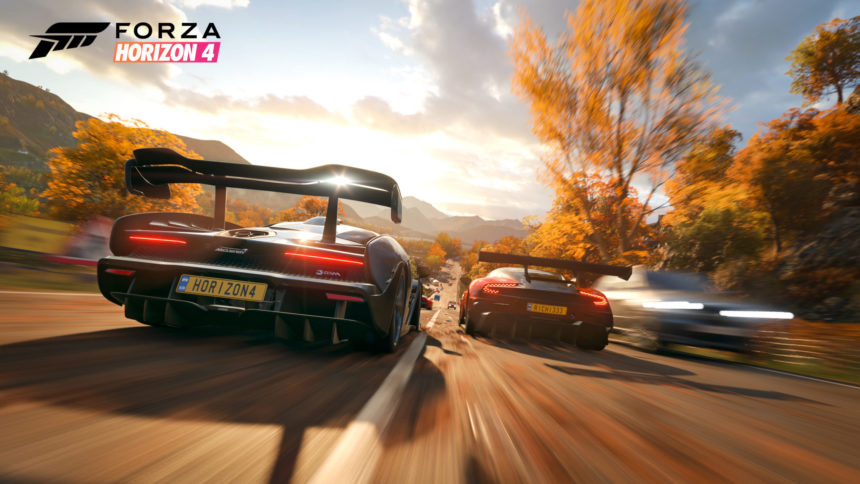 It's colder here. That's unexpected, but it drives home a point that will be prevalent over the coming days: weather matters.
It's the first week of September and I've touched down in San Francisco. The biggest shock is the need for a sweater, despite coming down from Toronto. You see, I'm here to put in some wheel time with Forza Horizon 4.
When I reviewed FH4's predecessor nearly two years ago, I called it "a big breath of fresh air". Fast forward to 2018, and coming off a previous year positively stuffed with excellent sim racers, the same is true of FH4 too. Arcade racers serve an important role in gaming, not as an either/or option for the hardcore stuff, but as a more accessible complement. A change of pace, if you will.
What I didn't mention in that old review was that I wondered how Playground Games could top its arcade racer. The game was a critical and commercial hit, racking up over nine million players. It seemed there weren't many stones left for Playground to turn over. It's something even creative director Ralph Fulton admits to originally thinking shortly after Horizon 3's launch.
The good news is that I was wrong. So was Fulton — sorry, Ralph! — because Horizon 4 looks set to retain the franchise's lead in the sub-genre with a combo of seasonal changes and a setting in Playground's homeland.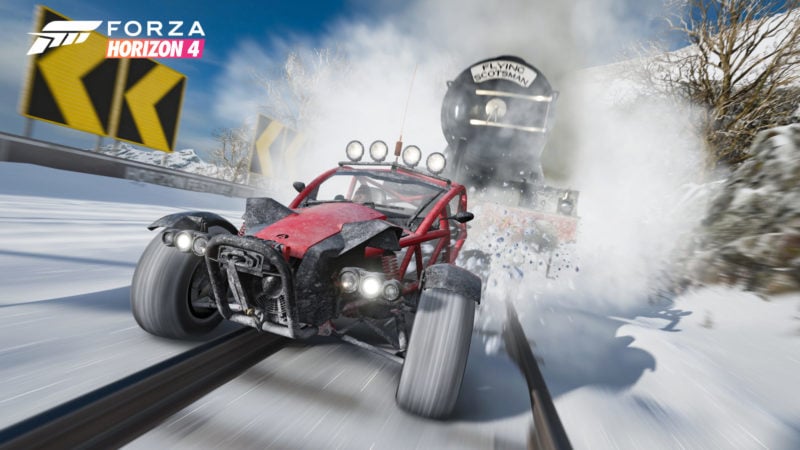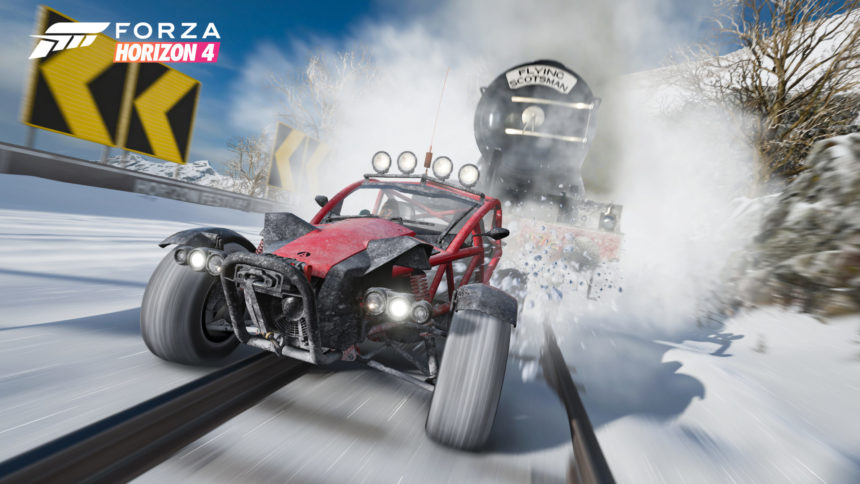 Seasons Change Everything
Yes, that's the tagline the marketing department is running with for Forza Horizon 4. It isn't just an empty promise, though: the switchover from autumn to winter brings not only a complete visual overhaul, but changes under the skin. Cars handle differently in the snow. There's different types of the white stuff too, with a light dusting on busy urban streets and deep, wonderfully deformable fields out in the country.
You'll find different areas of the map are only available in certain seasons as well. When the Lake District freezes over, you can safely traverse it, on the hunt for elusive island-based Barn Finds. But come summer, those will be out of reach.
The handling itself is sweet and satisfying. Horizon has been going since 2012, and even then sat closer to the arcade side of the spectrum in terms of physics. That said, the physics engine showcased more depth than its arcade brethren at the time.
The same mindset exists in Horizon 4. Outside of maybe Driveclub, this is the most realistic arcade racer out there. If that sounds like an oxymoron, it isn't: straddling the line between authenticity and approachability is key to wide appeal in today's fickle gaming landscape. I love me some hardcore sim driving, but I know which approach is more likely to lure in my less automotive-obsessed friends.
For Forza faithfuls, Horizon 4 feels a little more realistic than FH3. The '60s Charger I pick to start my career has a real sense of weight to it, but in a different, more wayward style than the equally porky Chiron. Playground has added a new vintage race tire as an option on the older cars, which provides a softer, more rounded performance envelope than the usual race tires. This gives players the option to craft a resto-mod, or something a little more period-correct.
The Senna is light yet utterly planted, and the tires just dig ever harder into the tarmac as speeds increase. Meanwhile, a Lancia 037 Stradale feels manic and super-agile, the tiny wheelbase allowing it to rotate seemingly from a pinpoint in the middle of the car.
Every car feels unique, but most importantly, the cars also respond consistently to player inputs. There's no weird auto-drift here.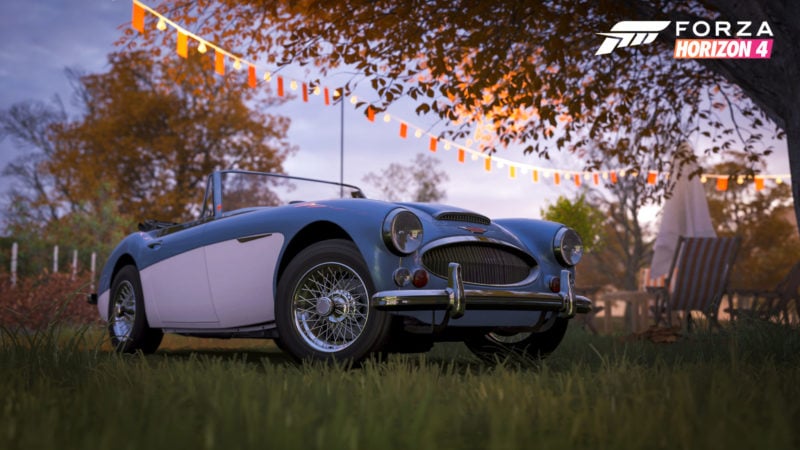 The Real Star Is Britain Itself
"For us, Britain is kind of a homecoming," Fulton tells me in our exclusive interview. Much as the cars tend to get the focus in racing games — and there's 450 of them here, including cover star the McLaren Senna — Playground Games puts the setting first.
It started with Horizon 3, as a love letter to the oft-overlooked Australian automotive scene. Here though, Playground got to play in its own backyard. To hear Fulton tell it, he was initially apprehensive, but the team convinced him. "They did a great job making me think about Britain not as a resident who's bummed out that the roads have potholes and traffic's bad," he explains, "but as someone who's almost never seen it before. It's beautiful, it's got history like nowhere else."
In terms of diversity, I'd have to agree. Australia was a lot of fun, but the Outback simply can't offer the variety of Blighty. From old castles to city streets, country switchbacks and the Lake District, Horizon 4 covers a lot of bases. Cruising is immensely satisfying in this game.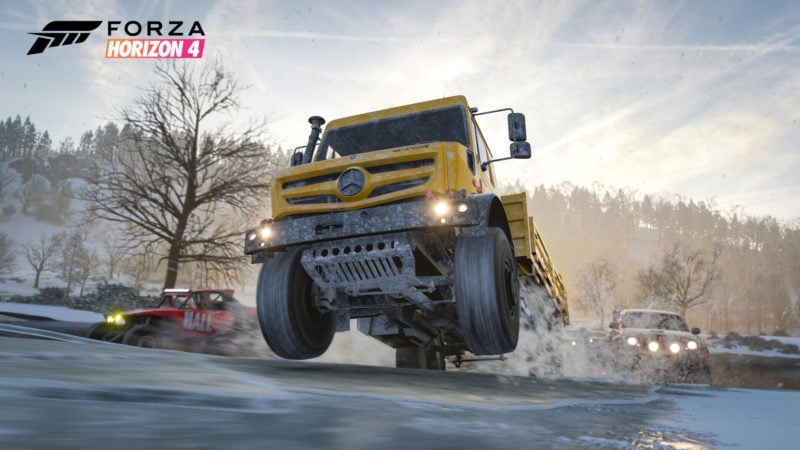 Are You Offering Me a Job?
The last game in the franchise put players in charge of the Horizon festival. This one rolls that back, once again starting them off at the bottom only to work their way through the ranks. It's a good move, as it allows for a more natural-feeling progression system.
Players earn the traditional credits when they finish races. The progression currency, in typical 2010s social media fashion, is influence. You earn it in a variety of ways, be it races, smashing billboards, or completing short challenges across the map.
New this go-round is Forza Life events. As a sort of mix between the old Bucket List challenges and Showcases (which are back in FH4 as well), these are multi-tiered events where you can earn unique perks on top of the usual prizes. The first one I experience in the game is that of a movie stunt double. I'm tasked with delivering a Bugatti Chiron to a filming location, before threading it across the British countryside. There's a jet overhead, the director is in my ear offering his own hilarious advice, and it culminates in a massive jump through a windmill.
Is it over the top? Absolutely. But it's fun, and being a stunt driver, or a taxi company owner, or any of the other unknown jobs in FH4, adds to the game's open-world appeal.
The Best Looking Forza Game Yet? Yes.
The existing Horizon 4 screenshots already out there teased a good-looking game. But they didn't prepare me for just how slick it would be in motion. I had played FH3 only days before to re-familiarize myself, and it's frankly surprising how much Playground has moved the visual game on in those two years.
As is the case with all of the best-looking games, regardless of genre, it comes down to the lighting. It's all so natural, and the four-season approach lets Playground flex its muscles here. There's a warmth to the summer time that is in direct contrast to the desaturated look of the winter. Even in the summer, Britain has a different feel to its afternoon lighting than, say, San Francisco. Combined with the old-school brick houses in the country, or the bustling core of Edinburgh, the lighting engine elevates Horizon 4 to the top tier of gaming graphics.
The best example I can provide is that the Charger shot above — my first chosen car during my play through — was taken with completely stock photo mode settings. No tinkering, either in-game or out. This game will provide serious amounts of eye candy.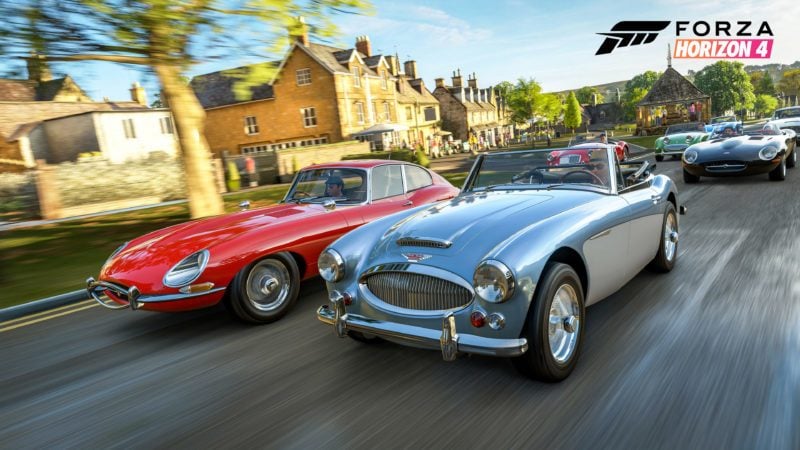 It's All About Interaction
One of the main messages of the event is that of shared experiences. Playground Games has built Horizon 4 for players and content creators to easily share nearly every aspect of their time in Britain. The Creative Hub is a one-stop shop to check out any person's tunes, photos, Blueprint Events, or car designs. Clubs are back, and have now swollen to 2000 members. The team is even introducing ways for players to build in-game influence when they're not playing, by watching Horizon 4 Mixer streams.
More practically, players will all be experiencing the changing seasons together. Every week the weather will cycle globally. Paired with a new seven-day approach to DLC — two cars per week, not seven each month — it will put the community on a regular cadence. Players looking to experience a particular season can rest easy: there will be ways, such as custom Blueprint Events, to prioritize certain weather.
Fulton and the team will be bringing players along for the ride as the game evolves. The Route Creator, set for inclusion in the game's first major update, will set the tone:
"Launch is just the beginning for us. I think we're all as an industry getting out of the mindset that you ship a game and that's it, you're done, and you move off. Now we're very much in a paradigm where we ship a game and then we continue supporting it, we continue developing it almost. And that's not just us, that's kind of industry-wide now. The Route Creator is part of the first update we'll make to the game, and serves as kind of a proof point of the kind of things you can expect to see coming to the game in months and years to come."
Conclusion
As it turns out, there was plenty of room for the Horizon franchise to grow. What remains is a celebration of car culture, only this time it's merged with an appreciation of a setting year-round. Whereas the Motorsports games feel like an iterative sequence, leaving little reason to revisit older titles, each Horizon is very markedly its own adventure. I've spent a few hours with it and I feel like I've only seen a fraction of what's available.
Playground Games has found its groove, and Forza Horizon 4 has all the markings of another big hit. Even Microsoft thinks it may be the best-selling title in the franchise. On the basis of my time with the game, I wouldn't bet against that.
Forza Horizon 4 launches October 2 on Xbox One and PC. It will also be available with Xbox Game Pass that same day. Stay tuned for more coverage from the preview event over the week!
More Posts On...