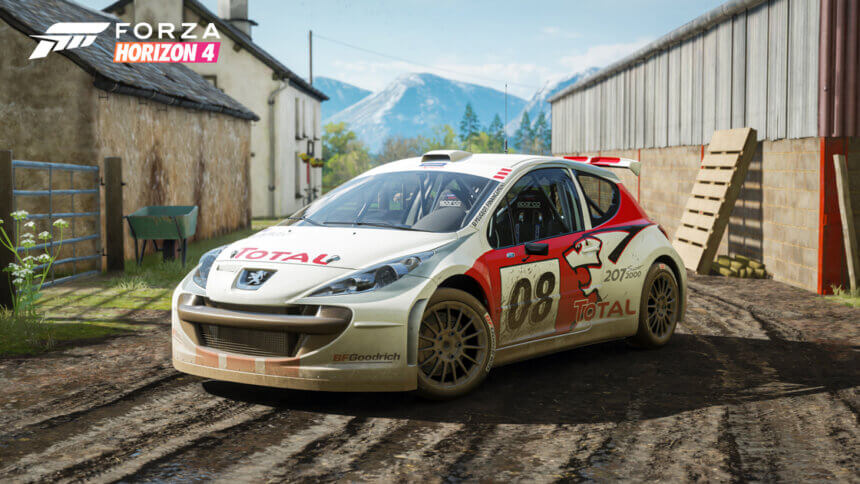 Summer is back on the menu in Forza Horizon 4 with a brand new season on the cards. The kickoff for Series 33 is a big one, as Steam players will be joining the fray for the first time.
Amongst a cavalcade of new events, a rally-spec Peugeot makes a long awaited return to the Forza franchise, along with more fan favorites in the Playlist for 50% and 80% completion. Let's head out on to the road to discover the treasures awaiting for Summer.
A Lion's Roar
Heading up the Seasonal Playlist prizes this week is the 1985 Mazda RX-7. The FB-generation of the rotary icon would become an underrated cult hit compared to its successors.
Compared to its rivals, the RX-7's 1.3-liter twin-rotor makes a modest 135hp. However, by only needing to shift a weight sitting at just over 2,500lb, it's quick enough, and the balanced weight distribution should make for a fun drive on country roads.
Those needing more speed can look to the McLaren 720S Spider. Removing the roof from the barnstorming 720S coupe has done little to dampen the blistering capabilities of the Spider. Despite weighing some 200lb more, the 711hp from the 4.0-liter, twin-turbocharged V8 delivers almost identical performance.
In terms of Festival Playlist prizes, the Alpine A110 is on offer along with another Horizon Backstage Pass.
Series 33's first Photo Challenge is the return of a previous task. #LightUpMyLambo was last seen in Series 24, with the objective remaining the same: snap any Lamborghini at the lighthouse north of Bamburgh. For seasonal championships, there's a Koenigsegg Regera and an Aston Martin One-77 among the prizes.
The main prize to look out for is something slightly more humble: the 2007 Peugeot 207 Super 2000. This WRC-lite racer hasn't been seen in the franchise since Forza Motorsport 4. Built to comply to Super 2000 rally regulations, the 207 has been transformed into a much more aggressive beast. Featuring a free-breathing 2.0-liter engine, this 207 makes a beefy 280hp. Combined with a competition four-wheel-drive system and you have performance for conquering tarmac and dirt trails.
If you want the 207, you'll have to win the "Forest Monsters" championship.
A new monthly rivals event is also available. Head on out to Moorhead Wind Farm Circuit where you'll be able to test drive the RAESR Tachyon before it arrives during Winter.
More Super7 challenges are now available to mark the new series. If you can complete all seven cards, you'll receive a Mercedes AMG Hammer Coupe.
You can find the latest Summer events below:
Forest Monsters
Series: Cross Country Series
Cars: Rally Monsters
Restrictions: S1 Class, 900 PI
Prizes: 15,000 CR, 25,000 CR, 2007 Peugeot 207 S2000
Old Habits Die Hard
Series: Road Racing Series
Cars: Vintage Racers
Restrictions: B Class, 700 PI
Prizes: 15,000 CR, 25,000 CR, Koenigsegg Regera
Redline Rockets
Series: Street Scene
Cars: Italy, Modern Supercars
Restrictions: S1 Class, 900 PI
Prizes: 15,000 CR, 25,000 CR, Ferrari 599 Formula Drift
The Trial: Team Lotus (Co-Op Championship)
Series: Road Racing Series
Cars: Lotus
Restrictions: A Class, 800 PI
Prizes: Lotus Eleven
Spring Games – Series 33
Series: Playground Games
Cars: GT Cars
Restrictions: A Class, 800 PI
Prizes: Aston Martin One-77
Super7 – Summer
Completion Prize: Mercedes-Benz AMG Hammer Coupe
Moorhead Wind Farm Speed Trap
Season Objective: 244 mph
Bamburgh Castle Danger Sign
Season Objective: 705.4 ft
Derwent Water Speed Zone
Forzathon Events
Forzathon is going back in time this week, with the spotlight looking at Vintage Racers. Dust off the goggles and the leather helmet, choose your favorite timeless racer and get started.
Next up, show that your old dog can learn new tricks by earning two Showoff Skills during races. Afterwards, unleash the full potential of your car by earning a total of 12 stars through Speed Traps.
Finally, head out to the races and take victory in three Road Racing Series events to bring a wrap on this week's challenges.
Forzathon Shop
The shop lineup consists of old and new versions of icons this week, starting with the 1990 Chevrolet Camaro IROC-Z. Named after the all-stars racing series, this Camaro sat as a flagship in the range.
Despite having a 5.7-liter V8 under the hood, the IROC-Z makes just 245hp. Make some tweaks to the engine though and you'll be able to unleash its full muscle. The IROC-Z also placed a focus on handling, with suspension improvements despite having a solid rear axle.
At 600 Forzathon Points, you'll be paying a hefty sum for the Camaro, but this is an excellent opportunity to bag one if you missed it during Series 31.
Another icon up for grabs is the 2017 Alpine A110. Built to put Alpine back on the map after a 24 year absence, the new A110 is out to square up to the Porsche Cayman. Unlike the old A110, the latest Alpine has gone from a rear to a mid-engined layout featuring the 1.8-liter turbocharged engine from the Renault Megane RS. At just 248hp, the Alpine may be outgunned in the power stakes, but fights back by weighing in at just over 2,400lb.
To secure an Alpine, you'll have to part with 350 FP. The result will be one of the most spectacular and enjoyable cars to upset the German establishment.
Clothing and novelty items up for grabs this week include the "In The Hall of The Mountain King" horn and the Monster Energy Cap.
More Posts On...