It's the final stretch for Forza Horizon 5 Series 10 this week, as the new Spring Playlist is now live with events for players to mop up anything missing from their collections.
With Series 11 just around the corner, this week is the last of the Extreme E-themed Series 10 Playlists. That means the final two Extreme E cars are on offer this week, along with the last of the clothing items for the environmentally friendly off-road racing series.
There's also the last two Extreme E race events, as you head into the deserts of Mexico, and one final vehicle from the S10 update to collect and tick off the Expanding World Accolade dedicated to the task.
Although there's a few extra events requiring online multiplayer — and therefore an Xbox Live Gold subscription or a PC to play on — the recent launch of the Hot Wheels DLC expansion pack has given players another option to pick up the points required. Hot Wheels Park now hosts two events, worth seven points in total, each week.
Series 10: Extreme E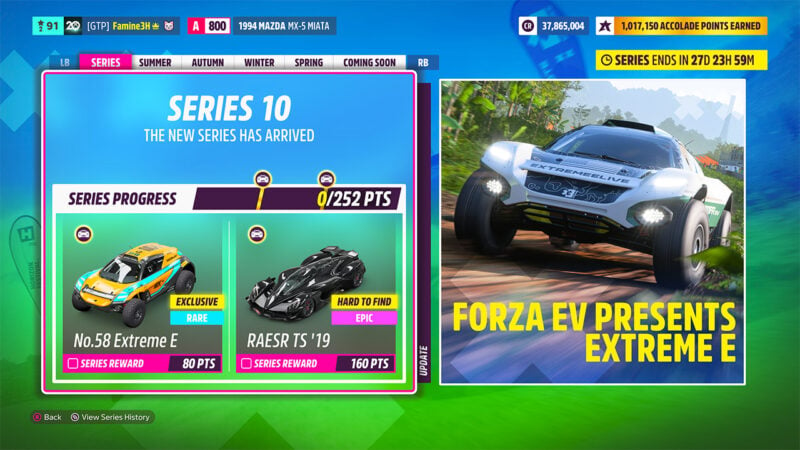 With this being the final week of the Series, you should already have both of the prize cars available; there's been 197 points on offer so far, and you only need 160 to score the top prize.
That's the Raesr Tachyon Speed, a car named for how fast it goes… twice. A "tachyon" is a theoretical particle in physics which travels faster than the speed of light in a vacuum. As far as we know, that's impossible and while the Raesr is some way off that level of performance it's still a pretty rapid car.
It packs a six-motor setup, delivering 1,250hp to all four wheels, so despite the rather fussy exterior it's still good for 240mph. And we mean "it": Raesr has only made the one prototype car.
For 80 points, which you should have achieved a long, long time ago, you'll be able to pick up one of the ten Extreme E cars available this Series.
Although the ten cars are identical, each is classed as a different machine in the FH5 car list. This particular example is the newest car on the Extreme E grid: the #58 McLaren.
As with all the others, it's a Spark Odyssey 21 race truck made specifically for Extreme E. There's a niobium-steel spaceframe chassis to take all the offroad punishment and a natural fiber composite body using flax. Williams Advanced Engineering provides the power, with a 400kW electric drivetrain.
Spring, and Series 10, will run through to 1430UTC on Thursday August 18, with the Summer of Series 11 replacing it.
Series 10 Spring/Hot Season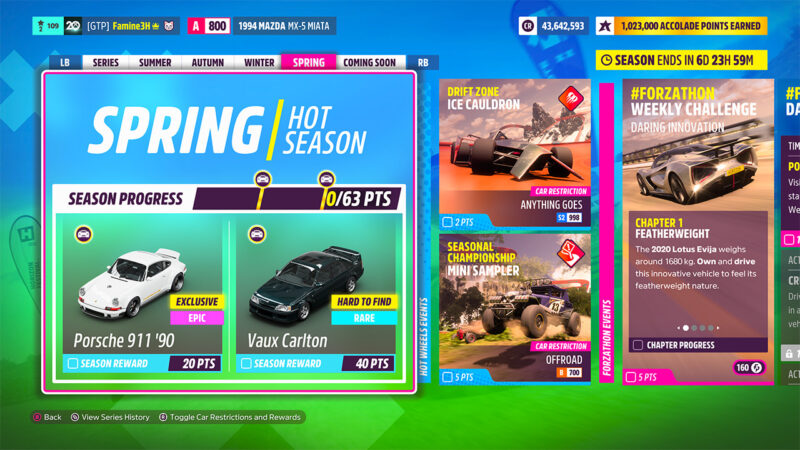 There's a theme to this week's prizes, with two vehicles produced in 1990 and made considerably more savage by a second company.
The first of those is the Singer DLS — "Dynamics and Lightweighting Study" — which is classed as a Porsche 911 "Reimagined by Singer" in the game.
It's a phrase which underplays exactly what Singer has done to the car, which still looks like a 964-generation 911 but is now almost entirely made out of carbon-fiber. In addition to weighing in at barely a ton, the DLS sports a 500hp, four-liter flat-six developed in conjunction with Williams.
You can pick up the resto-modded 911 for 20 points in the Spring season. For 40 points though you'll win a car that was brutal the moment it was born.
The Lotus Carlton — also known as the Lotus Omega in left-hand drive countries — was a result of Vauxhall/Opel giving its biggest sedan to technical partner and performance specialist Lotus.
While Lotus liked to make its own cars light and simple, it was content to go with massive power and significant suspension work for the Carlton. It increased the V6's capacity by 20% and then added twin-turbochargers, boosting power from just over 200hp to 372hp.
Classed in-game as a Vauxhall, the Carlton was previously a 45-point reward in Spring of Series 3, so if you missed out previously then this week is a good chance to fill in that gap.
Forzathon Events
As has been the theme for the entire series, electricity is the focus for the Weekly Challenge. This week the event centers on the Lotus Evija, which you'll need to buy if you don't already have one at 100FP in this week's Forzathon Shop or 2.5 million credits in the Autoshow.
Once you've got rolling in the Evija (pronounced "ev-ee-yah"), you'll need to take the car to the Dunas Blancas region — where Extreme E is staged this week — and hit 200mph in it. You could also pair this up with the Photo Challenge, by snapping the car while you drive.
Next up you'll need to earn ten Ultimate Air skills, for getting all four wheels off the ground for as long as possible. The dunes provide a good spot for this; though you may score a couple of Great and Awesome Air skills, persist until you hit ten of the longest, Ultimate skills.
Finally, take the Evija to victory in any Street Race. Handily the start point for the El Lago Blanco race is nearby (watch out for the hard left at about 30% distance). Complete that to earn five points and 160FP, doubled to 320FP if you own the La Casa Solariega player house.
Weekly Challenge: Daring Innovation
Car: Lotus Evija 2020

Chapter 1: Own and drive the Lotus Evija
Chapter 2: Reach 200mph in Dunas Blancas in the Lotus Evija
Chapter 3: Earn ten Ultimate Air Skills in the Lotus Evija
Chapter 4: Win a Street Race in the Lotus Evija.

Reward: 5 points, 160FP
Dunas Blancas hosts Extreme E this week, and as we've seen across the Series many of the Daily Challenges are either set there or use the Extreme E cars. A new challenge becomes available at 1430UTC every day, with seven days to complete each for a one point (plus 20FP) reward.
The usual day one challenge is to visit the location. Arrive in Dunas Blancas (which you inevitably will in the course of the week anyway) to complete Power!
Cruise Control follows, and requires you to drive ten miles in any fully electric vehicle. You'll complete this entirely naturally during other events this week, so no special effort is required – as long as you don't zip through the Playlist before Friday.
For Staying Power you'll need to earn nine stars with your scores at Speed Zones in any Extreme E. This could be three three-stars (unlikely), nine one-stars, or anything in-between.
Night Light requires that you win a Street Race in any Extreme E. It's not a natural event type for the car, but it shouldn't be too hard; turn difficulty down to Tourist if you want to cheese it.
You'll need to earn an Ultimate Skill Chain while in Dunas Blancas for Unlimited Power. This requires that your skill chain exceeds 20,000pt before the multiplier is applied, so drift, jump, speed, and smash until you hit 20,000, and then bank it. Don't use an Extreme E for this, as they break their skill chains for fun.
After that you'll need to let Sparks Fly, by earning ten Air Skills in an Extreme E. There's a good chance you'll hit this during the Seasonal Championship this week, so you might want to hold off on that until this Daily is active on Tuesday.
The final challenge of the Series is Energy to Burn. Simply earn a Burnout Skill by lighting the tires from a standstill, while in Dunas Blancas.
Daily Challenges
August 11 – Power!: Visit Dunas Blancas
August 12 – Cruise Control: Drive 10 miles in any fully electric vehicle
August 13 – Staying Power: Earn nine stars at any Speed Zones in any Extreme E
August 14 – Night Light: Win a Street Race in any Extreme E
August 15 – Unlimited Power: Earn an Ultimate Skill Chain in Dunas Blancas
August 16 – Sparks Fly: Earn 10 Air Skills in any Extreme E
August 17 – Energy to Burn: Earn a Burnout Skill in Dunas Blancas
Season Events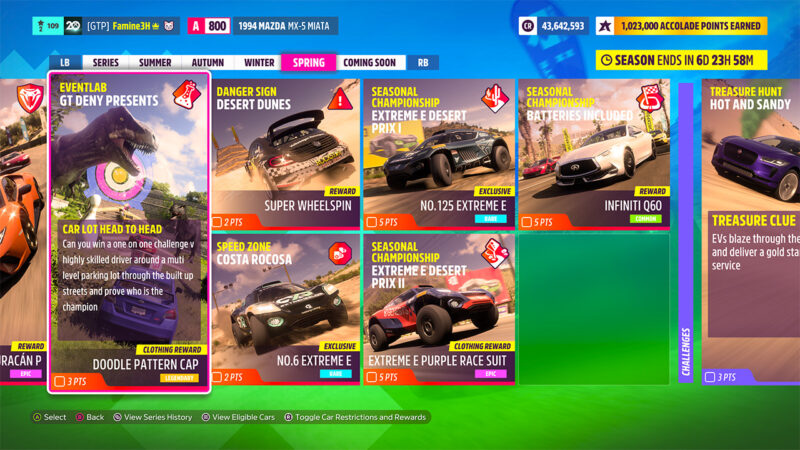 The final set of Season Events for the Series are a little more compact. Along with the Extreme E Seasonal Championships we've seen across the Series, there's a regular Seasonal Championship, two PR Stunts, and an EventLab in the solo offerings.
Hot Wheels DLC owners also have access to two further events. They're not required to pick up the points for the main Playlist rewards, but with seven points on offer they compensate for the 13 points in this week's multiplayer events. If you want 100% though, you will need to complete them.
The Hot Wheels PR Stunt heads to the Ice Cauldron and the eponymous Drift Zone in the region. With a 130,000pt target and S2 Class (901-998PI) cars required, it shouldn't be tricky and you'll earn two points and a Super Wheelspin for completion.
Your Hot Wheels Seasonal Championship this week, Mini Sampler, takes you off the beaten — and orange — track with some races across the floor of the Forest Falls biome. Any Offroad category vehicle in the B Class (601-700PI) bracket is permitted, and you'll win five points and a Hot Wheels Cap clothing item for victory.
Hot Wheels Speed Trap: Ice Cauldron
Car: S2 Class
Location: Hot Wheels Park Ice Cauldron, Ice Cauldron Drift Zone
Challenge: 130,000pt
Reward: 2 points, Super Wheelspin
Hot Wheels Seasonal Championship: Mini Sampler
Car: B Class, Offroad
Location: Hot Wheels Park Forest Falls, Forest Falls Hazard Sprint
Challenge: Win the Championship
Reward: 5 points, Hot Wheels Cap
Down on the main map meanwhile, there's a Danger Sign and a Speed Zone available this week, each with two points on offer.
The Desert Dunes Danger Sign sends you leaping off an enormous mountain of sand, past a lighthouse. It should be relatively easy at 340m; that's over the three-star mark, but you're using any S1 Class (801-900PI) vehicle. There's a Super Wheelspin available when you hit your target.
Unusually the Speed Zone, Costa Rocosa, has a car reward, with the #6 Rosberg Racing Extreme E on offer. You'll need to beat 85mph — pretty close to the three-star speed — in a B Class (601-700PI) car. Make sure it's something optimized for dirt driving, and come at it from the southernmost gate at speed.
The three Seasonal Championships are the usual three-race events against Highly Skilled AI drivatars, with five points on offer as a reward.
For this week's Extreme E championships you'll be doing some desert driving in Extreme E Desert Prix I and Extreme E Desert Prix II. You'll need any Extreme E car — whether one of the eight others you can win or the #99 car that costs 700,000cr — in the A Class (701-800PI) bracket to compete.
EEDPI is a Cross Country Series event, with the Cupra #125 Extreme E car for the overall win. EEDPII takes to the Dirt Racing Series, and offers a purple Extreme E Race Suit — the best kind of Extreme E Race Suit — as a prize.
Batteries Included takes you to back onto roads and regular vehicles for the final Seasonal Championship. You can use any EV car in the S2 Class (901-998PI) for the three-race event, with an Infiniti Q60 available as the championship prize.
There's a Horizon Arcade event available this week. Simply head to any of the Arcade zones — pink circles on the map — and complete three rounds of any kind for three points. You can do this solo if you wish, as the points requirements scale depending on how many participants there are.
Finally there's the EventLab creation, Car Lot Head to Head. This one-on-one race against the AI sees you tackling a city circuit built on the main Horizon Festival site which includes a multi-storey car park. You'll need to Baby Driver your B Class (601-700PI) vehicle to the win to earn three points and Doodle Pattern Cap clothing item.
Danger Sign: Desert Dunes
Car: S1 Class
Location: Dunas Blancas, Desert Dunes Danger Sign
Challenge: 340m
Reward: 2 points, Super Wheelspin
Speed Zone: Costa Rocosa
Car: B Class
Location: Dunas Blancas, Costa Rocosa Speed Zone
Challenge: 85mph
Reward: 2 points, Extreme E #6
EventLab: Car Lot Head to Head
Car: B Class
Location: Horizon Festival, Festival Drag Strip
Challenge: Win the Race
Reward: 3 points, Doodle Pattern Cap
Horizon Arcade: Mini Games
Car: Any
Location: Horizon Arcade (any)
Challenge: Complete the event
Reward: 3 points
Seasonal Championship: Extreme E Desert Prix I
Car: A Class, Extreme E
Location: Del Otro Mundo, Ribera Rocosa Cross Country
Challenge: Win the Championship
Reward: 5 points, Extreme E #125
Seasonal Championship: Extreme E Desert Prix II
Car: A Class, Extreme E
Location: Dunas Blancas, Baja California Trail
Challenge: Win the Championship
Reward: 5 points, Extreme E Purple Race Suit
Seasonal Championship: Batteries Included
Car: S2 Class, Horizon Special: EV
Location: Palacio Azul del Oceano, Emerald Circuit
Challenge: Win the Championship
Reward: 5 points, Infiniti Q60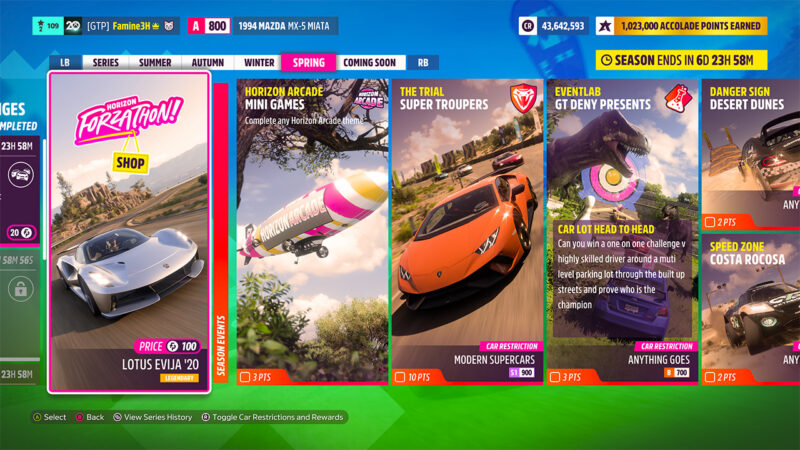 There's only the one multiplayer event this week, for which you'll need an Xbox Live Gold subscription on console or to switch over to a PC to play.
That's The Trial holding its usual spot. It's a three-round team championship, with up to six humans racing six "Unbeatable" AI drivatars.
Each player on each team gains 100 points for every opponent they're ahead of, which means it's usually the best option to knock the AI about a bit so that slower team-mates in less than ideal machinery can pass — and never a good idea to knock your team-mates about.
With S1 Class (801-900PI) Modern Supercars required, the pace has gone up a bit and even though you're running a Road Racing Series event with nice, grippy road surfaces there's likely to be a few wayward humans engaged in some blue-on-blue violence.
If you can find a team that isn't inept, an overall win will earn you all ten points and a Lamborghini Huracan Performante.
The Trial: Super Troupers
Car: S1 Class, Modern Supercars
Location: Bahia de Plano, Bahia de Plano Circuit
Challenge: Win the Championship
Reward: 10 points, Lamborghini Huracan Performante
Challenges
It's another week with three Challenges, with Photo Challenge and Treasure Hunt returning alongside The Eliminator. You will also need access to online multiplayer for the last one, with either Xbox Live Gold or access to the game on PC.
As usual, The Eliminator isn't terribly tricky. You'll need to finish 30th or better — usually a case of surviving the opening three or four minutes — to win two points and a Doodle Classic Shades clothing item.
This week's Photo Challenge, #DesertRunner, is one you can complete alongside the Forzathon Weekly Challenge. Take the Lotus Evija to the Dunas Blancas region and photograph it; you'll earn an Applause car horn and two points.
The Treasure Hunt this week also fits in with the general electric theme of the Series. Your clue is "EVs blaze through the sand and deliver a gold star rated service", and that's thankfully easy to decode.
Grab any EV and head to the "Sand and Deliver" Trailblazer in Dunas Blancas. Earn just one star — and we'd recommend a good run-up down the dirt track to the north, then sticking to the large and crucially flat dune to the right until the finish gate's in sight — to earn the treasure hint.
This week that's located in… Dunas Blancas. Go on, act shocked. Find and smash the chest, near a trailer right by the Extreme E Desert Prix II start point, to take three points and 100FP.
Photo Challenge: #DesertRunner
Cars: Lotus Evija
Location: Dunas Blancas
Challenge: Photograph the Lotus Evija in Dunas Blancas
Reward: 2 points, Applause Horn
The Eliminator: Battle Royale
Cars: Any (provided)
Location: Valle de las Ranas, The Eliminator
Challenge: Finish 30th or better
Reward: 2 points, Doodle Classic Shades
Treasure Hunt: Hot and Sandy
Cars: Any EV
Location: Dunas Blancas, Sand and Deliver Trailblazer
Challenge: Score one star in the Sand and Deliver Trailblazer in any EV, find and smash the Treasure Chest
Reward: 3 points, 100FP
You still have one more chance to complete the Monthly Rivals events this Series, with the new Forza EV challenge alongside the regular Monthly item.
In each case you can complete the lap at any time in the Series to earn a point in each Season, whether the Season has passed or not. You need to register a clean lap, so speed isn't important, to pass and earn the points.
Forza EV will set you the challenge of a clean lap of the Airfield Cross Country Circuit with the #99 Extreme E provided to you, while the Monthly Rivals event is a spotless tour of the Tierra Prospera track, using the provided Porsche 917/20 Pink Pig.
Forza EV: Airfield Cross Country Circuit
Cars: Extreme E #99 (Provided)
Location: Aerodromo en la Selva, Airfield Cross Country Circuit
Challenge: Post a Clean Lap
Reward: 4 points (1 added to each season)
Monthly Rivals: Tierra Prospera Circuit
Cars: Porsche 917/20 (Provided)
Location: Tierra Prospera, Tierra Prospera Circuit
Challenge: Post a Clean Lap
Reward: 4 points (1 added to each season)
Forzathon Shop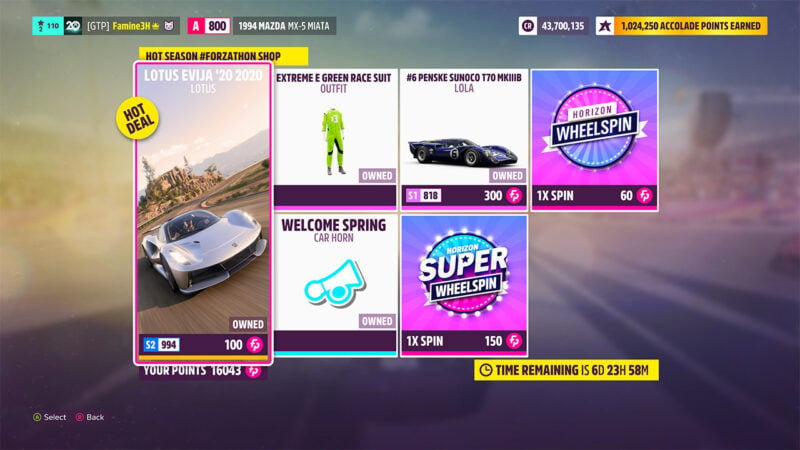 Two eras collide in this week's Forzathon Shop, with a high-performance modern road car and an older race machine with a bizarre history.
The modern metal comes in the shape of the Lotus Evija, which you'll need for the Weekly Challenge. At 100FP it's a bargain compared to the 2.5 million price in the Autoshow.
Of course there's not much metal in it, as the Evija is almost entirely constructed from carbon fiber. That's to help keep the weight down on the first fully electric Lotus, which employs four individual, 493hp wheel motors for almost 2,000hp combined.
That means the Evija will hit 200mph with ease, and in barely ten seconds from a standstill. It's little wonder it's almost at the top of Horizon's performance brackets as standard.
Our second car is the Lola T70 MkIIIB of the Penske Sunoco race team. This race-winning machine beat all-comers at the 1969 24 Hours of Daytona, before being itself conquered by basic human greed.
Having been shipped from Daytona to Sebring, the car was on its way back to headquarters when, at an overnight stop, it and the truck in which it was being shipped was stolen.
The car was later found, against all odds, but had been stripped of almost everything, including its engine. That meant it missed its chance to race at Le Mans that year.
It's available for 300FP, but at 850,000cr in the Autoshow you might want to save the points.
Store items this week are the Welcome Spring Car Horn and the Extreme E Green Race Suit at 75FP each. The Wheelspin (60FP) and Super Wheelspin (150FP) are in their usual spots too.
See more articles on Forza Horizon 5 Season Change.