After a rather lengthy wait, Forza Motorsport is finally here, with digital versions unlocking and physical versions landing in letterboxes around the world.
With such a long wait — and the last title being delisted 18 months ago — it's likely that there'll be many eager players getting to grips with Forza Motorsport over the next few days, many of whom are new to the series.
That, and the fact that there have been some significant changes since FM7 (hence the rebooted name) will probably lead to… questions.
We've been keeping an eye on the GTPlanet forums and social media channels, as well as the wider internet, over the last few months, noting those that have come up the most often in order to put together a list of the most-frequently asked questions out there — and their answers.
Of course while we've already reviewed the title, what we all know about the game will evolve over time as hundreds of thousands of players relate their collective experience. We'll be adding more questions and answers to the list in the coming days and weeks — and if you have questions you think could go into this FAQ, ask them in the comments thread.
Table of Contents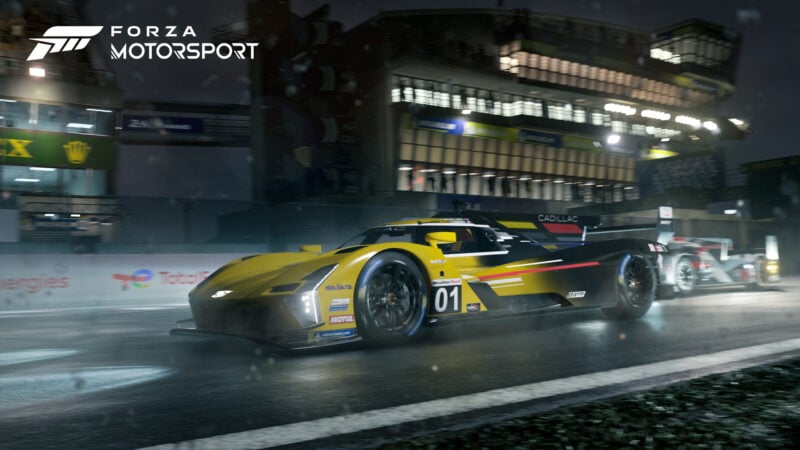 When did Forza Motorsport come out?
The official launch date for Forza Motorsport is October 10, 2023. However players could start their journey from October 5, 2023 courtesy of a five-day early access period.
On what devices can I play Forza Motorsport?
Forza Motorsport is an Xbox Game Studios product, meaning it can be played on any device that supports the Xbox ecosystem. However it is only natively compatible with ninth-generation Xbox Series consoles and PC.
That does make things a little complicated, as there is no support for older consoles — such as the Xbox One — but it can be played on them through the Xbox Cloud Gaming service, as well as other devices that are compatible with Xbox Cloud Gaming.
You can purchase Forza Motorsport only for Xbox Series S and Xbox Series X devices, as well as PC via the Microsoft Store and through Steam too. It is also available on the Xbox Game Pass service on these devices.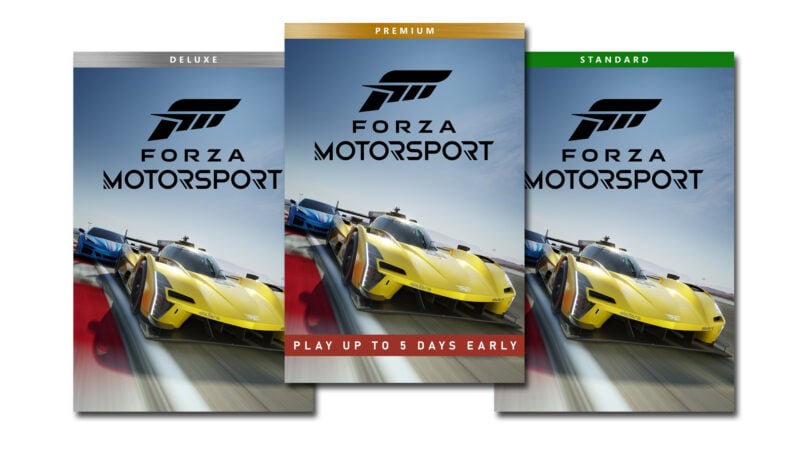 Are there different versions of Forza Motorsport?
In total there are three different versions of Forza Motorsport, although with the support of the various platforms there are technically seven different flavors you can buy:
Forza Motorsport (Standard Edition) for Xbox Game Pass
Forza Motorsport (Standard Edition) for Xbox Series & PC
Forza Motorsport (Standard Edition) for Steam
Forza Motorsport (Deluxe Edition) for Xbox Series & PC
Forza Motorsport (Deluxe Edition) for Steam
Forza Motorsport (Premium Edition) for Xbox Series & PC
Forza Motorsport (Premium Edition) for Steam
As you might expect, each of the pricier versions comes with its own benefits, with the Standard Edition consisting of the game alone.
The Deluxe Edition adds in a paid DLC "Car Pass" for free, which will add one new car to the game each week up to a total of 30 cars — all of which are stated to be new to the Forza series as a whole. These are added to your game automatically and do not have timed availability.
At the top of the pile is the Premium Edition. This includes the five days' early access bonus, the Car Pass, and three more otherwise paid add-ons: the Race Day Car Pack, VIP Membership, and the Welcome Pack.
The latter gifts you five cars that are already included in the game, but means you don't need to buy them within the game itself. VIP Membership includes a 500,000cr initial boost, a 2x boost to all in-game credits earned, special icons for your profile, and five exclusive pre-tuned "Forza Edition" cars. Finally the Race Day Car Pack includes eight exclusive racing cars.
You can also purchase the entire Premium bundle as a standalone add-on (although not the individual packs) for the other editions. This comes to the same price (at launch) as just buying the Premium Edition, however, it allows players who are accessing the game at no extra cost through Xbox Game Pass to have the Premium benefits too.
Does Forza Motorsport feature crossplay?
Yes. Where enabled (you can turn this off), players of any version of Forza Motorsport can play online multiplayer with players of any other version.
Saved and shared liveries, replays, settings, and vinyls can also be accessed globally, while save game files themselves are cross-platform compatible. That means you can save your progress on Steam and pick it up on Xbox — should you own both versions.
What display resolution and refresh rate does Forza Motorsport support?
This greatly depends on the device on which you play and which display modes you select.
On Xbox Series S you have a choice of Performance or Quality modes. Performance maxes out at 1080p, but at 60fps, while Quality has a frame rate hit to 30fps at 1440p. On-track, real-time ray-tracing is not available on Series S.
Xbox Series X adds a third mode, but also ups the resolution in both other modes. This time you have Performance at 4K60 without RT, and Visuals at 4K30 with RT, but also a Performance RT mode. As the name suggests, this adds on-track ray-tracing to Performance mode, but it's at a variable display resolution at up to 4K60 only.
On PC your experience will vary depending on your setup, but on Ultra settings Forza Motorsport will run at 4K60 with DLSS/FSR support. Note that although frame rate is unlocked in single-player, it's capped at 60fps in multiplayer regardless of what your PC can generate.
How many cars are there in Forza Motorsport?
The total car count at launch is 516, although that includes the eight vehicles in the Race Day Car Pack, the five cars in the VIP pack, and the first of the 30 Car Pass vehicles. That sets the base game's car count at 502.
This number will increase over time with post-launch DLC, both paid and free. We've compiled a full list here.
How many circuits are in Forza Motorsport?
At launch the game featured 20 course locations, with a total of 48 different circuit layouts. This is already scheduled to increase in both areas with free post-launch DLC but at present only a skeleton schedule is known. We've assembled a full list here.
Is there any free roam in Forza Motorsport?
No, unlike its sibling Forza Horizon series of games, Forza Motorsport is not an open-world title. All driving is circuit based at the specific venues included in the game.
Does Forza Motorsport feature online multiplayer?
Yes, and there's a range of options for online multiplayer too — although none for local multiplayer.
You will need access to Xbox Live to access most multiplayer features (this is not required on PC), but you can engage in Rivals events without it. This is a simple time trial that sees you ranked on your times around each of the courses in each of the nine car performance classes against friends and globally.
Full multiplayer, racing directly against other people, has several options.
First there's unranked, private multiplayer lobbies with free access to all settings including multiclass races and events lasting up to 1,000 laps (distance) or 24 hours (timed).
In terms of ranked events, there's "Featured Multiplayer" which requires you to pass a three-race "Qualifier Series" before you take part in the main events. These events consist of category-limited Spec Events and more unfettered Open Events, which rotate in and out of the selection regularly.
Ranking comprises a Safety Rating and a Skill Rating, with the former based on how often you are investigated for incidents — going off-track and being involved in contacts — and the latter a measure of pace.
What controllers does Forza Motorsport support?
On Xbox consoles you can use any compatible controller including the official Xbox controllers. There's also support for a wide range of third-party wheels from Fanatec, HORI, Logitech, and Thrustmaster, but the wheel will need to be an Xbox-compatible item.
The selection is wider on PC, with more items from the same brands as well as Moza being able to play Forza Motorsport, courtesy of the DirectInput API. Oddly the Thrustmaster T-GT is not listed as compatible.
At time of writing there's no official wheel peripheral for the title.
Is there VR support in Forza Motorsport?
At present there is no support for VR devices on Xbox or PC and no plans to add any support.
Does Forza Motorsport allow you to tune your cars?
Yes, although the mechanism for doing so differs from previous games in the series.
Rather than buying parts for cars with credits, you need to unlock what parts are available for each vehicle on a case-by-case basis. You achieve this by simply driving the car, accumulating "CarXP" as you drive and with bonuses for driving it particularly well. The process also earns you "Car Points", which are used to buy the upgrades.
Unlocking every upgrade for a car takes around two hours of driving, although the higher levels only gatekeep more extreme upgrades — engine and drivetrain swaps — with most parts available within an hour. However you need to do this for every car individually, even if you already own (or have owned) and identical vehicle.
Does Forza Motorsport allow you to customize your cars?
Of course, and the livery editor is largely unchanged from previous titles except for a few UI tweaks. This allows you an almost unlimited range of colors and decals which you can apply, and you can even create your own decals (or "Vinyls") through knitting together others in the game; you cannot upload designs however.
Notably, you can create custom designs on any car in the game whether you own it or not, so there's no need to sink time into driving in order to earn credits to buy the cars if you don't want to.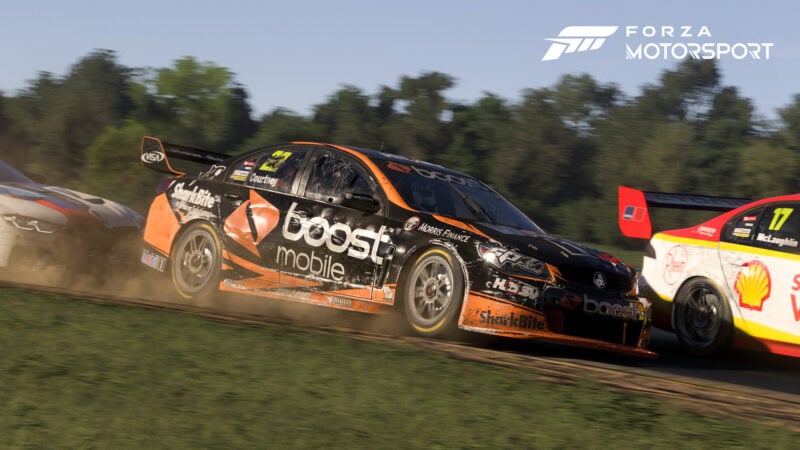 Is there a photo mode in Forza Motorsport?
Yes, Forza Motorsport retains a high-quality photo mode, allowing you to capture images of your cars from replay, with full control over camera position, angle, and standard camera settings.
It's very similar to the photo mode from Forza Motorsport 7 and Forza Horizon 4, so should be familiar to use for fans of the series.
Are there used cars in Forza Motorsport?
No. Every car in the game (bar those paid DLC ones if you haven't purchased the packs) is available as-new from the "Buy Car" menu.
What are the Achievements I can earn in Forza Motorsport?
There's a total of 57 Xbox/Steam Achievements available in Forza Motorsport, adding up to the usual 1,000 GamerScore. You can find a full list of them here.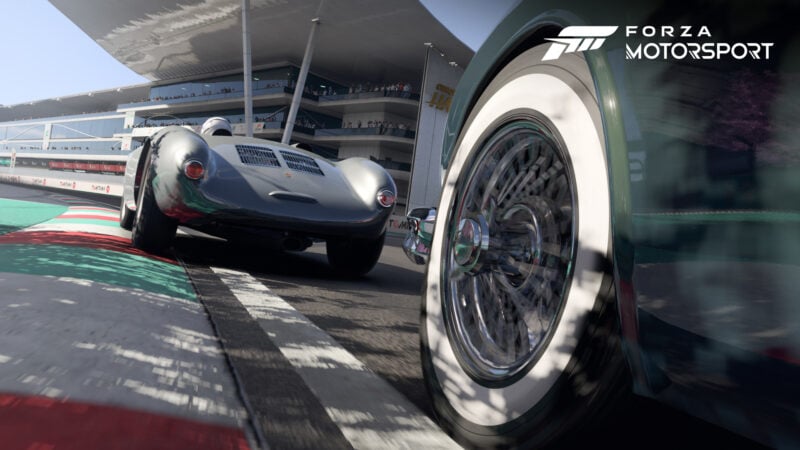 Forza Motorsport Guide
In addition to this FAQ, we also maintain an extensive Guide to the game, featuring a full car list and track list and a rundown of the game's features. Don't forget to check it out if you need more information, and our Forza Motorsport forum is always ready for more specific questions.