Forza 6 reminds me of a 10 year old game. There, I've said it.
Like an old Corolla hiding a Chevy small block however, not all is as it seems, because the game that marks the 10th anniversary of the Forza franchise calls to mind a similarly-aged title: Enthusia Professional Racing. Enthusia was beloved by PS2 driving addicts for its serious approach to replicating vehicle dynamics, an inspired track selection, and an eclectic, wide-ranging garage of metal for the player to enjoy. It was a hidden gem of a game, and a decade later, Turn 10 has crafted a game that takes all of those strengths and ratchets them up, Spinal Tap style.
Full Disclosure: Turn 10 offered me the chance to take part in the media review for the game last month. I already had the Ultimate Edition pre-ordered, so graciously accepted. Thanks, Brian!
The V4-engined Lancia Fulvia is one of many Horizon 2 cars to feature in Forza 6.
Career Mode
The game starts familiarly enough for veterans of the series. An intro video segues into a first race in the cover car, on a new track. In Forza 6's case, it's the 2017 Ford GT making its way around Rio de Janeiro. All assist are on for this exploratory lap, including automatic transmission and even auto-braking. You won't learn much about the improved physics engine this way, but it's an understandable concession to the casual players likely to pick up the game. Post-race, players will be gifted any additional cars and credits they've received through the Forza Rewards system – a feature that logs your progress across all Forza titles from the 360-era onwards, providing gifts if certain milestones are hit – and then dropped into a short, three race Qualifier Event.
The Qualifier starts on new-to-series Lime Rock (familiar progression for those that played the demo released last week) and gives you a choice of a five cars: the 2014 VW Golf R; 1998 Subaru 22B; 2013 Toyota GT86; 2009 Honda S2000; and 1997 Mazda RX-7. I stick to my demo choice and pick the oldest car of the pack, knock down all assists and bump up the Drivatar difficulty to the second-highest level. This is but one of the standout features of Forza – customizability at all levels. Each increase in difficulty brings with it an increase in credits, encouraging players to explore the deep physics engine and tailor the AI to make sure they offer as much of a challenge as one can handle. "Unbeatable" Drivatars, for example, really do subscribe to the in-game description of "humbling" as they'll post lap times consistently in the top 2% of leaderboards. The game wants you to be challenged, too – after bumping the difficulty down for a race and then forgetting I'd done so, I received a message a few races later asking if I'd like more of a challenge by returning to the "Pro" setting. It's a welcome addition that means all players will find their sweet spot, regardless of skill level.
The career itself is touted as 70+ hours long by Turn 10 and I have no reason to doubt it. In my playthrough, I'm sitting on the cusp of completing the fourth of 15 championships, spread across five volumes. But that ignores the hundreds of Showcase Events (single-race, special situations) and it also ignores that each one of those five volumes carries multiple different leagues, meaning the three series in Volume One (Super Street) will actually need to be completed fifteen more times. The other volumes could have even more categories, while the number of races in each championship could also grow. Basically, you won't run out of things to do.
That said, not all is rosy. The progression system arguably takes a step back compared to not only Forza 5, but also the more casual-oriented Horizon 2. There are no points in series anymore, as only podium placement advances you to the next race. In light of Project CARS' race weekend approach this focus on a podium-at-all-costs approach means players will be less likely to enter a series simply for the enjoyment of it. No more can one see how a player's weakness at one track is balanced out by a win at the next. The career is more linear this installment as well, largely locking players out of the faster cars until they complete earlier championships. This isn't a major issue for me as it will only take 15 championships to have the freedom to pick my next series by unlocking all volumes, and the Showcase events – as well as Free Play and Test Drives – will let a player drive any car in the game. There's also nothing stopping players from earning all their XP and Credits online.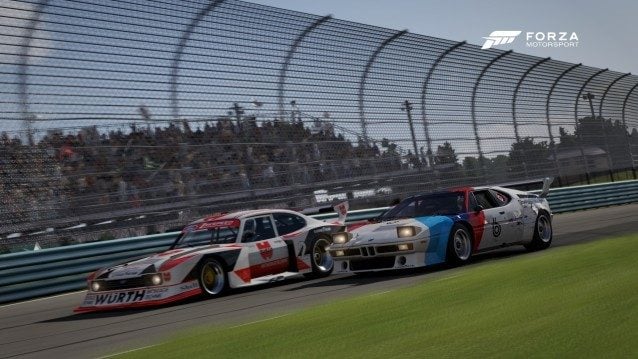 Group 5 racing at the Glen proves equal parts fun and intense.
Drivatars and Mods
The Drivatar feature has been tweaked compared to FM5 and Forza Horizon 2, where complaints of over-aggressive driving have been met with a checkbox to limit such behaviour. It still draws off other players' tendencies, giving you a field populated by rough virtual equivalents of your friends each and every race, so I kept the limiting checkbox clear my entire review. While certain tracks could prove problematic for Drivatars in Forza 5 – Long Beach being the most glaring example – their on-track mannerisms are very believable in 6, giving space to go two- or three-wide in turns, braking late into turns to dive down the inside (cleanly), and even occasionally missing their braking points entirely, just as a human is prone to momentary lapses in judgment. One of the early Showcase events is a 24-car, 6-lap run around Watkins Glen in Group 5 machinery. Driving an M1 Procar, I worked my way slowly up the field, passing Ferrari 512 BB/LMs, 3.0 CSLs, and steroidal Ford Capris. Not only did it take the entire race to get the jump on the lead car, but I watched a Zakspeed Capri stay glued to my bumper for the majority of the charge, passing other cars right along with me. A lot of racing games fall into the trap of having their starting grid stay more or less static throughout the race, so this was a refreshing change of pace. I've since re-run the event half a dozen times.
The "Mod" system (detailed here) makes its debut in this iteration, and has been a controversial one amongst fans. In practice, it can provide a new aspect of strategy, or at the very least, an extra source of credits for the veteran racer. One of my favourite approaches involves the Cockpit View + Racing Line Off Dare, as it provides a credit boost for winning, stacking on top of the credit bonus a player receives for having the line off anyway. Of course, the Mod system is entirely optional throughout the game, and isn't available at all for online racing, so players apprehensive about its inclusion can avoid it if they so choose.
One surprising feature only mentioned in passing pre-release: players can choose if their Drivatar is male or female. It's about time, so thank you Turn 10.
A Camaro Z28 tests out the new tire walls while fending off a Shelby GT350R.
Physics
Back to the racing. The RX-7 flows nicely through the mini rollercoaster that is Lime Rock, as the game gives clear feedback as to what the front and rear tires are doing. Forza 6 continues the series' tradition of being one of the best-optimized console racing games when it comes to controllers – certainly handy, as the default controller is still the choice for the vast majority of players – with subtle rumble from the haptic feedback triggers letting the player know if they've locked up their brakes. The whole controller vibrates when you wade through one of the 500 puddles littering the Nürburgring too, as the car aquaplanes and you're left at mother nature's mercy. Cars have a distinct feeling of heft, with the lighter vehicles like the Caterham gliding over the road, while the burlier trucks in the game pound it into submission. You feel the flex in the tire walls in older cars, with a slight bit of hesitance on turn-in that isn't there on cars with more modern, low-profile rubber. Turbo lag and downforce are present and accounted for, with the former taking centre stage in the Group 5 racers, and the latter highlighting the biggest difference between the 60's and 70's F1 cars present in the game.
Unfortunately, my time with a wheel and the game was limited, so those looking for detailed information on how the game functions with one will need to keep an eye out on our forums. That said, the buffers put in place to avoid instant snaps from lock to lock on the little thumbstick do not inherently ruin the physics of the game: you're still playing with the exact same physics engine, the method of input (and the amount of information fed back to you, the user) is different. For a comparison Gran Turismo players would recognize: playing with a wheel versus controller is not the equivalent of playing with or without SRF.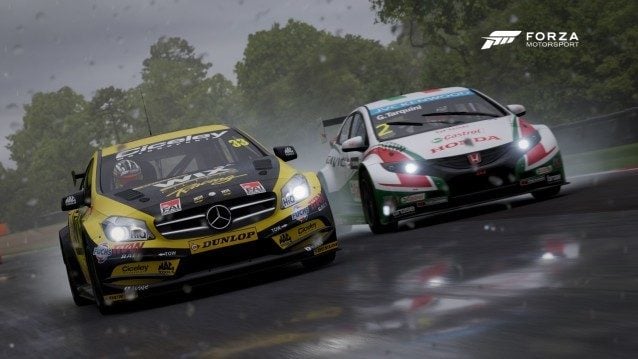 Touring car racing in the wet will leave you sweating.
Graphics
This is a beautiful game. To accommodate the 24 car grids, as well as the night and rain racing, one would be forgiven for expecting a graphical downgrade compared to Forza 5. That game was a launch title however and Forza 6 seems to have benefited from an additional two years of T10 familiarizing itself with the One. While different LOD models can make themselves known in the middle of a race, it's not unsettling. The overdone lens flares present in FM5 have also been toned down, though not altogether eliminated. Turn 10 has kept the frame-rate at a locked 60fps, with the resolution staying at 1080p, and during my entire playthrough I've yet to see a dropped frame. The new night and wet races really show off the improved lighting engine, looking more realistic in tone and texture than Forza 5 managed.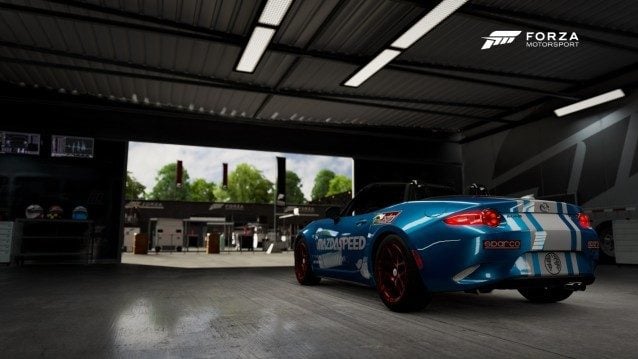 Gran Turismo 1-inspired liveries take to the new ND Miata shape surprisingly well.
Cars and Customization
Did you catch the mention of vintage F1 cars up there? That's just the beginning. Forza 6 arrives with 460 cars from day one – not quite the highest count in the series, as FM4 launched with a few more, though not all on one disc – spanning all the way from pre-war racers to upcoming production vehicles. There are modern touring cars, 2015-spec Indycars, prototype race cars from the 90's and early 2000's, Can-Am legends, the entire Formula E lineup, tons of muscle cars, GT3-class production-based racers, V8 Supercars, and more. After Forza 5 released with very few proper racing cars, Forza 6 moves to fix that by plugging numerous holes with a variety of series. The list is impressive in its breadth and depth, making sure that almost every series has at least a few different eligible vehicles. While it still misses out on a few gems that were last seen on the 360's Forza 4, that game benefitted from an entire year's worth of DLC support. If Horizon 2's well-regarded DLC policy is any indication, FM6's car list could only become stronger as the game progresses. Every one of the cars can be poured over in minute detail in Forzavista, where you can also view a short, informative film on them, though it should be noted that not every Forzavista car is created equal: some hoods and trunks will always remain closed.
One bizarre omission is RUF. The company was present in both Forza Motorsport 5 and Horizon 2, but is nowhere to be seen in this game. With the announcement that Porsche would be arriving in 2016 as part of a DLC pack, one has to wonder if the two are tied together.
Customization has long been a strong trait for Forza, and this title continues that. Engine, drivetrain, and aspiration conversions return, largely carried over from the past Motorsport title, and painting your car remains unchanged other than a few new paint treatments. One welcome community-minded move is the import feature, letting players simply load their FM5 or FH2 designs up, and save them instantly in FM6. This saves countless hours, though it doesn't work without issue: my classic GT1-influenced Miata livery would not transfer over, leaving the game to hang. On closer inspection, it seemed a lowercase "a" vinyl was the culprit.
Lastly, for painters frustrated by Forza 5's design-based credit rewards (or, more frequently, a lack of them): Forza 6 has a clear system in place for those that share their gifts. For each download of one of your designs, you receive 500 Cr. Each Like garners a cool 1000, while every time your design is used to race, by anyone else, you gain 100 Cr. Oh yeah, and you can paint any car you'd like, even if you don't yet own it.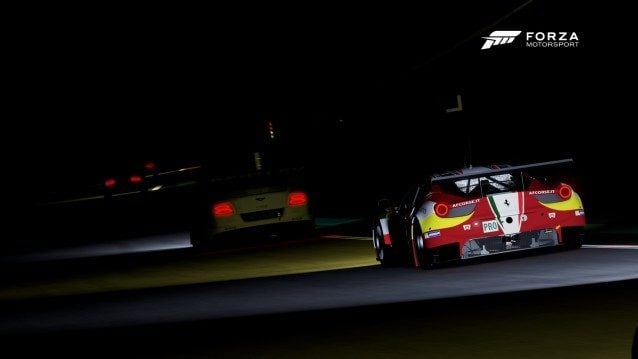 Spa at night: genuinely dark once you leave the front straight.
Tracks
Forza 5 drew a fair amount of criticism for launching with a small amount of tracks. In my own opinion, it was deserved; while the tracks were all up to an incredible level of detail, it made the Career Mode feel exceedingly repetitive. Fast-forward two years and we see 26 locations in-game, for a total of over 90 different ribbons. Not only has it done wonders for the career, but the new tracks also look superb. Lime Rock is idyllic, with a few barbeques peppered across the Connecticut landscape. Circuit of the Americas is another new addition, while Sonoma and Hockenheimring return. Little details breath life into the tracks as well: gusts of wind pick up dirt on the drier tracks, leaves blow across your path as barbeques send up puffs of smoke track-side, and TV cameras lower on their cranes as the pack charges into a hairpin. The hotel at Yas Marina does its eye-popping, colour-changing thing at night too.
Ah yes, night. While the Horizon spin-offs have had it since inception, Motorsport dropped driving in the dark after the first game. It returns in this game, along with wet conditions. The elephant in the room will be addressed immediately: yes, there are no tracks that feature both, and yes, these are non-dynamic situations. While I too was disappointed by this news originally, playing the last week has softened my view. Driving at night is massively intimidating, with headlights realistically piercing the ink ahead, while cars caught in your beams cast their own shadows out on the scenery. Wet racing looks and feels superb, and while it's easy to dismiss the puddles on track as simply avoidable hazards, that thought disappears once you're in the midst of a 24-car online race, jostling for position. It's at that point some puddles are simply going to be driven through, pulling the car to the side if you only dip two wheels in. It's white-knuckle stuff, and that it all happens at a locked 1080p/60fps is very impressive.
Lime Rock can get busy with an entire 24-car grid.
Multiplayer
While our pre-release experience was limited, online racing looks just as robust as is to be expected from the Forza series. Players can control almost every aspect of the rules, limiting cars by class, performance index, drive type, weight, and other things, while also limiting players themselves to certain aids or views. The new Leagues system (detailed here) sounds promising, and should start to make more sense come Thursday, as the first wave of early-release players get into the game.
Indycars are absurdly fast, and require a steady hand.
Conclusion
Forza 5, despite being one of the most impressive launch titles yet seen, wasn't a must-have title for a lot of people. It's not entirely the game's fault, as it was a follow-up to an incredibly strong title from the last generation (Forza 4).
Forza 6 rights nearly every criticism levelled at Forza 5, doubling the car count and nearly doing the same for the tracks, while further improving the physics engine. Not only that, but it adds the much-requested weather and night features while maintaining its commitment to 1080p/60fps. The career progression is a little linear off the bat, the weather isn't dynamic in the face of the competition, but you'll be having too much fun in this love ballad to the automobile to care too much. Forza 6 is firing on all cylinders, and this is absolutely a must-have title for 2015.
See more articles on Review.