Gamescom officially opens tomorrow, but Microsoft had a briefing today in preparation, touching on a large swath of its upcoming 2015/2016 lineup. Being just over a month away from release, Forza Motorsport 6 naturally has a display on site, with a community-designed livery wrapped around Ford's new Focus RS complete with its own Stig standing guard.
What should really interest sim racers though are the new details that have already been released – the video above has IndyCar driver Josef Newgarden discussing the wet-weather driving in FM6, with a mind-boggling 148 different types of surfaces, and has brief hints of new cars. The 2015 IndyCars make an appearance alongside the 2011 Audi R15 TDI Plus and the Peugeot 905, as well as GT3-class racers from McLaren, Lamborghini, and Bentley.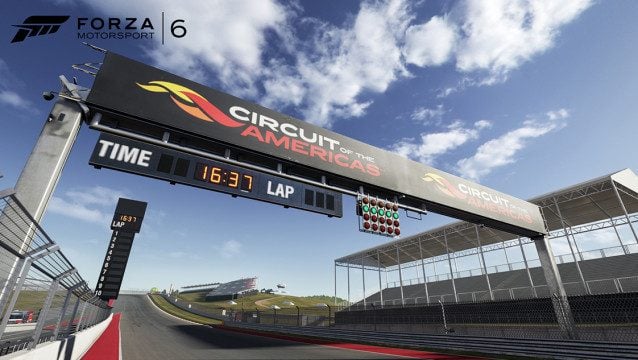 Even more exciting, the final four unknown tracks have been revealed. Forza Motorsport 6 will ship with Circuit of the Americas, Monza, Sonoma Raceway (the track formerly known as Infineon) and Hockenheimring. The latter two will be familiar to Forza players, having appeared in Forza Motorsport 4, while COTA and Monza are new to the series.
In addition to this, Turn 10 has announced the addition of Online Leagues in the game. Leagues will run for a week, during which all players that join will earn points based on their finishing order and the level of the competition they beat. A global leaderboard will tally points and determine a player's Driver Division.
On first impressions, Driver Divisions sound a little bit like GTPlanet's own WRS system. After a League ends, a player's Driver Division will be re-evaluated, moving them into a class better suited to their skill level. All players will start at the lowest Division when the game launches, but the goal of this system is to better accommodate those looking for the best online experience.
In addition to general skill level, Driver Division also takes into account a player's number of in-race contacts, ideally placing clean racers amongst like-minded drivers, and those more aggressive players against the same.
Lastly, Spectator Mode has mercifully made it back to the series. With today's ever-increasing amount of live gameplay and the increased field size (24 cars) coming with FM6, this should make commentators happy.
Gamescom is just getting warmed up, so feel free to stop by our dedicated Forza Motorsport 6 forum for more in-depth discussion.
Pre-Order Links
(Note: you can support GTPlanet by pre-ordering via any of the affiliate links above – thanks!)
More Posts On...
The original comments for this post are no longer available.