Forza Motorsport 6 is shaping up to be one of the biggest racing games of the year, and today is the day people across the globe can get a taste of the game without needing a ticket to E3, Gamescom, or other such events.
Weighing in at 12.67GB, the demo starts by placing players in a combination familiar to anyone that's followed the game at the aforementioned shows: the 2017 Ford GT at Rio. After that however it travels to Lime Rock (previously announced near the end of July), letting players experience another track new to the series. Further on, Yas Marina and Sebring make appearances, though at night and in the rain respectively. The contentious "Mod" system appears in the demo, as well as the new prize spinner. Players looking for a serious dose of speed will also get to take a 2015-spec IndyCar around, er, Indy.
As a reminder, any player to open the demo will get the 2017 Ford GT deposited into their Forza 6 garage when the full game hits. Speaking of the full game, the entire 44.3GB file is now available for pre-loading on XBox One systems worldwide, ensuring players can start their careers at midnight on release day.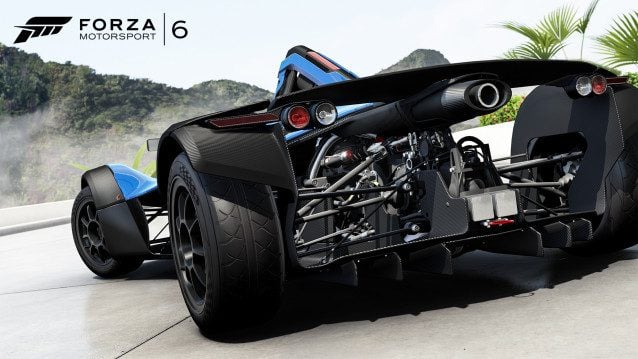 The demo also includes the familiar Rivals system, with an event tied to the Forza Fuel contest. Three lucky drivers (plus one wildcard) from each competing country (US, Canada, UK, France, Germany) will win an all-expenses paid trip to Circuit of the Americas in Texas – another new-to-FM6 track – to race against not just each other, but also Benoît Tréluyer, the three-time Le Mans-winning driver for Audi. While it's not yet clear how the gamers will be competing against the pro, long-time GTPlanet readers will be reminded of a similar GT5 event featuring David Coulthard. Players looking to get in on the action should check the official contest site here, and act fast: it's only open until September 6, and the event in Texas happens September 19.
Turn 10 has also released information on the automotive celebrities featured in the career of Forza 6. The list includes Mr. Tréluyer, Josef Newgarden, Justin Bell, Mark Skaife, Mike McGovern, Matt Farah, Tanner Foust, Richard Hammond and James May. Covering various bodies of motorsports and entertainment, these men will be providing voice-over work to coach players through the 70+ hours of Career Mode.
Lastly, the Day One Fast & Furious pack has been detailed. This pack carries completely different cars than what came before in the Horizon 2 DLC pack and standalone minigame. The cars also carry the paints they were seen on the big screen with, another departure from previous offerings. The entire pack lineup is as follows:
1970 Dodge Charger R/T Fast & Furious Edition
1968 Dodge Charger Fast & Furious Edition
1969 Dodge Charger Fast & Furious Edition
1970 Ford Escort RS1600 Fast & Furious Edition
2014 Terradyne Gurkha LAPV F5 Fast & Furious Edition
1963 Chevrolet Corvette Grand Sport Fast & Furious Edition
1995 Mitsubishi Eclipse GS Fast & Furious Edition
1995 Toyota Supra RZ Fast & Furious Edition
1999 Nissan Skyline GT-R Fast & Furious Edition
2002 Nissan Fairlady Z Fast & Furious Edition
2001 Honda S2000 Fast & Furious Edition
This pack is available to Deluxe and Ultimate Edition owners for free.
As always, check out our Forza Motorsport 6 section for all the latest news on the game!
More Posts On...
The original comments for this post are no longer available.