The numbers are in for the first week of 2018. With holiday sales behind us, it was another solid week for the racing genre in the UK, with multiple titles making the cut.
Leading the charge is Forza Motorsport 7. After a few weeks in the mid-teens, Turn 10's latest moves up enough to just crack the top ten. This makes it the highest-charting racing game last week.
Check out the top 20 below (or the full 40 via GfK Chart-Track):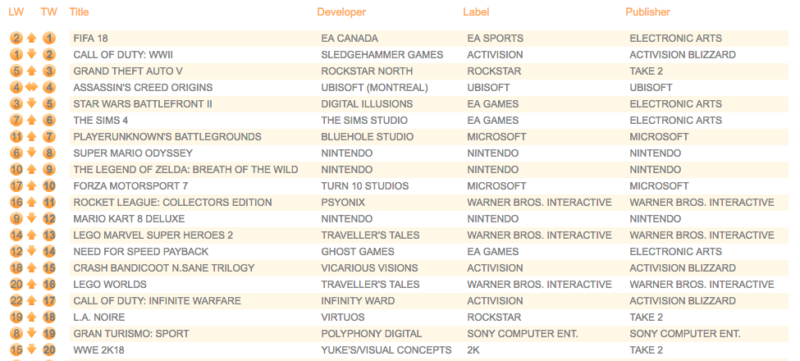 The previous week's top-selling racing game, Gran Turismo Sport, drops from 8th down to 19th. Sandwiched between it and FM7 are Rocket League (11th), Mario Kart 8 Deluxe (12th), and Need for Speed Payback (14th).
Elsewhere on the list, Forza Horizon 3 maintains its chart position, at 24th overall.
We'd be remiss if we didn't mention that these rankings are all relative, and only tell part of the story. As GamesIndustry points out, pure sales numbers are actually down on most titles in January versus consumer-friendly December.
The Legend of Zelda: Breath of the Wild sold 52% less copies this week than previous, but actually moved up a spot.
We also can't ignore one of the more fascinating details of perpetual top-seller Grand Theft Auto V. According to GfK, the game has never left the top 40 in 225 weeks of being on the list (!), and has occupied the top ten for 185 of those (!!).
Nonetheless, to see so many racing titles regularly charting is a good sign to us. 2017 was a banner year for the genre, and we're looking forward to a solid twelve months for racing games too.
Featured image courtesy of AnimaVesta.
See more articles on Sales Figures.