2017 is in the books. It was an amazing twelve months — which you can relive here — but right now, we want to look forward. This year has a lot of potential.
Sure, it's unlikely we'll ever see such a rapid-fire release of so many quality titles the way we did in autumn 2017. But we've had a chat amongst the writing team about what on the horizon looks the most promising, and we've got it sorted. Here's our top five reasons this year will be another good one — maybe even great — for racing game fans.
Arcade Racer Domination
Last year was without a doubt a sim-heavy year. It was also the year of the sequel. The tail-end of 2017 saw sequels to six franchises, from F1 2017 in late August through to Gran Turismo Sport mid-October.
We love a thrilling steer in a sim as much as the next person, but we also appreciate the simple thrills of an arcade racer. A good one is a palette cleanser, letting you chill out on the couch with — shock, horror — a simple controller while still enjoying the automobile.
In our Forza Horizon 3 review, we called arcade racers the burgers to sim racing steaks. If that holds true, 2018 should be The Year of the Whopper, to borrow a David Foster Wallace reference.
We've got Milestone's Gravel arriving first, on February 27. It looks to combine the over-the-top antics of games like FH3 with the considerable off-road experience of the Italian dev. The last we heard of the game was the trailer up top, showcasing the drivers you'll need to beat in Gravel's career. That voice over!
Up next on the docket is The Crew 2. Well, we should say it was — last month Ubisoft pushed it back to mid-2018 after an original March release date. At this point in time, it's unclear where exactly it'll land, but we're hoping it'll be in the first half of the year.
The original was a hugely ambitious game, taking place on a scaled-down/simplified version of the entire United States. This made it a pretty much unparalleled cruiser, and the car selection helped.
The physics were the game's weak spot, however. While we weren't able to get our hands on it at E3, reports suggest that developer Ivory Tower has tidied that part up. And judging from the ongoing beta, the car lineup looks even better.
Plus, we just like the admittedly silly feature of switching between cars and planes being a one-button affair.
Last, we have Onrush. We currently know very little about the game, as it was only announced at the end of October. Given the pedigree of those working on it however, it's one to keep an eye on.
Onrush is Codemasters latest IP — a company that's been on a bit of a roll lately — but it's also the first title from the ex-Evolution guys and girls. Driveclub remains a standout racer of this generation for a good portion of our community, and you know those people will be keeping an eye on Onrush as it touches down later on this year.
Two Wheels Good, Isle of Man Better
While more than a few of us pine for a Tourist Trophy 2, we look forward to the next big motorcycle title. It arrives in March, and Isle of Man TT: Ride on the Edge has the makings of a truly great two-wheeled experience.
Kylotonn gave us one of the best rally experiences of 2017 with WRC 7 (more on that down-page). The French developer has found its stride, so we trusted the team's judgement when it delayed IoMTT last fall.
This will be the first game this generation to have a full laser-scanned Snaefell Mountain course (although Polyphony reportedly scanned it a few years back). The 37.73-mile layout alone is a staggering accomplishment in a title, and Kylotonn will be bolstering it with additional circuits. On the basis of WRC 7's excellent course design, we think that's a certified Good Thing.
The stated reason for the delay was to improve the riding physics. With the extra four months in the oven, we have faith in Kylotonn. Roll on, March.
The Continued Evolution of the Big Three
As we've covered before, we were spoiled for choice last autumn. Between Project CARS 2's motorsports authenticity and living, breathing tracks, Forza Motorsport 7's unparalleled car collection and sandbox nature, or GT Sport's reconfigured, re-invigorated online racing-focused approach, there was something for everyone.
Of course, in modern times, release is only the beginning for games. It's already been true of this trio in the closing weeks of 2017, and will continue into this year.
Thanks to an inadvertent PlayStation Store listing, we already know Slightly Mad Studios' hand for Project CARS 2. The appropriately-named Fun Pack already closed out 2017, so according to the leaked info, we should expect a Porsche pack next. If you want to get a rough idea of what the pack will likely feature, you can see it all here. The hardest part — outside of the waiting — is trying to figure out which car to drive first.
That's a problem that comes up a lot in Forza 7, too. With over 700 cars at launch, and monthly packs of seven set to arrive until at least April, Turn 10's racer has the undisputed best lineup of this generation.
The selections for the car packs has been contentious however, leaning heavily on trucks and SUVs. It makes us hope for an off-road expansion to justify the big-boned additions.
More than cars, or even tracks, what we're looking forward to is tidying of some of the ropier aspects of the game. Forza 7 did well in our review, but later updates have introduced odd niggles here and there. With ForzaRC returning in 2018, we're hoping Turn 10 can re-apply another layer of the polish the franchise is traditionally known for.
One thing we wouldn't accuse GT Sport of missing is polish. It may be the biggest departure the franchise has ever taken in its two-decade history, but it still maintains that inimitable GT charm.
Sport managed to scratch an itch a lot of us didn't realize we had; online racing as a daily exercise as much as a traditional gaming experience. It may lack content compared to the competition — arguably more so in the track department than cars — but what it has is all up to the same (ridiculously high) standards. It's a welcome return to form after the bloated, inconsistent PS3 games.
We've called GT Sport a solid foundation before. 2018 will prove that, with plans for a couple dozen new cars by March. A month after that, the FIA Championships get underway for real. We might even see some returning favorites like Deep Forest. The forecast calls for rain, too…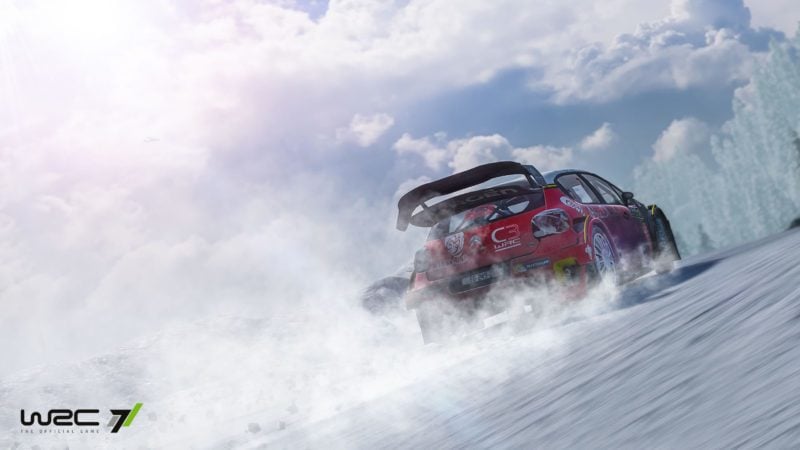 Even Better Rally and F1 Titles
While a lot of 2017's focus was on the games we mentioned in the last section, fans of single-discipline games were arguably even luckier.
Up first was F1 2017. It covered what was an incredibly exciting season in top-shelf motorsport to an obsessive level. Calvin and Michael loved it in their co-review, giving it the highest rating of any game we reviewed in 2017. Even Joe, a self-confessed casual F1 fan at best, approached it from that angle and enjoyed it.
F1 2017 not only embraced the current season of the sport, it showcased the past. The dozen classic cars included utter icons like Senna's MP4/4 and Schumacher's F2004.
We can't wait to see what Codemasters has in store for the sequel.
If ever there was a Most Improved Racing Game award, WRC 7 would surely be the recipient. "The WRC series is a student transformed," said Brendan in our PS4 review. "Don't bet against it being top of the class in the very near future."
After a few middling installments, expectations were at matching levels when Kylotonn announced the seventh game last year. But when we tried the game at E3 2017, we had the sneaking suspicion the French developer was onto something special. The stages were narrower, the cars were faster, and it was just flat-out fun.
It was also on a pricey motion rig. After the event, we were slightly worried that had skewed our impressions. But the retail version we reviewed proved that Kylotonn and BigBen really did nail the rally recipe.
If the team could make such huge strides between WRC 6 and 7, we're extremely excited to see what game eight is like.
Potential Sim Racing Sequels
Yes, 2018 will be a year filled with arcade racers. That sounds fun, don't get us wrong. But as technology continues its persistent march forward, we can't ignore the opportunities that affords the modern driving simulation.
It seems that neither can developers. Right at the end of the year, Kunos Simulazioni dropped massive hints that Assetto Corsa 2 was coming. It's a tantalizing prospect; we stand by our review of the original's console release in that it's one of the best simulations out there.
But the bones are getting a little creaky. Originally launched four years ago, Assetto Corsa has grown far beyond Kunos' original vision. It's a testament to the team that it's managed this so well, but there are limitations. A lack of weather is one, and the engine also can't support multiple light sources, so night is out.
If that mysterious fireworks image is indeed a taste of what's to come, Assetto Corsa 2 (or whatever the title ends up being) could be a very big deal.
There's another sim racing sequel we're hoping to hear more about in 2018. Way back in February of last year, SimBin Studios announced GTR 3. The follow-up to one of the greatest PC sims of modern times, to call it an anticipated title would be selling it short.
However, since then, we haven't heard much else. A few screenshots surfaced afterwards, and SimBin announced an all-female esport event. A playable was earmarked for as soon as six months after the initial announcement, but 10 months out, we've not seen anything yet. Nonetheless, with 362 days left in the year, SimBin has plenty of time to surprise us.
Conclusion
There you have it: this year's shaping up to be another solid one for driving game aficionados. What are you most looking forward to in 2018? Sound off in the comments.
See more articles on GTPlanet Lists.