Turn 10 has taken the wraps off Forza 7's first monthly car pack. With the Alfa Romeo Giulia Quadrifoglio leading the charge, it brings seven brand new vehicles to the title.
The Samsung QLED TV Car Pack, to give it its full (and slightly awkward) name, will arrive next Tuesday. Yes, that means seven cars, for FM7, arriving on November 7. It also coincides with the Xbox One X's launch, which we unboxed earlier this week.
Making up the car pack are three Italian cars, three Japanese, and a German, spanning 60 years of production. The pack also leans more towards the motorsports side of the equation instead of road cars. With two trucks being a part of the pack, we have to wonder if a rally/off-road expansion is on the cards…
Alongside the announcement of the car pack, there's a new, comprehensive patch for the game as well. We'll have more details on that later today. For now, we're going to explore each of the seven cars in the pack.
And what's with the name? Easy: Samsung is Microsoft's official partner for the Xbox One X.
https://www.youtube.com/watch?v=ZjVb7GItQ1A
2017 Alfa Romeo Giulia Quadrifoglio
The Giulia was one of the community's most-requested cars practically from the moment Alfa first announced it. It was also essentially confirmed when players spotted it in the menus during a few pre-release FM7 clips on YouTube. Nonetheless, by our count, this marks the 505hp four-leaf sedan's console game debut. With that Ferrari-designed turbo V6 pushing power to all four corners and active aero features, it should be a serious threat to the usual German suspects.
1984 Nissan #20 Coca-Cola Bluebird Super Silhouette
If you're like us, you can never have too many Group 5 cars in your sim racers. Turn 10 has added two cars from that era to FM7, and the first is this bonkers Nissan. Boasting over 560hp, the Coke-sponsored car is practically a 910 Bluebird in name only. It won two seasons of the Fuji Grand Championship Series (1980 and 1982), sharing its engine (and wild aesthetic) with the Skyline Super Silhouette found in Project CARS 2.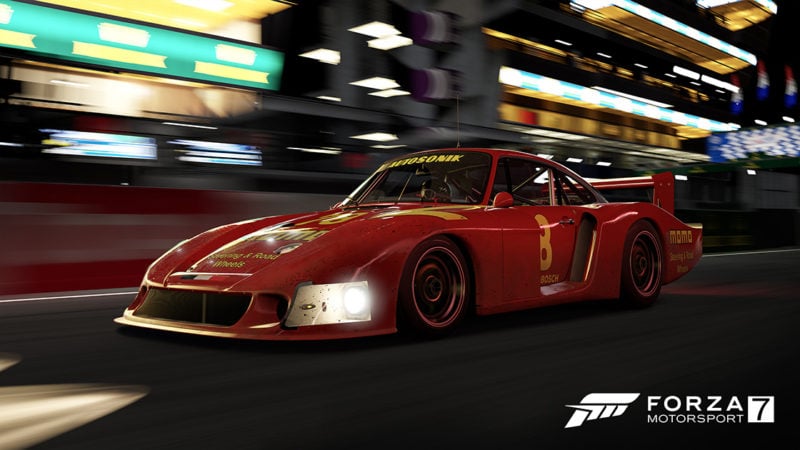 1978 Porsche #78 MOMO 935/78
We said there was another Group 5 car incoming, and here it is: Moby Dick has arrived in Forza Motorsport 7. While the car earned that nickname thanks to its extended bodywork, we'd argue that angry, +800hp engine represents Melville's classic antagonist at least as well. Good luck taming it at Le Mans.
2017 Abarth 124 Spider
The other modern sporty car of the pack, the Abarth joins its 1980 predecessor in FM7. The current car shares its bones with the ND-gen Mazda MX-5, but swaps out the nat-asp 2.0-liter for the Fiat family 1.4-liter turbo. It'll be interesting to see how they compare on one of the game's 32 tracks.
1957 Maserati 250F
The 250F needs no introduction. One of the greatest F1 cars of all time, it's an utter legend. If you aren't aware of the frankly amazing feat Juan Manuel Fangio accomplished at the 1957 German Grand Prix, stop what you're doing and read about it. The 250F showed up in Assetto Corsa (in six- and twelve-cylinder versions) a year ago and we still enjoy trying to tame it. Now it's Forza's turn.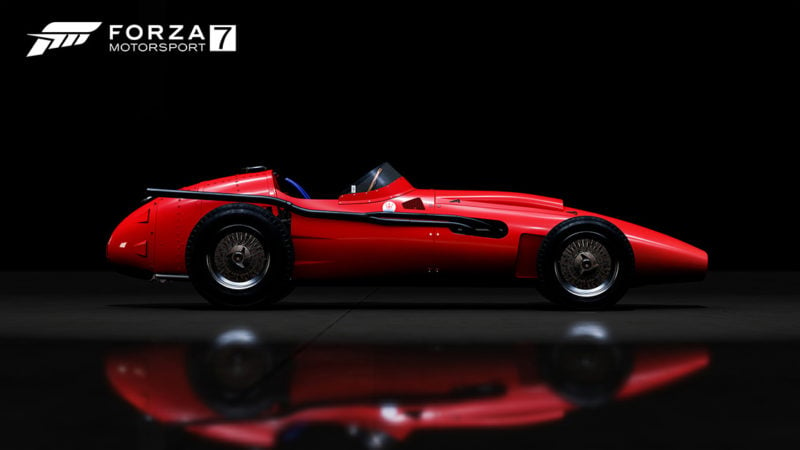 2016 Toyota Land Cruiser Arctic Trucks AT37
Toyota road cars may not be in the game, but Turn 10 has found space for another of Arctic Trucks' creations. If it seems like a bit of an unusual addition for a track-oriented title, well, we're inclined to agree. But on the other hand, some of the fun in Forza games has always been taking an unexpected ride and building it into a track weapon. The Land Cruiser isn't the only vehicle of its type this month, either…
2015 Honda Ridgeline Baja Trophy Truck
This isn't the road-going, car-like Ridgeline. Underneath is a full tube-frame chassis, and the sort of no-compromise suspension needed to surive the Baja. It houses a 3.5-liter V6 much like the production model, but Honda Performance Development has strapped on a set of turbos. Think of it as a sort of go-anywhere, huge-tired NSX, then? You might have to squint a bit.
See more articles on Forza Motorsport 7 DLC and Forza Motorsport 7 Game Updates.