Turn 10 has released the latest — and final — update for Forza Motorsport 7. Weighing in at 570MB, it introduces another free Porsche, updates to the Forza Race Regulations system, and more.
While it may be the last content update for the title, Turn 10 isn't finished with FM7 quite yet. There's still more ForzaRC events coming, which will heavily involve the FRR system to improve the experience for both drivers and spectators. Read on for all the details in this final update.
Free Car: 2019 Porsche 718 Cayman GT4 Clubsport
It's been a while since FM7 players received a free car with an update. The last "Spotlight Car" was the McLaren Senna in April, with May dedicated to IndyCars. For this update, the game welcomes its 41st Porsche model, the track-only 718 Cayman GT4 Clubsport.
Despite its name, the Clubsport doesn't share the same 4.0-liter nat-asp engine with its recently unveiled road-going sibling. Instead, it uses the 3.8-liter engine from the previous Clubsport. Thanks to a revised intake manifold, power is up to 425hp, which heads to the rear tires via a six-speed PDK 'box.
All players will receive the car for free the first time they load up the game after the update.
Disqualifications come to Forza Race Regulations
After introducing collision-based penalties in the July update, Turn 10 has added another layer to the FRR system. Dirty driving can now result in a complete disqualification from an online race, knocking players back to the race selection screen.
This new feature focuses on the cumulative time-based penalty system. As a player cuts corners or makes contact with others, they will slowly accrue more penalty time. Once they hit a total of 10 seconds, they enter "Probation" status. Add two more seconds to that and it's a DQ. Brian Ekberg expands:
"The 12-second time accumulation is the result of a great deal of in-house testing from the Forza 7 team, who were determined to find a balance between a time penalty total that was difficult for well-meaning but lesser-skilled players to accumulate, while still punishing griefers or rammers who want to ruin the races of others online."
The time limit is hard-coded into the FRR system. This means players that set up FRR-enabled lobbies will not be able to adjust the DQ threshold — however, they will be able to disable disqualifications if they desire.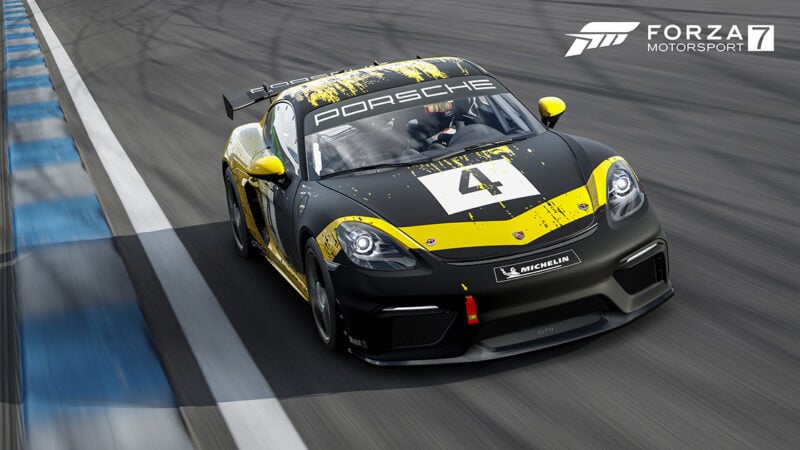 Time Gaps to Other Cars
Finally! One of the strangest aspects of FM7 is now an (optional) thing of the past. The mini leaderboard previously displayed gaps between the player and other cars in terms of feet. As of the August update, that now switches to the much more traditional time-based intervals, down to tenths of a second. Players can still set it to feet in the Options menu — but we imagine they'll be the minority.
Also, for those in Spectate Mode, FRR details, including individual penalties, will now be visible.
As the community gets to grips with this final update, keep an eye on our dedicated FM7 forums for any undocumented changes.
See more articles on Forza Motorsport 7 Game Updates.