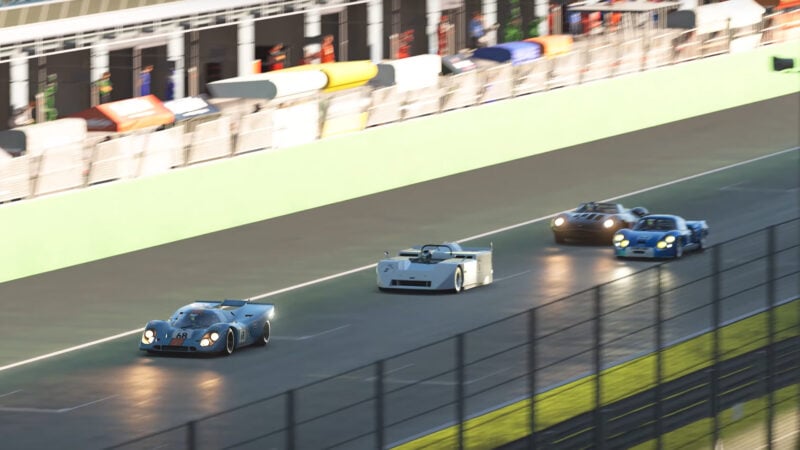 A brand-new trailer for Gran Turismo 7 has just landed, revealing more new and returning cars ahead of the game's launch this coming March.
The trailer, officially called "Starting Line – Behind the Scenes", takes the form of an interview with series creator Kazunori Yamauchi about car culture.
During the interview, Yamauchi speaks about what constitutes car culture — referring to the appreciation of design and performance — while scenes from Gran Turismo 7 play out around him.
It's certainly an interesting insight into how Yamauchi, who has been developing the Gran Turismo series, for a quarter of a century, regards the automobile generally. However fans won't be able to stop themselves from playing the video back frame-by-frame as vehicle after vehicle flashes by!
Probably the most obvious car in the video for long-term GT players is the Chaparral 2J. A favorite since it first appeared in Gran Turismo 4, the 2J was an early experiment in extreme ground effects, using a pair of fans at the rear of the car and lexan skirts to literally suck it onto the track.
The brand has been technically absent from GT Sport, appearing by name only on the Chevrolet Chaparral 2X Vision GT, but it looks set to return in GT7.
Sitting alongside the 2J in the clip, at around 54 seconds in, is a car that's new to the series. Although it wasn't a particularly successful machine, the 1968 Alpine A220 was part of the French brand's early foray into sports car racing — and Alpine has of course recently returned to both Formula One and Le Mans.
Towards the end of the clip, we can also see the returning Chevrolet Corvette C4. This is a car that's appeared in every main Gran Turismo game since the 1997 original, with the sole exception of Gran Turismo Sport, so it's another welcome reappearance.
That brief glimpse precedes a sequence in which a huge array of vehicles, in what looks like an ordered car list, appears behind Yamauchi's head. The GTPlanet forum users are currently picking the bones out of that, but some headline cars already spotted on that list include the 1997 McLaren F1 GTR (appearing under "Germany", thus likely BMW as with previous games) and Lewis Hamilton's 2017 Mercedes-AMG W08 F1 car.
We will of course be adding every vehicle spotted onto our Gran Turismo 7 – The Ultimate Guide, so keep your eyes peeled!