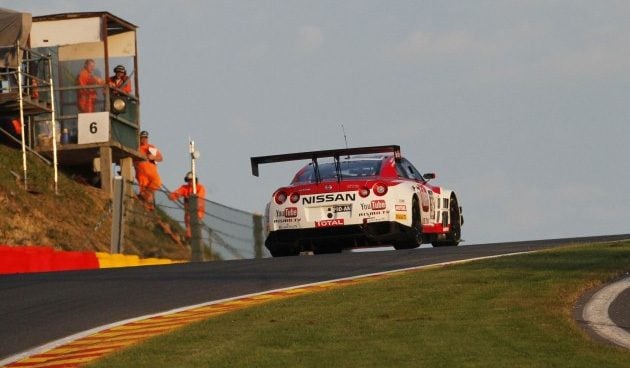 With both the Pro-Am driver and team championship titles captured in 2013, the Nissan GT Academy Team RJN will mount their defence of the Blancpain Endurance Series at Monza this weekend.
As last year, the team has entered two Nissan GT-Rs piloted by Nismo Athletes, though reigning drivers' champion Lucas Ordoñez isn't available due to Super GT and Nissan ZEOD commitments.
Car #35 will be driven by Miguel Faisca (Europe 2013 winner), Stanislav Aksenov (Russia 2013 winner) and the Super GT driver Katsumasa Chiyo on a season-long Nismo driver exchange program – though Stanislav's visa is yet to be finalised an his place will be taken at Monza by Mark Shulzhitskiy (Russia 2012 winner). Chiyo will be familiar to GT Academy watchers after his colossal accident in the early stages of the Bathurst 12hr race in February.
The second car this season will wear #80, to celebrate Nissan's 80th year. This will be crewed by Florian Strauss (Germany 2013 winner), Nick McMillen (USA 2013 winner) and Academy lynchpin Alex Buncombe.
Coverage of qualifying and the race is available on the official Blancpain Endurance Series website, while the race will also be broadcast on Motors TV and Eurosport – see here for scheduling for your region – and Youtube, courtesy of Nismo.
The race itself gets underway at 12.45 GMT/UTC on Sunday 13th April. In the meantime you can sate your appetite for Blancpain action with this season preview:
This won't be the first race of the season for the Nismo Athletes though. Lucas Ordoñez has already had a race in Super GT with Kazuki Hoshino. Over a 77 lap, 2 hour race at Okayama, Lucas and Kazuki pulled the GT300 Nismo GT-R to 4th place in class, having started in 7th.
Over in North America, Steve Doherty (USA 2012 winner) and Bryan Heitkotter (USA 2011 winner) have been paired together driving the #34 Skullcandy Nissan Altima in the Continental Tire Sports Car Challenge. Results in the Street Tuner class have yet to swing their way though.
Meanwhile at the Nurburgring, the Schulze Motorsport GT-R GT3 was in action last weekend for qualifying and the qualifying race for June's 24 hour race. Driven by the Schulzes, Kazunori Yamauchi and Jordan Tresson, a pretty impressive 8'29.6 fastest lap saw them qualify 7th for the qualifying race – but a turbo failure saw them retire from the 6 hour race early on while running in the top ten. This puts them in a challenging 41st place for the main event in 2 months.
In one final piece of GT Academy news, the RJN team will be running a GT-R in British GT again this season after missing last year's event due to being deemed "too fast". Alex Buncombe will resume driving duties, but he will be accompanied by legendary British Olympian cyclist Sir Chris Hoy. Chris joins the ranks of the Nismo Athletes with a year under his belt in the Radical SR1 series and his eye on competing in Le Mans by 2017.
Images courtesy of RedSquareImages.
See more articles on Alex Buncombe, Blancpain Endurance Series, Florian Strauss, Katsumasa Chiyo, Mark Shulzhitskiy, Miguel Faisca, Nick McMillen, and Sir Chris Hoy.